T Jared Veldheer. Photo by Tony Gonzales

After a day off, the Raiders took the field Tuesday for their 16th practice of Training Camp 2012 at their Napa Valley Training Complex, powered by Verizon 4G LTE. The team transitioned to an in-season game-week schedule for the final few days of camp. "It's more of a dress rehearsal, kind of taking the guys through how we're going to go about game planning for a week, all the way up until game day," explained Head Coach Dennis Allen. "We've got a little bit more in from a game-planning standpoint than we normally do. We're still not full game plan, but more than what we've done the first preseason games."
The players have to quickly adjust to game week mode and the Detroit Lions. "This week we're doing more preparation for Detroit, so that's the main difference," said DE Hall Davis, who scored his first touchdown on any level against the Cardinals. "So we're just trying to learn their offense and know exactly what all their tendencies and everything they're trying to do."
The coaches are teaching a modified game plan for the Lions with the understanding that they are still in the preseason. "We were preparing more for Detroit, so we got a lot more Detroit looks. Their defensive scheme, a little bit more of a 4-man front. A lot of 8-man fronts. Our offense got ready for that," said Coach Allen on today's practice. "Obviously, defensively we have to be prepared for [WR] Calvin Johnson, an outstanding player. Obviously, [QB] Matt Stafford is an exceptional quarterback, so we have our hands full on defense. It was just really getting a chance to look at the things they like to do and getting ourselves familiar with that."
T Jared Veldheer felt good about how the first in-season style practice played out. "It was good," said Veldheer. "I think we took the field well today. Our bodies were fresher, getting ready for this third preseason game. You just put more of a focus on the game being played as far as the different installs and the way meetings are worked, what our attention is going to. It's all kind of geared around getting ready for Detroit and that's what kind of separates this game from the last couple."
Veteran WR Darrius Heyward-Bey is happy to be transitioning into the regular practice schedule. "It's a little bit of an adjustment, for the younger guys, it's new for them," said Heyward-Bey. "For me, it's easy. I actually like it better because you have more time to go over the install and it's quicker, but for me, I get more time to watch film on my own and do what I have to do."
This is the first time 10-year veteran QB Carson Palmer has switched to an in-season schedule during training camp. "It's been great," said Palmer. "It gives you a chance to get a feel of just how organized everything is going to be for the in-season stuff. I've never done it this way before - having a full-on game plan week for a game. It just gives you a chance to get your mind and really your body prepared for what the in-season schedule is going to be once the season actually hits. It's been really cool to get a feel for when meetings are going to be, how practice is going to be, what time in the day is going to be your time to get your workout in, stretch, whatever it may be. So it's just a good chance for everybody to get acclimated with the way the schedule is going to be in the regular season."
The change is not only about the schedule according to DE Lamarr Houston. "Now you know it's not really about proving yourself right now," said Houston. "It's about the game plan, proving you understand what's going on, proving you know where you've got to be and what you've got to do. You really try to basically work as much of the game plan of the other team as you can before you get to the game, so it's a little different than training camp. Training camp is just 'okay, let's see who can play ball.' Now, when you get to game week, it's like, 'let's see who can actually follow a game plan, follow instructions.'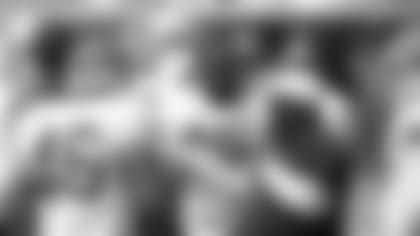 FB Marcel Reece chats with running backs coach Kelly Skipper. Photo by Tony Gonzales
The first team will get their most playing time against Detroit and are looking forward to the opportunity to iron out some kinks. "Just go out there and it's a game for us, it's a real game for us," said Reece. "We're trying to put up as many points as possible, trying to be as productive as possible, as long as the first group is out there. And just execute, go out there and execute, and show what the Raiders have."
The playing time is a chance to continue to build chemistry and be prepared for the regular season. "It gives us a chance as an offense to continue to work together and mesh so when the regular season starts we're all together and there's nothing we haven't been through or done," said Veldheer. "It gets everyone on the same page and its real good for us."
With training camp coming to a close and with the third preseason game just ahead, the players like the improvements made by their position groups. "I feel like as a defense we all just learned the defense better, we understand what the coaches want us to do and where they want us to be," said Davis.
Houston feels confident about the defensive line. "I feel like we're a lot healthier this year," said Houston. "We've been working on our hands and stuff this off-season. We all met up and went to a pass rush camp, so we did a lot of things together as a unit and now we're going to come back and I think we'll be able to show everybody what we've got."
On offense, Heyward-Bey has seen improvement in the wide receivers, particularly the rookies. "We've definitely improved," said Heyward-Bey. "Right now we have a bunch of rookies who are moving up because guys are getting hurt. It's giving them a chance to be in the fire and have some mistakes now so later on things will be good."
The running backs and fullbacks feel good about where they're headed, too. "I think we're constantly improving and always challenging each other and ourselves to be the best group in the League," said Reece. "We always want to be the best backfield, the most versatile backfield and be the most productive backfield in the League and I think we're on track to being there."
Veldheer has also seen the offensive line progress. "I think we've definitely improved," said Veldheer. "It's hard because we don't look back and focus on what we've gotten better at. It's more pushing you to keep getting better at one thing. Once you fix one thing, there's always another thing to get better at. We've been focused [on] what's the next thing we can get better at. I think that approach has moved us along in this camp in a positive way."
With only two more days of training camp and two more preseason games, the Raiders are headed full steam into the regular season. The team will take the field tomorrow morning for their 17th practice and continue to prepare for the Lions. Log on to Raiders.com, the official Facebook page, and Twitter for complete coverage.