CB Chimdi Chekwa. Photo by Tony Gonzales
The Raiders held their first padded practice and third overall practice of Training Camp 2012, powered by Verizon 4G LTE, at their Napa Valley Training Complex. It was the first opportunity for the coaches to see the players go all out on the practice field. "See if we would get after it and be a physical team and I thought we were that today," said Head Coach Dennis Allen.
The guys felt good about the practice in pads. "It went well," said CB Chimdi Chekwa. "I felt good. It really felt good to be out here. I was hurt a lot last year so it felt good to be able to run around. I think as a team we competed and I think guys did a good job staying up off the ground and it was a good feeling."
The tempo was fast and the intensity was high. "It was good," said CB DeMarcus Van Dyke. "A lot of guys flew around out there today, lot of plays being made on both sides of the ball, offense and defense, so it was real good today."
TE David Ausberry felt like the practice was a good jumping off point for the rest of camp. "I think the physicality was there," said Ausberry. "There were some mistakes day one of pads, there's a lot to improve on, but I think there was a lot of good to take from this film."
Because of the lockout in 2011, the first NFL experience of any kind for second-year players Chekwa, Van Dyke, Ausberry and RB Taiwan Jones came in last year's training camp instead of OTAs and mini-camps. With the off-season program under their belt in 2012, they feel more comfortable up in Napa. "I was walking into a dark room and didn't know what do," said Van Dyke about last year. "So I know what to expect, I know to try to treat my body right, getting in the ice tub and stuff like that, so I'm really excited."
Having the off-season was important for Jones. "I know what to expect," said Jones. "I know the tempo we'll be playing at so it's a little easier. It made a big difference for me because I was able to put on some more weight because knowing that coming in to camp that I was going to lose some weight and I got a little stronger, a little bit faster."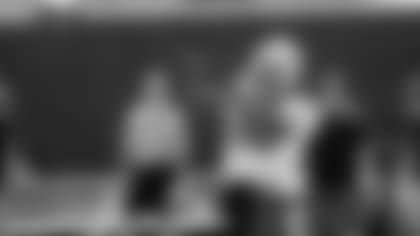 The off-season was also beneficial for Chekwa. "It helped a whole lot," said Chekwa. "I think last year, even while I was playing, I was thinking too much trying to figure things out. Now, I can play much faster because I already know the plays and I already know the process."
"I think physically [training camp is] the same, but I think mentally it's much, much easier," Chekwa continued. "The mental part makes the physical part even easier just because when you feel better mentally, your body feels better and I think it's much easier mentally."
Ausberry, who made the switch from college wide receiver to NFL tight end last year, needed this year's off-season to get to the next level. "I've had the chance to go through a real off-season so I had a chance to prepare myself mentally with the playbook for a few  months and I know how camp goes now, so I think it does help the second time around with the actual off-season," said Ausberry. "Coming off a lockout, I didn't have a playbook, I came out here with nothing so I was just going out there free-styling pretty much. This year I have a chance to get with [Offensive Coordinator] Coach [Greg] Knapp and get that real off-season playbook in and I think it helped a lot. I can play a lot faster now, a lot less thinking and a lot more ball playing so I think it helped out a lot."
With a year under their belts, the second-year players are able to help the incoming rookies as much as possible. "One of the hardest things for the rookies is just knowing and understanding what the process is or what's happening next or where we're supposed to line up on special teams and those little things can really slow you down," said Chekwa. "That's the big thing I do, just helping them all with the entire process with what to do next. It just makes things easier for them."
Ausberry is able to impart some of the knowledge he's gathered over the first year to the new guys. "At the end of the day, the rookies have to realize it's football," said Ausberry. "It's football at the end of the day so take what you've got, give 100-percent effort, and try to keep the mistakes as low as possible."
Now that the first padded practice is out of the way, the team can look forward to the weeks to come to prepare for the regular season. "Coach Allen always tells us, 'don't look into the tunnel because it's dark right now, so just have to keep digging and keep digging and hopefully we'll get the light at the end of the tunnel," said Van Dyke.