The first-team offense huddles during practice as Head Coach Dennis Allen looks on. Photo by Tony Gonzales

The Oakland Raiders took the field for their seventh practice of Training Camp 2012, powered by Verizon 4G LTE, exactly one week out from their first preseason game. The players are feeling good about camp so far and are looking forward to playing against an opponent for the first time since January.
Veteran DE Dave Tollefson, who won two Super Bowls with the New York Giants, is impressed with first-year head coach Dennis Allen. "It's going good," said Tollefson on training camp. "Coach Allen is doing a great job of managing practice time, situations, and just really getting in the best work that we can get in considering what the new CBA says we can do. The walk-throughs are so important now and he emphasizes that. It's going really good. As a rookie head coach, I'm really impressed."
FB Marcel Reece, entering his fourth season, has seen a constant improvement each year he's been at training camp. "I feel like it's going well," said Reece. "I feel like every year we get better. I feel like the intensity moves up a lot. I feel like everyone moves faster and we learn more and more about being pros. So I think camp is going well."
For rookie DT Christo Bilukidi, each training camp practice is crucial in order to be ready for the preseason. "I feel like it's going good," said Bilukidi. "I'm getting off the ball. I'm doing everything coach is asking me to do. In meeting rooms, I'm doing everything so I can be on that active roster. I feel like it's going real good. [The coaches are] teaching me, the vets are teaching me exactly what to do, so it's going really good."
The players know they have a long way to go to be ready for the regular season and Tollefson is keyed in on what still needs to be done. "We just have to keep pounding this rock and keep working and keep working better," he explained. "This early in camp, even with the preseason game, you can't get too caught up with game planning and stuff like that. There's a little bit of that, but you really you have to make sure you're doing your stuff right, the stuff they have installed already, or they're going to install. You have to run it right, you have to have good pad level and at this point, I just try to focus on the little stuff."
WR Jacoby Ford, in his third Raiders training camp, thinks the team just needs to keep grinding. "I think we just need to keep working hard and keep pushing through tough days like today," said Ford. "As long as we just go out and prepare ourselves well, we'll be all right."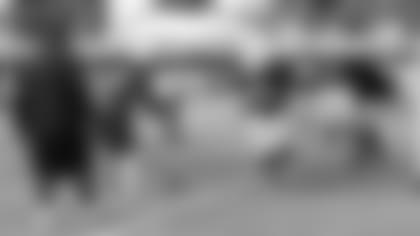 DT Christo Bilukidi puts in work during position drills. Photo by Tony Gonzales
Reece is confident that if the team keeps putting in the work, they'll be ready to go come game day. "Keep doing what we're doing, keep practicing , keep moving fast, keep learning," said Reece. "The more and more you learn, the better and better you get, the faster and faster you play, I think we're on the right track right now and we're all looking forward to the first game that's for sure."
The Raiders are excited to face off against players in different color jerseys. "Without question, that's one of the biggest challenges of camp is you don't want to kill your own guys because they're your teammates," said Tollefson. "We're all men with pride and you get a little frustrated going against the same guy every day and you kind of want to beat up on somebody else. So that's a big part of the preseason games is just the change of scenery."
Reece echoed Tollefson's sentiments. "When you first get to camp, you're excited to be back on the field, play football, put the pads on for the first time and then after a while, you're like man, I keep hitting the same people," said Reece. "So you want to hit someone else and you want to score touchdowns against someone else and you want to tackle someone else. Once that gets into play, it's football season, it's real football season, it's no more training camp."
Bilukidi is excited to step on the Coliseum field for the first time, but is keeping focused during practice. "You look forward to a big crowd, so your mindset changes because it's game time, people are fired up, the adrenaline is rushing, but still when you practice you still have to practice the same way just so you make sure you're going to be good in the game to do what you need to do just to be successful," said Bilukidi.
Even the veterans get amped up for the first game, but they also understand the need to stay even-keeled and focus on the small things. "You've got to really stay focused at this point in camp," added Tollefson. "This one, we're really going to try to focus on what [defensive coordinator Jason] Tarver and [Head] Coach [Dennis] Allen defensively want us to do. That's stop the run and get after the quarterback. How we do that is probably going to be pretty simple, compared to what we do in the regular season, but if you can't do the simple little stuff right, then you don't have a chance to do the hard stuff."
Game day is what the team plays for. "That's what practice is for," said Ford. "You go out there and do well on the practice field, and when you go into the game, it just makes everything ten times easier."
Tollefson is ready to go. "Are you kidding me? It's going to be a blast," said Tollefson on playing in front of Raider Nation. "My family is going to be in town. Obviously, I'm from here. It's great to be back home and play in front of the crowd. It's going to be exciting."