Q: What was the first time you went to a quarterback camp?**
Carr:"I don't know." (laughing)
Q: Were you about 10, or younger?
Carr:"I'm trying to think. I don't even remember going really to a quarterback camp. My dad and my brothers just taught me everything that I knew."
Q: So you didn't do Elite 11 or any of those?
Carr:"I got invited, but they didn't pick me. I wasn't one of the 11, so I didn't get picked for that."
Q: Pete Carroll has been talking about how quarterbacks such as yourself and Russell Wilson are ready earlier than they used to be because they are better schooled at a younger age. I'm just curious as to when your "younger age" started.
Carr:"The best quarterback camp I could have was my dad and my brothers, so that's where I learned my stuff from. I had good coaches through high school who knew the game, who taught me really well. I had great coaches in college that knew protections, understood protections, understood coverage, and how to teach me those things. I'd give the credit … I've been blessed. I thank God to have a brother and my dad, a dad that cared enough to teach me how to throw. My dad can straight fling it, still. He taught me how to throw and then, obviously, my brother taught me the mental side of it as we got older."
Q: So you were home-schooled, so to speak?
Carr:"I was home-schooled when it comes to quarterbacks. I was definitely home-schooled."
Q: Is there anything you take from playing the Seahawks in the exhibition season to now, or is it so different?
Carr: "It's so different, it is. That game, it is what it is. It was preseason game No. 4, and that's where it ends. There's nothing to be said after that about playing them and all that. This is the defending Super Bowl champs at their house with great players all over the field. It'll be a challenge and something I'm looking forward to."
Q: What is the loudest crowd you've played before?
Carr:"It sounds funny, but Bulldog Stadium gets pretty dang loud. I've played at Oregon, I thought that was pretty loud, but when Bulldog Stadium was rocking, it was just as loud as that. I'm trying to think. Wisconsin, I thought, was pretty loud also. Wisconsin got pretty loud – Nebraska. That's in college, obviously. That's all I have to go off of, but some of these NFL games have been pretty loud as well."
Q: When you have the crowd noise as loud as it can be in Seattle, how does that affect you guys and your communication at the line?
Carr:"It doesn't limit it, really, to me. It's just sometimes you've got to just do hand signals, sometimes it's just little sudden gestures, all those kind of things. Obviously, silent counts – yeah, you've got to work those and just have them ready. You have a plan for it, but it's not something that you spend all your time worrying about, because it's just football. You go out there – we've done silent all year, we've done hand signals all year. I've heard it gets really loud and I'm sure it well get really loud, but we're just going to go out there and do what we've been taught to do."
Q: Have you seen a player like Richard Sherman?
Carr:"Yeah, the first time I got to play him was awesome. It was really cool to get to play against him, because obviously, he's one of the best at what he does, and rightfully so. He puts it on film; the guy is [one of the best]. I'm excited to play against him, always excited to play against those guys, especially him. They've got a great D-line, great linebackers; they're secondary is – they are who they are. So not just Sherman, but that whole defense – they're the defending Super Bowl champs. They've got a Super Bowl MVP running around. They've got two of the highest paid players at what they do. They've got a great D-line. They've got players all over the place."
Q: Mychal Rivera had his best game of the year. Did you see something in his confidence after his first catch, or did you see anything there at all?
Carr:"It was really match-ups and what coverages they were playing on them, which obviously, a lot goes into it. Like I always tell you, a lot goes into it, but Mike's someone that I trust to win. We like the matchups that we were getting and we liked the coverages that we were getting to throw it to him. He did a great – man, some of those catches that he made were awesome. If he keeps doing that, I'll definitely keep throwing them up to him."
Q: You guys have been to the red zone only 11 times, what do you think goes into that? How do you get down there more often?
Carr:"Better execution all around. Obviously when we get down there, we're pretty good. We'd like to be in there more. We always feel like we have a good red zone plan. I think our guys execute it really well. It just goes back to the field, we have to execute on third down. We have to be good on first and second down. Those things lead you down there. I'm looking at any way that I can do those things better that way we can get down there and try and get some more points."
Q: What are your thoughts when you were playing receiver on that one play?
Carr:"I was hoping I'd get a chance to make a play! The guy made a good play on hitting Darren [McFadden] right there, but I was hoping for the chance. It's all you could hope for."
Carr:"Always. That's what I told D-Mac, I'm always open."
Q: Did you run a good route?
Carr:"I played it off pretty well to get him to bite a little bit. I guess I have to beg for some route running now."
Q: Pete Carroll had some great things to say about you and Khalil Mack. Does that get you excited about the future or are you more worried about now?
Carr:"Definitely want to win now. For someone like Coach Carroll to say something, I don't even know what he said, but the way you're saying it, it must have been really nice. So, thanks coach, I appreciate it. For him to say something, that's awesome. I appreciate it and it fires me up for what we can do now. Also, we're both rookies and we're going to have long careers and hopefully a really long time in Oakland."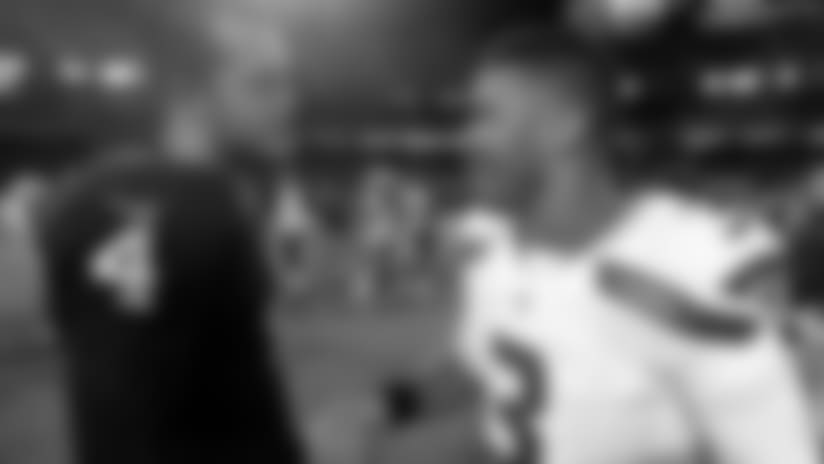 Q: Did you talk to Russell Wilson on the field after that game?
Carr:"I did. We have been communicating. We've communicated back and forth a couple of times after that, once or twice. He's a great guy. He's someone that came in at a young age and has done really well for himself. I'm happy for him."
Q: Did he offer up a chance for you to talk to him if you wanted to?
Carr:"It was kind of one of those things and we're both obviously very busy right now, but maybe in the offseason we could do something."
Q: You and Khalil came in together. Was there a point early on that you realized he's a special player?
Carr:"Absolutely. The first time I saw him. The guy is built like a tank, and then I said, 'He ran a what?' It's unbelievable to me. Then I saw him come off the ball in rookie minicamp. I won't say who, but he put my tackle in my lap. I was like, 'Wow, this guy can really play.' I was excited. I keep telling him, for the next 15 years, those sack-fumbles will be really nice for the short fields. He's a freak the way that he can just throw people around. He creates a lot of bad matchups for people when he's out there."