CB Chimdi Chekwa, his fiancée Xia, his teammates, June McKenzie and those associated with First Place for Youth pose for a photo. Photo by Tony Gonzales
CB Chimdi Chekwa teamed up with First Place for Youth in Oakland to host a toy drive during the organization's annual holiday party.
| | |
| --- | --- |
| | |
| | CB Chimdi Chekwa speaks to everyone at the First Place for Youth holiday party. Photo by Tony Gonzales |
| | |
First Place for Youth is based in Oakland and is a non-profit helping youth transition out of foster care. "We provide for young people what most young people have from their families – safe, stable housing, education, employment support, unconditional love, a little bit of accountability when needed – just the tools that a person needs to ultimately become productive, healthy, integrated member of society," explained First Place for Youth cofounder and vice president of policy Deanne Pearn.
Chekwa gathered and provided toys for the children in the program and those in attendance at the party. "I got involved in First Place for Youth because learning about the organization and how they support the community and what they do for people who came up in the foster care system - it really touched me," said Chekwa. "I wanted to be able to do something. Around the holidays, there's a lot of joy, but you can also see what you lack when the holiday season comes. I wanted to do a good job of trying to reach out and support the community, give back. I think First Place for Youth was a good organization to work with to do that."
He also invited many of his teammates to join him. CBs Taiwan Jones and Chance Casey, safety Shelton Johnson and WRs Brice Butler and Greg Jenkins came out to support Chekwa during his event and also spent time signing autographs for the guests. "It was very, very encouraging. It's encouraging for the guys to help support me and what I'm trying to do in the community," said Chekwa. "I wanted them to come out so they can do similar things like this."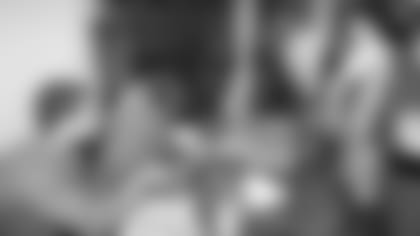 Chekwa and his teammates sign autographs for the guests at the First Place for Youth holiday party. Photo by Tony Gonzales
Johnson wanted to support his teammate and also give back to the community during the holidays. "I think he appreciated it a lot being it's his event," said Johnson. "I wanted to come out here and help out just because I know he wanted it to be a success. It's always good to have the support of your teammates. Also, I feel like everybody should have an opportunity to at least get something on Christmas. I know a lot of people are struggling or sometimes aren't able to provide the things they want to get for their kids and even the smallest thing helps a lot during the season."
| | |
| --- | --- |
| | |
| CB Chimdi Chekwa hands out gifts to the kids. Photo by Tony Gonzales | |
| | |
Casey took advantage of the opportunity to give back. "I feel like I've been really blessed this past year and this is an opportunity to just share what God's blessed me with, give back to people, kids, that are really struggling this time of year," said Casey. "Christmas has always been a big deal to me. It's my favorite holiday, so anything I can do to help put a smile on a little kid's face is all worth it."
Community outreach is something Chekwa is passionate about and a component of his career he takes seriously. And getting out in the community during the holiday season has a little extra meaning. "It's very important. I grew up as a kid enjoying the holiday season," said Chekwa. "It's not really until you're an adult that you realize that everybody doesn't have the same opportunities you may have had as a kid. You kind of want people to at least get some sort of that feeling around the holiday season, so I was able to do what I could to help out."
Chekwa's participation in the First Place for Youth meant a great deal to the organization and the families involved. "It means the world to our young people," said Pearn. "What is so hard for youth in foster care is they've been forgotten oftentimes, or that's how they feel. They don't necessarily have the family connections or the permanency. They don't have anywhere to go for the holidays. For someone like Chimdi to come out and not only support them, but to bring gifts and to bring teammates, it's a huge vote of confidence and support. It's priceless for our young people."
Chekwa hopes the gifts, the autographs and the holiday spirit makes a small impact in the youth's lives. "I think it means a lot. I really hope it means a lot," said Chekwa. "Oakland has done a lot for me and me being able to play for the Raiders, so I want to support the community I work in that has supported me for the last three seasons. It means a lot to me and I hope and believe it means a lot to them."