Kicker Sebastian Janikowski and Defensive End Khalil Mack
It's a favorite phrase of defensive coordinator Ken Norton, Jr., -- he wants to coach players who "love 'ball.'"
The sentiment has been echoed by Head Coach Jack Del Rio and the rest of the Oakland Raiders' coaching staff, but maybe more important than accumulating a collection of players who "love 'ball," is putting together a team that not only loves playing football together, but also loves spending time together.
The football season is a long one. From training camp in late July to hopefully a postseason run ending in February, for the better part of seven months, teammates spend most of their time together. They eat meals together, travel together, and spend a majority of their days with one another at the team facility; needless to say, they're together – a lot.
However, just because a team spends all this time together doesn't necessarily mean the players get along, but one thing about the 2016 Oakland Raiders is they are friendly and like spending time together.
Throughout the 2016 Offseason Workout Program it's been evident that the Silver and Black have been building something – and it's not just the timing on routes or understanding of defensive scheme. They're building chemistry – and having fun doing it – and just from the players' interactions on the field and in the weight room, you can tell they like spending time with each other.
"You hear us all the time break it down, 'family,'" said quarterback Derek Carr. "Family on three. We don't take that lightly. It doesn't just stay in this building either, it leaves this place. I think I was texting [defensive end] Khalil Mack past my bed time last night about stuff. It's just stuff like that, man, where you can really see the growth of this team from when I first got here."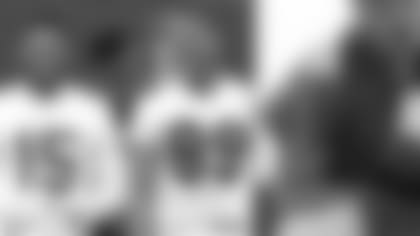 When Carr and Mack first arrived in Northern California, the Raiders were a team coming off a 4-12 campaign and without many bright spots to lean on. The pair of rookies were aware of this, and set a goal to change the culture surrounding the team.
"That's something that Mack and I set out to do, is change the culture," Carr said. "That's part of that. Obviously the winning and the winning atmosphere and the belief in all those things, but, it's stuff like that, being family outside of this place that we want to see change, and we're going to lead the way. To be able to do that and just text randomly, I get random videos from teammates all the time, just hilarious."
Does being friends translate to wins on Sundays? Not necessarily, but what it does mean is that the 2016 Oakland Raiders are building something special, and that's not to be taken lightly.
From "dunking" on each other in practice, to good-natured ribbing on the practice field, the Raiders are having fun spending time with each other, and comradery – while not quantifiable – is a key cog for any team with high expectations.
"That's the kind of stuff that you can see this is a close group," Carr said. "When we leave this place, I've even had my wife say, 'Who are you texting? Who texted you? Didn't you just see him for twelve hours? (laughter) 'Yeah babe, but we're just still talking about something,' and she'll just laugh because she gets it, you know? We had a great group of guys in Fresno that were over at the house all the time. Something like, you guys can come over whenever and all of those kinds of things. To have that is big."