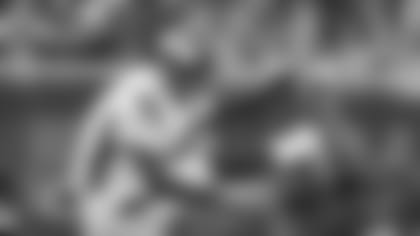 Q: How and when did this all transpire?
Kluwe: Well I was born in 1981 and then I grew up… No, it was after the Vikings released me, I had just kind of been waiting to see what would happen. My agent had got in contact with the Raiders. They said they were interested, brought me in for tryout. I think I punted fairly well, and they said bring me in and give me a shot at the OTAs and hopefully camp.
Q: Was it exciting to come to the Raiders? I saw the thing last year where you covered up the Hall of Fame [patch] that had a 'Vote Ray Guy' thing on it. Considering the history of punters here, what would it mean to you to have a chance to punt for the Raiders?
Kluwe: It would be awesome. The Raiders have a great history of, not just punters, but special teams overall. The Raiders have always been one of those teams where they take a lot of pride in their special teams and it really shows. For me to have the chance and contribute to that, I'm really looking forward to it.
Q: You moved to California when you were a young kid, correct?
Kluwe: Yeah, I was born in Philadelphia but my parents moved to Southern California when I was about one. So for all intents and purposes, I grew up in Southern California.
Q: Your whole time in the NFL, would you say you had a hope that you would eventually play for an NFL team in California?
Kluwe: It would be nice. I was actually kind of hoping to do the 'spend your entire career with one team' because I think that's pretty cool and it gets kind of that legacy almost, but at the same time, that's really hard to do in the modern NFL. That really doesn't happen that much anymore. So the situation coming up was just amazing for me because I'm a lot closer to my family now. My parents will be able to come out and see quite a few more games and just being in the state is really cool.
Q: Are you thinking you're coming off your two best seasons?
Kluwe: I think I've had a pretty good career in general. I've had good numbers. I've always striven to do exactly what the coaches want me to do. My goal is just to be here and help this team win in any way I can. You don't really hope to see your punter out on the field that much but when he's out there you hope you can do what's necessary to help the team win.
Q: Were you surprised the Vikings didn't bring you back?
Kluwe: I was a little surprised just because I felt like I contributed over the years to the team. But, at the same time, this is the NFL, it's a business and it's just one of the unfortunate aspects of the business. We don't really get to call our own shots as players. You kind of have to go with what management and coaches want.
Q: You had a pretty interesting career just in terms of outside of football in social activism and rock n' roll and Twitter and all that stuff. Are you looking forward to interact with Raiders fans and stuff? Have you already got a little bump on your Twitter account?
Kluwe: I'm definitely looking forward to interacting with Raiders fans. I know Raiders fans are very passionate about the team and really looking forward to getting to meet quite a few of those people because I know in Minnesota it was a lot of fun doing Twitter events and things like that. Hopefully here in Oakland, it will be the same way.
Q: Talking about civil rights issues and whatnot and in particular I understand that you're kind of focused on in California, the Prop 8. What are your plans in regards to Prop 8?
Kluwe: My first plans are to make the team, that's kind of the overriding influence right now. I don't really anticipate a whole lot necessary there because it's one of those things where the Supreme Court should look at it and realize that there are established precedents in case in order to rule the right way on this case. So, I'm hopeful that once June rolls around the Supreme Court will have made the right decision.
Q: Were you surprised, or maybe not surprised, that there was a nationwide acceptance when [NBA player] Jason Collins came out?
Kluwe: I was pleasantly surprised, I guess? Just the fact that this seems to be something that as younger generations grow up, they really don't see what the fuss is about. That gives me hope for the future of our society because it really is a matter of people being free to live their own lives without feeling like they are being oppressed by other people, which I think is at the very core of this civilization.
Q: The Raiders have had a real focus on high-character guys as of late whether it was the draft or during free-agency, how do you think you fit into that?
Kluwe: Hopefully I fit in pretty well. I've never been arrested. I've never done anything detrimental to the team or said anything detrimental about coaches or other players. And for me, I just want to come out and help the Raiders win in any way I can. That's what my job here is to do is to help the football team win games.
Q: Did I read your stats right? Have you only had one punt blocked?
Kluwe: Yeah, and the only reason it got blocked was because I dropped it. And that's one of the things that I also pride myself on is that I have one of the quickest get-off times in the NFL. It hopefully takes some pressure off the guys blocking in front to where they can get down in getting coverage faster because they know I am going to follow.
Q: Seems like kickers and specialists are almost like a brotherhood of sorts; do you know Sebastian Janikowski and Jon Condo at all?
Kluwe: I got the chance to meet them when the Raiders played in Minnesota, I want to say three or four years ago. Didn't really get the chance to really talk to them outside of that. But I'm definitely looking forward to meeting them and getting to know them because it is one of those things where unless you're a specialist, you don't really understand kind of what the specialist job is like. It's sort of that specialized job that you have to do in order to know how it is. I'm anticipating good relations with both of them and also getting to know Marquette [King]. I met him when I went in for my workout and he seems like a great kid.