Opening statement: **"I'll start off by just really addressing DJ [Hayden]'s situation so that we all understand where the decision came from. We got in yesterday afternoon, we started talking about it. We had a couple of injuries yesterday in practice. We had to get down to 75 players. As a coach you're always looking at it from an optimistic standpoint, but after discussing it, we didn't feel like he was going to be ready. We feel like he's still a couple of weeks away from actually being ready to be out there, practicing and playing football. He's going to need some time to get in football condition, football shape and because we needed the roster spots for this game, we went ahead and decided to make that move. He'll miss the first five games of the week, first five games of season excuse me, and he'll be out for six weeks, and then at that point he can return to practice and could potentially return to play depending on where he's at physically. That was the decision, that was the thought process that went into making that decision. That's the reason why we made that decision today, as opposed to waiting and making that decision on Saturday."
Q: How optimistic are you that Hayden will be 100 percent after the six weeks?
Coach Allen:"I'm optimistic because I think he's gotten a lot closer. Again, I watched him work out today. He looks a lot better and you can see him running around and moving around. He's able to do some planting and some cutting, but it's a big difference between being over with the trainers and being able to do that and actually going out and playing football, so that's why we made the decision. I'm optimistic that he'll be ready, I think he will. I think he's close. He's probably a couple of weeks away from really being able to participate in any type of football activity, and that being the case, we felt like it was the right move to hold him out."
Q: When you first told us about this at the beginning of camp, you described it as a one- to two-month injury, typically that's going to be about four before he can practice…
Coach Allen:"Well, I think what you look at is you don't know exactly how guys are going to respond to different injuries. He's working extremely hard to get himself back out there. He's just not ready yet. I think we all were hopeful that he would be ready, but based on where he's at right now, he's not ready to play football."
Q: What is he allowed to do the next couple of months here?
Coach Allen:"Continue the rehab process. He won't be able to participate in practice, but he'll continue the rehab process and we'll be able to really amp up over the next three or four weeks. We'll really be able to amp up his conditioning level and amp up some of the football type moves that he'll have to do when he's able to come back."
Q: You mentioned a couple of guys were hurt in practice yesterday. Who was injured?**
Coach Allen:"Greg Jenkins and Larry Asante."
Q: Considering the amount of time he's [DJ Hayden] missed, how quickly when he starts practicing, is it something where he can come back?
Coach Allen:"I think we'll have to determine that. He's missed a lot of time, but if he's staying into it mentally, which he has been, my hope is that he'll be able to come back quick. I wish I had that crystal ball and I could tell you exactly where he's going to be at physically and mentally when we hit that six-week point, but I don't know the answer to that. My hope is that he'll be 100 percent and hopefully the mental part will come back real quick."
Coach Allen:"I think he's disappointed, as any competitor is. He wants to play. He wants to be out there. He doesn't want to miss any more time, but that's a decision that we've got to make as a football team, as an organization and that was a decision that we made what we thought was best for this football team." Q: Is Chimdi Chekwa the third corner? Will he be ready for the opener?
Coach Allen:"I don't know if he'll be ready or not. He's going through the rehab process too. My hope is that he is, and I think who the third corner is, that's still to be determined. Some of what we'll see on Thursday night will go a long way to determining that."
Q: Are Neiko Thorpe and TJ Carrie competing for that spot?
Coach Allen:"Yeah. I think both those guys have really done a good job of competing. We haven't seen as much of Neiko Thorpe. We've seen a little bit more of TJ Carrie. Again, like I said with Neiko, I was pleased with what I saw before he got injured. I liked what I saw in the Green Bay game, but a lot of the determination will be based on what we see on Thursday night."
Q: Theoretically those are the guys that would play outside and Carlos Rogers would move inside to the slot?**
Q: Was Sio Moore OK out there today?
Coach Allen:"Yeah, he moved around out there. He's still not 100 percent, but we felt like he felt like the best thing for him to do was to get out there, move around a little bit, stayed out of contact, but at least go through some of the individual drills and stuff like that to begin to get some movement back."
Q: Does Matt Schaub not practicing again today mean he's not going to play Thursday night?
Coach Allen:"Yeah, I don't anticipate him playing. My anticipation is we'll see a lot of Derek Carr and Matt McGloin in this game."
Q: Do you think you'll see Matt throw?
Coach Allen:"He threw today on the side with the trainers, which was a good sign. That was a positive sign. Again, we'll see where he's at tomorrow and again, take it day-by-day with him."
Q: How much was Menelik able to do out there today?
Coach Allen:"He got some team reps. Again, he's another guy that's not 100 percent, but he's battling through it. He's fighting through it. We're going to continue to push him in the rehab process and hopefully get him back here soon."
Q: With Derek not playing in the last game, this game looks like a good opportunity to get Derek more NFL experience under his belt.
Coach Allen:"Yeah, no question. He needs the experience, as with all these young guys. So for him to be able to get out there against a really good defense and get some more game experience will be a big part of his development."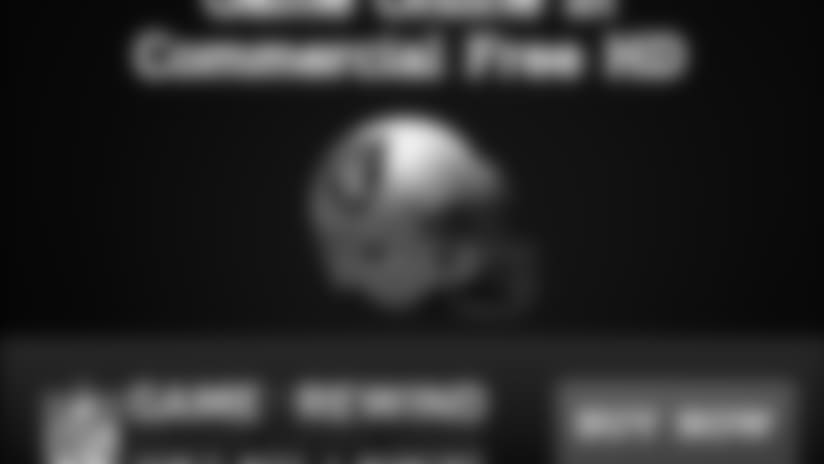 ](http://www.pntra.com/t/R0BKSkdFREBKTERGSEBISEtERw)Q: Have you done much film study of Seattle at all?
Coach Allen:"Yeah, we've done a little bit. Not to the extent that we would do in a normal game week, but we began the process over the last couple of days as coaches. We've looked at it and we'll begin the process of looking at that with the players in a little bit."
Q: Obviously we will see a lot of Terrelle Pryor. How has he looked on film?
Coach Allen:"He's still extremely athletic. He can make a lot of plays in the pocket, moving around in the pocket, creating. They're doing some things with him with the read-option game, which presents a big challenge. Obviously, his speed is something that we're certainly concerned about. So he's shown a lot of the same things that we saw when he was here."
Q: Is it good to be able to go up against a guy like that? You don't really have that kind of guy on your team to face in practice.
Coach Allen:"Yeah, well you know, we're going to face some of that stuff Week 1 against the Jets. So I think really with all three of their quarterbacks – talking about Seattle – I would anticipate we're going to see some of the read-options tuff. They've done it throughout the preseason. If we get some of those plays, that'll be good experience for us going into Week 1 versus the Jets."
Q: Any updates on Sebastian Janikowski or David Ausberry?
Coach Allen:"No, no updates. They're both still going through the rehab process. They're both doing better and we'll just see how that goes."
Q: Will Janikowski kick Thursday or no? Coach Allen:"Probably not."