Coach Allen: Okay, injury update as far as the new guys: Ed Wang has a shoulder [injury], Wiz [C Stefen Wisniewski] has the calf, [FB Rashawn] Jackson has a hip, and [DT Jamie] Cumbie has a foot. All of those are kind of bumps and bruises but we'll see what happens come Friday night; it's a short turnaround.
Q: Any update on [LB Aaron] Curry?
Coach Allen: No. Curry's still in LA; he's receiving  a series of treatments and we'll probably have him back next week and see where he's at.
Q: What are you hoping to see on Friday night?
Coach Allen: Improvement. I'm hoping to see that we get better from week one to week two. I've said that all along and we'll continue to say that. Our job is to get better every week and get ready and prepare for the opening game of the season so that's what we're aiming to do.
Q: You couldn't have anything with them [the team] yesterday, right?
Coach Allen: We had a little workout with them yesterday afternoon.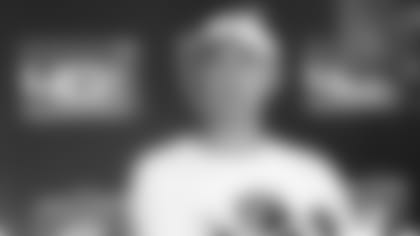 Q: How much time can you spend on all the corrections you need to make from that game?
Coach Allen: We got enough time yesterday to go through the corrections, watch the tape with them. Because we're on a short week we have to give them five days off before the last preseason game so they'll catch up a bonus day after this game, before Detroit.
Q: How much does the short turnaround affect what you can do Friday? Does it affect game planning?
Coach Allen: It's not going to affect us a lot as far as game planning is concerned. During the first two player days off, as a staff, we worked on game planning for both Arizona and Dallas so we kind of have the game plan in place. I don't anticipate that really being that big of an issue, it's more or less getting guys recovered and ready to play again on short rest.
Q: Is there any benefit to going through a short week now since you have a Thursday night game during the regular season?
Coach Allen: Yeah, a little bit, but it's a totally different mindset as far as how we go about practicing during a short week in training camp as opposed to during the regular season. I think our starters got anywhere from 8-12 reps in the game the other day so it's a little bit different feel than when they're getting 30, 40, 50, 60 snaps in a game; so it's a little different.
Q: [QB Terrelle] Pryor's self-assessment the other night was really harsh and he even at one point said 'everybody was great except for me.' I know you want a guy to be self-critical but do you also want a guy to have some perspective?
Coach Allen: That's what our job is as coaches; it's to try to that balance for him. He's a competitor just like all the rest of us and he's always been used to being the best. He's very critical of himself and that's the only way to get better is to look at it honestly and you see where you made your mistakes and you try to get better and correct them. That's our job as coaches, to help him.
Q: Often times the number one guy is looking over his shoulder, worried about the guy that might be taking his job; when you look out there and you see Carson [Palmer] out there now with Pryor and he's always willing to help those guys, what does that say about him?
Coach Allen: It says a lot about Carson as a person. It says a lot about him as far as his being a team player, it says a lot about him as far as his unselfishness, [and] it says a lot about him as far as wanting to win. That's the only way you develop a team and that's the only way you develop a championship team. We all have to be in this together and we're not independent contractors just looking out for ourselves, we're looking out for the Raiders and what we feel like helps us win. It helps Carson Palmer if Terrelle Pryor gets better as a quarterback. If Christo Bilukidi gets better it helps Tommy Kelly and Richard Seymour because we're in this for one reason and one reason only, and that's to win. And we need everybody to do that.   
Q: When you see a guy like [WR Jacoby] Ford who seemed to have a really good camp going into that game but had kind of a bad night; how much stock do you put into that?
Coach Allen: He didn't play up to his expectations or our expectations in the game the other day. It's one football game; it's not the end of the world. He knows that we all know we all have to get better, every single one of us out here. That's what we expect to do; we expect to get better from one day to the next. We have to put that one behind us because there's not anything we can do about the last one; we have to go on to the next one. He's done a good job of putting it behind him, he's ready to go back to work, and we have all the confidence in the world in Jacoby Ford.
Q: Mentioned [DT Christo] Bilukidi, what did he and [DT Dominique] Hamilton show you on Monday night that you liked? What did you see from those two guys?
Coach Allen: I was impressed with them both as far as their effort. I thought Christo, specifically, on the run defense was pretty powerful in there. [Those are] things he's got to work on and continue to get better. So it was good to see him play the run well. And it was good to see Hamilton with a nice pass rush and getting a sack on the quarterback.
Q: What are some of the things the Cardinals do that are going to give you challenge and give you a good look to help your team?
Coach Allen: They are going to throw the ball to number 11. He's a good player. They present some tough challenges. They give you a lot of different looks on defense.  Obviously offensively they've got a good runner. Obviously Larry Fitzgerald is an outstanding receiver. So we will have our work cut out for us. I'm not really concerned about what Arizona is going to do. I'm more concerned about us and how we execute.
Q: [LB Chad] Kilgore seemed to make a couple of plays in the game. What have you seen from him so far?
Coach Allen: I've seen a young guy that wasn't with us for OTAs or mini-camp that has come out and caught our eye a little bit. He's done some nice things so I'm looking forward to watching him play again and seeing where he's at after the first preseason game,  see what kind of improvement he makes for the second one.
Q: You guys have a couple of open roster spots. Are you guys looking to bring anybody in at this point?
Coach Allen: Well we are always looking. We are always checking the waiver wire; and anything that we feel like is going to help us and give us a chance to win we are going to do it. We haven't found that guy that fits that bill yet. But when he's out there and he's available we are going to try go get him.
Q: With Pryor the other night, he was on the move a lot. Were you confident that when he was moving he was doing it because he had to? Or were there any times that he was too quick?
Coach Allen: I think it's a combination of a lot of things. I think obviously there were a couple of times when protection broke down. And there were some times where he's got to sit in there and make his reads. It's been a year since he's been in a real football game so I wasn't totally discouraged. I'm looking for him to get better; he's been working hard to do that. I'm not going to draw any conclusions on where Terrelle Pryor is. I'm going to let the process play out.
Q: You talked about how you liked the decision Carson made throwing deep to Jacoby [and that it] was a good decision. How is the balance between risk and reward for quarterbacks in those situations? How do you balance that?
Coach Allen: I think you have to understand what the situations are. When you have single safety middle and you've got speed on the edges you're going to take your shots. We go back, we look at the tape and learn from it. There are corrections that can be made all the way through and we don't look back. I don't think you can ever have your quarterback be scared to take a chance. He took a chance, didn't work out, we go on to the next play.
Q: Do you expect to see Shane [Lechler] punting in a preseason game?
Q: Has [Shane] had any type of procedure or anything?
Coach Allen: He had a scope.
Q: How surprised are you to see [RB Mike] Goodson back this soon? Must have been nice to see him out here.
Coach Allen: It was great to see him out here. Not surprised that he's out here after seeing how he was coming around in the rehab process over the last couple of days. We kind of knew that he was going to be close. He wanted to play in the game the other day but we held him out for precautionary reasons. I anticipate him playing in the game Friday night.
Q: Did he surprise you at all at how good he was the first two weeks of camp? Or did you think that going into camp?
Coach Allen: Well he had a great offseason. So in that regard I wasn't necessarily surprised but I have been very pleased.
Q: What did you see from him today, first practice back?
Coach Allen: I saw the same explosion. I'll look at the tape and see exactly where he was from a mental standpoint and assignment wise. He made a nice cut in one of the team periods. So I didn't see any ill effects.
Q: Is this pretty much a no-pads week because of the short week? Or do you go padded tomorrow?
Coach Allen: Yes. We will be kind of like we were today. Got to get them back and get them ready to play.