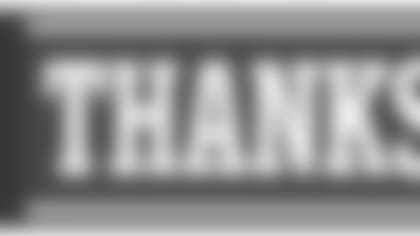 On Darren McFadden and Mike Goodson: "No, neither one of them participated today and they're continuing to rehab and hopefully we'll get them out here soon."
On Denarius Moore's hamstring: "Yeah and he was limited, more of a precautionary measure, but I don't think that's really a big issue."
On the Bengals: "It's a huge challenge. I think offensively they have some weapons. The wide receiver A.J. Green is an outstanding talent. The tight end [Jermaine] Gresham is a heck of a ball player. They'll able to run the football. Andy Dalton I think is really improved. As he's gotten into the second year of his career, he's gotten a lot better. Defensively, they're very active, very fast, outstanding front four, which gets after the quarterback. So they're a well-rounded team. They were a playoff team last year and there's a reason why they were a playoff team last year."
On Carson Palmer returning to Cincinnati: "We've talked to him and we'll continue to talk to him. Really what we have to focus in on is us. We've got to focus in on the Raiders and we've got a lot of things we have to get fixed. That's where our focus is and Carson understands that. It's more about us."
On Palmer's interceptions: "It's something that we've addressed with the team. The turnover/takeaway ratio has not been good over the last few weeks. We've got to do a better job of protecting the football in all areas, offense and in special teams. And then defensively, we've got to do a better job of getting takeaways and that's something we addressed with the team today and that's something that we have to continue to work on."
On if Palmer takes more chances because of the Raiders defensive struggles: "Obviously he feels like that he can make a lot of football plays. The thing that he has to do is make sure that he protects the football because that's our best chance of having success. We can't do the things that hurt our football team and that's everybody. We've got to make sure we protect the football and don't put our defense in bad situations."
On the run game: "It's extremely important. We have to be able to have a balanced offense. When you throw the football that many times, eventually bad things happen. So we have to have balance. We have to be able to run the football. We have to make teams play us honestly so it was good to see that we were able to run the ball against New Orleans. The thing we have to do this week is we have to finish some of those drives and get points out of it."
On if he saw Marcel Reece as a 100-yard back: "I knew he was a weapon and I didn't know exactly how he was going to fit or how he was going to run, but he's done an outstanding job. As long as he continues to do the things he's doing, we're going to continue to give him opportunities."
On why Reece was successful: "I think we're improving in the front blocking and also I think he has a pretty good feel for how to run some of the plays we've asked him to run. He's done a nice job of it."
On Richard Seymour: "I don't know when they'll be back. Hopefully they'll all be back soon. All I can tell you is that they're all rehabbing. Tyvon [Branch] was out here practicing today so they're going to rehab as fast as they can and when they're healthy they'll be back out here."
On waiving Aaron Curry: "We just didn't feel like he was a fit for us moving forward."
On former Raiders Head Coach Hue Jackson on the Cincinnati sideline: "No, we haven't addressed it. We're playing the Cincinnati Bengals and we've got to worry about doing the things we have to do to have success. We can't worry about any of those outside distractions and really it's not a major factor in the game. It's going to be our players going out and our players executing against their team."
On Palmer knowing Bengals personnel and Jackson knowing Raiders personnel: "Yeah, I think it's a positive for both teams to know the other team's personnel. I'm sure he's got some insight into our players and I know Carson has some insight into their players. But again, when the game kicks off, it's going to be about our players executing against the Bengals."
On the defensive line: "Like I've said all along, it's a combination of pass rush and pass coverage. We've got to do a better job of winning our one-on-ones whether that be in coverage or whether that be in the rush and those things work together. It really comes down to individual battles and we have to win more individual battles."
On filling the roster spot: "I think there's a possibility we might fill it with a practice squad player, but we don't have to make any type of decision until the end of the week so we're going to hold off."
On role in defensive play calling: "It's been the same the whole year. We haven't changed anything as far as how we call the games. I've been pleased with the play calling and we just have to do a better job overall of getting the right execution."
On getting a win: "That would help tremendously. This league is a lot about what have you done for me lately. A win makes everybody feel better. Listen, we're working hard to try and win football games and as long as the guys are working, we're going to get things turned around."
On Mike Mitchell: "I thought he did some good things in the game. Obviously, there was a few plays where he hurt us, but the thing about Mike – Mike cares. It's important to Mike and I think the more opportunities he gets, the more he'll improve."
On if Mitchell was able to slow his heartbeat: "On some of the plays he did."
On if there is a guy on the roster that can be an elite pass rusher: "I don't think we have the great speed rusher coming off the edge like a lot of people do. I think our guys can rush the passer and we just have to work together and understand how to work together as a four-man rush."
On Juron Criner: "Yeah, I thought he did some good things and I'm looking forward to him getting some more opportunities."
On the chemistry between Palmer and Moore: "I think its part all our responsibility. I think, first of all, all of us need to look internally at what can we do better to make this thing work. And then collectively as a group how can we work to make this better. Yeah, and that's what happens when you have young players. There's a growing process and Denarius is still continuing to grow and he's going to continue to get better, but it's part of the process."
On if the chemistry has gotten worse: "No, I don't think it's getting worse. Obviously, there's been a couple situations where they haven't been exactly on the same page, but again, I feel like that's part of the process. We're continuing to work every day to make sure we are on the same page."