It's one of Colton Underwood's favorite phrases and it's a mantra that encapsulates him perfectly. Colton Underwood isn't a typical football player – on or off the field – and that's a distinction he wears with pride.
Originally from Washington, Ill. – a town of just over 15,000 people – Underwood has been in the NFL since 2014 but has never strapped on the pads in a regular season game, spending nearly two seasons on the San Diego Chargers' Practice Squad before joining the Silver and Black in December.
Underwood's offseasons are filled with the typical workouts and training one would expect from an NFL player, but in addition to his on-field work, he also runs the Colton Underwood Legacy Foundation, his non-profit organization that's goal is "to encourage youth participation in athletics and provide resources for research and people living with Cystic Fibrosis."
"I'm different," said Underwood. "Coming from a small town and growing up with a close family like mine, I always told myself that if I ever had a platform, that I was going to take full advantage of it, and I was going to use it."
Underwood is doing just that, as his off-the-field ventures would prove demanding for anyone – never mind a young player entering his third NFL season who's been asked to undertake a position change as well.
Standing at 6'3" and weighing 254 pounds, Underwood very much looks like a prototypical NFL tight end, but the inspiration for his hard work both – both between the hash marks and in the board room – comes from someone much more diminutive than he.
It all comes from a four-year-old girl named Harper.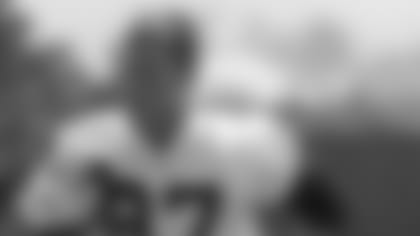 Harper Hawksworth is Colton Underwood's cousin, and she's one of the 30,000 Americans who have been diagnosed with Cystic Fibrosis, a genetic disorder that primarily affects the lungs and digestive system.
It was her battle with the disease that long served as Underwood's inspiration on the field, but maybe more importantly, acted as the catalyst for what would eventually become the Colton Underwood Legacy Foundation.
"She's a fighter," Underwood said when describing Harper. "She's a warrior. Seeing how she battles and fights every single day, not only was a motivation for me to start this, but just meeting other people along the way that have Cystic Fibrosis, that is what jumpstarted this whole thing."
The Colton Underwood Legacy Foundation officially launched in January 2016, but before it even opened its doors, Underwood hosted and organized a youth football camp in his hometown in conjunction with the Cystic Fibrosis Foundation. To say that he was hands-on in its launch would be an understatement.
The website for the event? He went to GoDaddy.com, purchased the domain name and designed it himself.
The marketing and advertisement for the camp? Done by Underwood too.
Even designing the complimentary t-shirts each camper received? You guessed it – all handled by Underwood.
"It was my baby," Underwood explained. "I was every arm of that, and it was exhausting, but it was the best way to approach it going into Year One, because I had a certain expectation that I wanted it to hit."
Registration reached capacity in just over an hour, and in total the camp raised $50,000. Underwood was hooked, seeing an opportunity to use his platform as an NFL player to bring awareness to a disease that has become a fundamental fiber of who he is as man.
"The football camp was a huge success and right after that happened, I decided that moving forward I wanted to use my own foundation," he said. "The game of football has given me so much that it would be wrong, and it would be an injustice, for me not to give back to these kids and show them how to do it the right way, not only on the field, but off the field."
Underwood is only 24 years old, but he's not under any illusion that his run as an NFL player will last forever. According to the NFL Players Association, the average NFL career spans just over three years, and that's a statistic that he doesn't shy away from – instead, it's one he embraces.
"Statistically speaking, I'm going into the last year of my career, if you're going to go strictly off statistics," he explained. "We're in a different reality right now. How lucky are we? We're playing a sport and we're getting paid to play a sport that we love. [Afterwards] you come back to reality and you have to make sure that you have everything aligned."
And the Illinois State-product is determined to have everything aligned for when his playing career inevitably comes to an end, taking full advantage of the opportunities afforded to him by the NFL, and the Raiders in particular.
"This organization has been unbelievable to work with – off the field and on the field," he said. "When people think about an organization, they think immediately the field, the football and your on-the-field stuff, but to me, I think it's important to have that balance, and to make sure your guys are living the right way, making sure they're prepared for life after football."
"I've been talking to a lot of players on the team about moving forward with their foundations and everybody has a cause. I just wanted to just express to them to use it, use your voice, and use your platform to speak up for their cause."
That's not to say that he isn't supremely focused on being the best football player that he can be. He's determined to do whatever it takes to elongate his career in professional football – even if that means changing positions and moving to a side of the football he hasn't played since his days as a prep star at Washington Community High School.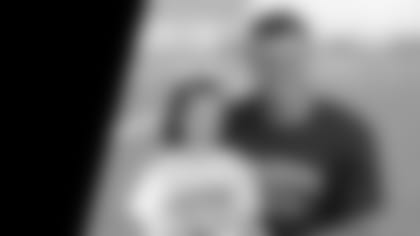 Throughout his entire career, nothing has been given to Colton Underwood.
After a standout career at Washington Community High School, Underwood was a two-star recruit without any offers to attend a big-time college program.
Underwood elected to attend Illinois State – a school 30 miles from his childhood home – and after a decorated career as a Redbird that saw him finish his career ranked No. 3 on the school's all-time list of tackles for loss, he went undrafted in 2014, signing with the San Diego Chargers as an undrafted free agent.
He spent nearly two seasons on the Chargers' Practice Squad before arriving in Oakland in December 2015 as a linebacker without much NFL experience to his name.
However, this offseason, Head Coach Jack Del Rio approached Underwood about switching positions from linebacker to tight end. Returning to the offensive side of the football is a challenge that he's accepted without question.
"When [Coach Del Rio] approached me, of course I said yes," Underwood said. "One thing he told me last year when he signed me was that he liked the toughness and the grit that I bring, and I think overall this gives me the best chance to showcase that I'm a little versatile. I'm willing to give up what I've been doing the last six years of my life to better this team."
While being asked to switch positions heading into your third NFL season might cause some players to be frustrated or upset, Underwood took the request in stride, because as he says, seeing the struggles Harper goes through on a daily basis just to live a normal, comfortable life truly puts things on the football field in perspective.
"For me to have to even have any type of upset mentality about switching positions would be a disgrace to her," he said. "I've seen what she goes through on a daily basis.  Me spending a few extra hours picking up another side of the ball, that's nothing. I'm going to give it my all to raise awareness for this foundation and everything I do off the field, and I'm also going to give it my all when I stop on that field."
Like other players in his position, Underwood has aspirations of making the club's 53-man roster and contributing on the field on Sundays, but he's also keenly aware, that for him, his goals will not be measured in receptions or touchdowns.
He wants to make a difference and leave a lasting legacy that will live on much after he decides to finally take his pads off for good.
"That's my foundation's name, the Colton Underwood Legacy Foundation, and for short, I just say the Legacy Foundation, because to me anyone can leave a legacy," he said. "You have the opportunity to write your own legacy and for me, I just want to be known as someone who was always looking to help make somebody better, and always used the tools that I had for the best. Whether that's running a play, running a route, making sure it's the best route I've ever ran, or the best play that I've ever ran, or whether it's going into a business meeting to help raise some money for my foundation, I'm going to make sure it's the best business meeting I've ever walked into.
"I'm not ignorant to the fact that some of these people are only taking meetings right now because I'm in the NFL, but I guarantee you that after I walk out of the building and I walk out of that room that they're going to take those meetings when I'm out of the NFL too just because they learned the type of person that I am the passion I have for this. That's what I'm excited for."
You see, for Colton Underwood, once his career in the NFL comes to an end, he'll embark on yet another journey, still motivated by a little girl named Harper, daring to be uncommon.