Q: Was there any rookie hazing?**
Carr: "I did sing Amazing Grace with a big chest and I was very happy to sing it, but I did get booed off the stage."
Q: So you have not been Saran wrapped to the goal post?
Carr:"No, I don't think they allow that anymore either. All the new CBA stuff, so I don't think so."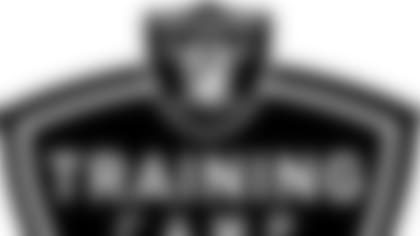 ](http://www.raiders.com/news/training-camp.html)Q: How have you enjoyed just the camaraderie of training camp and just being out here?
Carr:"You know me. You've been around me so long, since I was this big. I love football and just being out here with the teammates, being out here with my coaches, learning from all of these guys. It's just been so much fun. This is fun for me, and to be able to be out here and just spread encouragement and be a leader in any way that I can, and just help this team win."
Q: [Head Coach Dennis Allen] has talked a few different times about how much he likes the quarterback room, and all the stories about your preparation. [Matt] McGloin has a similar background. [Matt] Schaub has a similar background. Trent [Edwards] also is a guy that's fanatical about it.  What's that interaction been like? Has it been challenging?
Carr:" No one's going to push me harder than I push myself. You put me in a room with Dan Marino, John Elway, everybody, those guys are great, I'm going to compete my tail off, because I want to make myself better. I'm not competing against that guy or that guy, in a sense we are, but to me I focus on myself, that's all I can control. I can't control how much he watches film, how much they lift, how much they do things, I just work on myself. But at the same time, we have a great room, because they're all here to help me. Those guys have all played, they're all veterans, and they'd do anything they can to answer my questions and help."
Q: To be with guys who are kind of like-minded, the way you bounce things off each other, that must be stimulating.
Carr:" Absolutely. You're exactly right. Just to be able to sit there and say 'Hey, I saw this and this and this,' and Matt [Schaub] will be like 'Yes, Exactly, and this and this,' kind of a thing like that. We bounce things off each other all the time. If Trent [Edwards] sees something, and we're sitting in film, he'll tell me 'Hey, you see this, or you see your step here,' and [I say] 'Yeah, oh yeah, I see that,' then write it down and get it better the next time. So to be able to have four guys in a room that we can all bounce stuff off each other, let alone, not just the coaches, but with each other as players. And we're around each other all day. It means a lot." ](http://www.pntra.com/t/R0BKRkpMSEBKTERGSEBISEtERw)Q: Derek, when you came, and first stepped on the field here at OTAs and mini-camp, the media, the coaches were all saying "He's a lot farther along than we thought, maybe he's going to take the number one spot," and all that stuff, but in your mind were you saying, "What do you mean you're surprised? That's what you drafted me for." Did you kind of think that you had a little chip?
Carr:"I hear what you're saying, and that's funny, man. But to me, it didn't matter what happened or how it happened. Once I got on the field, whatever team I was on, which I'm so happy it was Oakland, they were going to see the kind of player and the kind of work ethic that I have, on a day-to-day basis. It doesn't matter how I feel, how my body feels, where I'm at mentally, I give everything I have out here. For them to say [they were]  surprised, or things like that, I think that he was just saying that. He knows what kind of person I am. I think he knows what kind of person I am. Obviously I don't know it all, and I never will, but I'm going to try my best to try and figure it all out. That's just the work ethic in me. But I've got a long ways to go."
Q: What's the biggest transition from the college game to here, although you're in different stages? What's the biggest difference?
Carr:"The biggest difference is just the speed, and why I say the speed is not necessarily just how fast guys are. It's they are so fast they can disguise things longer, they don't have to get over there because they can't get there because of their speed. They can stay here, make it look like something else, and then at the snap go ahead and get over there, because they are fast enough. At the beginning, that was the hardest part. Through OTA's and mini camp, that was the hardest part. Now when I get out here, the speed of the game in a sense, obviously there's a long way to go, but in a sense has slowed down, to where I can go out and play now, not drop back and [say] like 'Where did they just go?' My coaches have done a great job of teaching me the game and all those things."
Q: Since you've been here, have you done anything with your footwork? Any changes that you've made? Have they had you work on some things?
Carr:" Yeah they have. I used to get a little hoppy in my drops, which could at times, make me inaccurate in college. So one thing they've really done is widen my base a little bit. That helps too getting hit in the pocket and stuff, if you get nudged and stuff, you can still have that good strong base, and that's something we've worked a lot on. I've been able to do that and get the ball out. I like to get the ball out quick in the first place, but they've trained me to get it out quicker, which I love. It helps out." ](http://www.pntra.com/t/R0BKSkdFREBKTERGSEBISEtERw)Q: You seem pretty comfortable getting out and running if you have to. Dennis was saying "If you're going to do it, make the choice and go." Is that something you have always been able to do, that you have confidence if you have to get out?
Carr:" Absolutely, I definitely feel confident in running. I'm not a guy that's going to sit back there and run the read-option and beat you doing that. I'll tell you that up front. I'm sure that's not why they picked me. I'm going to try and beat you from the pocket, and do those things. But there are times when you are going to have to run. So I feel very confident doing that. Today in college, I have no problem doing it. Ran some zone reads, some quarterback-keepers type stuff, which I don't think I'll make a living when we have MJD [Maurice Jones-Drew] and [Darren] McFadden in the backfield, but it's just another wrinkle that we could add, do things like that but guys I got a long way to go before we are thinking about that stuff. I got to get better as a quarterback first."
Q: What's it been like, in college and high school you've been the man on just about every team since you were a freshman. What's it been like to be on a team where you're not expected to be the leader, you're not expected to produce right away, to be the man from day one. What's that been like for you?
Carr:"Yeah, for me in the quarterback position, you have to be a leader. It doesn't matter if you are number one on the depth chart or in college terms, a walk-on fifth string guy. You have to be a leader. You got to be someone that shows up every day. Someone that guys can look at, because your number can be called at any moment, especially in this league. You've got to be ready at all times, eventually I'm going to get a shot in there. Right now I'm trying to just work and show the veteran teammates here, and show the guys that are my age and a little bit older that when I do get my shot, when I do get that turn, that I can lead us, that they can have trust and faith in me. It's not really a thing where I think about 'Oh I'm a rookie,' once you start doing that I'm not being myself. Just like I was in college, I'm the same guy out here. Encouraging everybody, giving chest bumps, doing anything I can just to make guys excited, alive at practice, giving them encouragement, all those things. But at the same time, doing my job in the weight room and the meeting room, and out here on the field."
Q: What's the best thing you did in this practice? Was it one of those deep balls that everyone saw or something more subtle that we don't see?
Carr:" You know, I don't know. That's one of those things I got to look at the film, because I'm mad at myself on one of those touchdowns. I felt like I should have put the ball another yard in front of him, but McFadden he was so fast that he just beat him. So I got lucky there, I was blessed that he caught it, but it's little things like that. I can't say what I did best, I always think about what I did wrong."
Q: What's your favorite part of the day?
Carr:"Favorite part of the day? My favorite part of the day is getting out here and practicing. You sit around in your room for a couple of hours and you're like 'okay can I just go now?' You get that itch and [say] 'let's go play.' I think that's the best part."
Q: A couple of times I noticed, in the passing drills, you held the ball and didn't throw it sometimes.
Carr:"Is it a team drill?"
Carr:"Oh, if it was a team drill, it was probably something where, obviously I have a lot of trust in what I can do, not in a bad way, I just have a lot of trust, you got to be confident back there. I probably went to throw it and then he may have broke funny or the DB broke funny, so I just pulled it back. I didn't want to obviously put us in a bad situation. So that was probably one of those."
Q: I saw you talking to your parents and your wife and son today. How much does that mean? They've been here before, how much does that mean to you that they are so close by?
Carr:" You already know, it means a lot. Like I said, this is home for me. They're only three hours away. They can be here any second. It's so great, man, because life is more than just football. That time with my family, just the 10 minutes that I get, makes my day right there."
Carr:" No surprises, you know when I had to get up and sing I was a little surprised. When I had to get up and sing that was surprising. I did my best, I did my best, but like I said, my vocals were not on point that day. Not saying they aren't all the time, but just that day, they weren't on point."
Q: You want a second shot, you want to do it again?
Carr:"No second shot. You only get one chance."