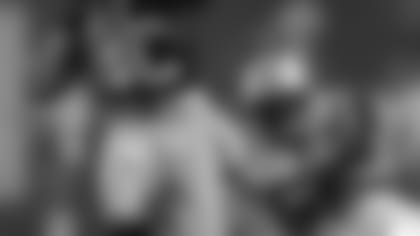 With as many times as the Oakland Raiders and New York Jets have played since 1993, you'd think the Jets were in the AFC West. From the infamous Heidi Bowl to the longest field goal to win an overtime game, this rivalry has been filled with dramatic moments. The Raiders lead the all-time series 21-17-2.The two teams will renew this rivalry Sunday, Nov. 1 in Oakland.
The legend obviously begins with the Heidi game as the Raiders improbably came from behind with 1:05 left to play as the National TV audience was switched to the kids' movie, *Heidi*. The Jets defeated the Raiders in the AFL Championship in 1968 en route to the AFL's first win in the Super Bowl as Broadway Joe Namath guaranteed victory over the NFL's Baltimore Colts and delivered.
One of my favorite moments has to be K Sebastian Janikowski's 57-yard field goal to beat the Jets in overtime in 2008. It's the only time I witnessed the Silver and Black defeat a QB Brett Favre-led team and it was the longest field goal to win an OT game in NFL history.
Not to mention the back-to-back seasons (2001, 2002) the Raiders defeated the Jets in the playoffs in Oakland.
Rex Ryan moved on to the Buffalo Bills and Todd Bowles is the new head coach in New York, and despite adding veteran quarterback Ryan Fitzpatrick, Geno Smith has been named the starting quarterback.With both the Raiders and the Jets overhauling their coaching staffs, this match-up is a bot of a mystery on paper. Bowles is firmly rooted in defense as he most recently served as the defensive coordinator for the Arizona Cardinals. Longtime NFL assistant Chan Gailey joins the Jets as offensive coordinator.
Here are some other interesting notes about this year's match-up:
Former Raiders special teams coordinator Bobby April joins the Jets in the same capacity.
The Raiders fell to the Jets 19-13 to open the 2014 season at MetLife Stadium in East Rutherford, New Jersey. The Jets also topped the Raiders 37-27 at MetLife in 2013.
The Raiders last victory in this series came in 2011 in Oakland, 34-24.
The Jets were known as the Titans from 1960-62.
The Raiders won six straight from 1967-77 and five straight from 1985-96.
Both the Raiders and the Jets have players named Taiwan Jones on their rosters.
Notable Jets free acquisitions this offseason include CBs Darrelle Revis and Antonio Cromartie (both of whom played for the Jets previously), RB Zac Stacy, and WR Brandon Marshall.