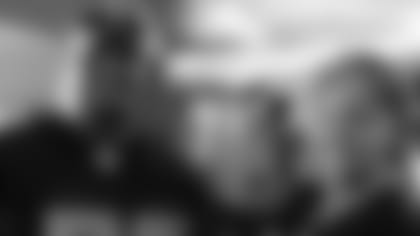 Rob, Annette und Matilda.* - *Sebastian Stolz
Die "2009 Raider Nation Celebration - Family - Fun - Football - presented by Comcast" stellte einmal mehr die einzigartige Beziehung zwischen den Oakland Raiders und ihren leidenschaftlichen Fans unter Beweis. Rund 10.000 Menschen aller Altersgruppen genossen einen Nachmittag voller Spaß und Unterhaltung im Oakland-Alameda County Coliseum.
Kinder hatten eine großartige Zeit in der Kids Zone im East Side Club und ihre Eltern versuchten sich als Kommentatoren von Raiders-Spielen bei der Raiders Radio Karaoke. "Mein Vater hat es ausprobiert", sagte die junge Melissa aus Fremont. "Es war witzig und ich denke, er hat es ok gemacht."
Verschiedene Radio- und TV-Sender informierten die Fans über ihren Spielplan und das Programm. Die Internetabteilung der Oakland Raiders informierte über Raiders.com, die offizielle Webseite des Teams, und das Multicultural Department der Oakland Raiders hatte einen Stand, an dem sich Fans über die weltweiten Initiativen der "Silver and Black" informieren konnten. Die Anhänger konnten Merchandise erstehen und einzigartige Memorabilien des Teams kaufen.
Die Fans warteten in langen Schlangen, um ihr Bild mit einer der vielen Raider Legenden oder den drei Super Bowl Trophäen machen zu lassen. Fans wie Marvin Butler und sein Sohn Matthew. "Als wir das erste Mal herkamen, haben wir ein Foto mit den Super Bowl Trophäen machen lassen. Da dies unser fünfjähriges Jubiläum ist, haben wir ein neues Foto mit der Trophäe aufnehmen lassen. Das war das Highlight für uns", erklärte Marvin Butler. "Ja, das war der lustigste Teil des ganzen", ergänzte sein Sohn.
Die Beiden, gekleidet in schwarzen Heimtrikots der Raiders, kommen jedes Jahr her. "Es ist großartig, Teil der 'Raider Nation' zu sein. Die 'Silver and Black' – nur darum geht es. Wir genießen einfach die Atmosphäre und finden es toll, die Spieler sehen zu können", sagte Marvin Butler.
Für andere war es der erste Besuch bei der Raider Nation Celebration. Und während einige Neulinge aus der Bay Area kommen, sind andere um die halbe Welt gereist, um Teil der "Raider Nation" zu sein – so wie Rob und Annette Gothram und ihre kleine Tochter Matilda. Alle drei zogen vor rund einem Jahr von Australien nach Kalifornien. "Es macht Spaß. Zu solch einer Veranstaltung zu kommen ist einfach unglaublich", sagte Rob Gothram. "Das Großartigste an der 'Raider Nation Celebration' ist es, die Spieler beim Training sehen zu können. Normalerweise hat man dazu keinen Zugang. Das war toll".
Die Spieler wurden der Menge einige Minuten, nachdem die Raiderettes – Football's Fabulous Females – an der Mittellinie ihre Performances vorgeführt hatten, vorgestellt. Jede Spielergruppe wurde mit einem warmen Applaus willkommen geheißen. Während der 90-minütigen Trainingseinheit applaudierte die "Raider Nation" jedem Catch und feuerte jeden Pass an. Kein Wunder also, dass die Spieler anschließend mit einem breiten Grinsen auf dem Gesicht unzählige Autogramme schrieben.
"Es ist toll, wieder in Oakland zurück zu sein und ein wenig aus der Routine Napas auszubrechen. Napa ist großartig, doch es ist gut, einen Tapetenwechsel zu bekommen", sagte Punter Shane Lechler, ein vierfacher Pro Bowler. "Wir bekommen die Chance, unseren Fans zu zeigen, dass wir viel geübt haben und hart daran arbeiten, die Kurve zu bekommen".
Lechler gab außerdem zu, dass es ein zusätzlichen Schub gibt, vor den enthusiastischen Fans der Raiders zu trainieren. "Die Trainingseinheiten in Napa sind nicht zugänglich für die Öffentlichkeit. Daher gibt es uns einen Schub, hier rauszukommen und vor unseren tollen Fans üben zu können."
Rookie Defensive End Matt Shaughnessy stimmte den zu. "Es war Spaß, vor unseren Fans trainieren zu können. Sie kamen her, um uns zu unterstützen. Das war einfach unglaublich. Wir haben wirklich großartige Fans hier in Oakland."
Diese Fans und alle anderen Fans der "Raider Nation" sind schon jetzt gespannt auf das erste Saisonvorbereitungsspiel. Am Donnerstag, den 13. August, empfangen die "Silver and Black" die Dallas Cowboys im Oakland-Alameda County Coliseum (Kickoff 19 Uhr Ortszeit/4 Uhr CET).