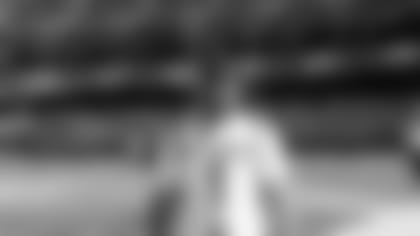 Florian on the sidelines before the game.
Everything has to come to an end. That goes for my visit as well. I had a great time here with The Oakland Raiders. I learned so much every day, just like I did at the team's last practice of training camp on Thursday.
Before practice I met kicker Sebastian Janikowski. We talked about special teams and about Europe. He was born in Poland and I hope he comes to visit Innsbruck the next time he's visiting his home country.
During practice Janikowski, punter Shane Lechler and long snapper Jon Condo showed me some new tricks. It was very interesting to see how Condo snaps the ball. He has his own technique. Obviously it works. He is the best in the business.
I'm very thankful for all the advice he has given me. Special teams are a huge problem for most teams in Europe. Many don't practice that part of the game very often. But we do. And it shows.
On Friday we went to the team's front office in Alameda. The building is huge and very impressive. We were given a tour through the facility and we were able to watch the last walk-through.
Our visit ended with another exciting event: the Oakland Raiders game against the Detroit Lions. I've seen some NFL games before, but never from that close. Standing on the sidelines it was great to watch the teams warm up. During the game we were up in the press box, which was all right given the cold temperatures outside.
Now it's time to say goodbye. I wanted to take the time to thank the whole Oakland Raiders organization for giving me this opportunity. It was a unique experience that I will never forget. Of course I root for the team even more now that I've gotten to know them in person. And I hope the Raiders will play a strong season.
---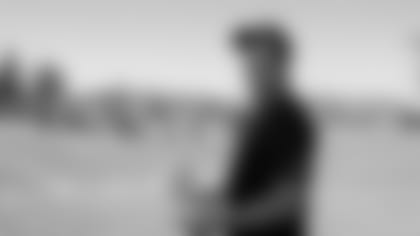 It's Thursday already. That means today is the very last day of The Oakland Raiders training camp in 2012. I know the players are all right with it, but I feel kind of sad since I just got to know all the coaches and have so much more to ask.
Over the last few days I've gotten to know offensive coordinator Greg Knapp and running backs coach Kelly Skipper a bit better. Both are really nice guys. They take the time to answer all my questions and they allow me to stay close to them during the team's individual drills. As a former running back and an offensive coach that's exactly where I want to be. Head Coach Dennis Allen also is a very good man. He talks to Mario Rinner and me every day and wants to make sure that we're all right. So no wonder I don't want camp to end.
The last few days the practice routine has changed a little bit. The coaches try to bring the team on their in-season schedule. So there is one very long practice session during the day and some meetings before and after that. This week the coaches also finally started to implement some game planning. I don't think that they put in the whole package, but they want to make sure players get into that in-season rhythm.
What still impresses me the most about the practices is the speed of everything: the speed of the players, but also the speed of the practice itself. If you look away for just a few seconds – which I don't do – you might miss a drill or a series. It just goes boom, boom, boom. I love that. I'd like to bring more of that to our team.
Now I'm looking forward to the last practice of training camp and after that I'm getting ready for game day.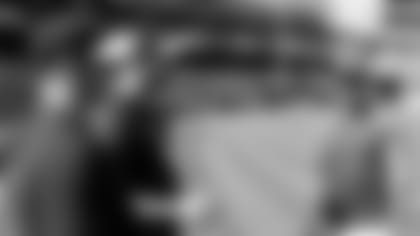 Mario Rinner and Florian Grein meet A's centerfielder Coco Crisp.

First of all I have to tell you how thankful I am for having gotten the invitation to come here. This means a lot to me. I played football for 17 years now and I've had a very successful career as a player and a coach, but being able to spend some time with an NFL team is special.
I was so excited when we got here on Sunday. Everybody on the team was very nice to us and some front office people even knew who I was. I feel humbled to know that there's people in the Oakland Raiders organization that follow our games live on raidersTV.
The day we arrived here we were also able to watch our first practice. I took a close look at how they run practice and all the different drills, how they handle warm-ups and I was especially curious about how they work with their special teams. You know many teams in Europe don't have the resources to spend a lot of time on that area of the game, but we do. And I think that gives us an edge over many of our opponents.
Yesterday the team had a day off, so we went to San Francisco. We did some sightseeing and some shopping for ourselves and friends and family. For the afternoon Sebastian Stolz, who works for both The Oakland Raiders and the SWARCO Raiders, had organized a nice treat for us. We were invited to visit the Oakland A's batting practice and the game against the Minnesota Twins.
I know the baseball rules, but I've never been up close to a Major League team. That was fun. We talked to some of the players, including Coco Crisp. He is a very nice guy. What was really interesting to see was just how easy some of the players made it look to smash a ball into the stands. Later we watched the game against the Twins. And although the A's did not come out on top, we did. We had a blast. Plus we already were on the field where the Raiders will play the Lions on Saturday.
Today I'm looking forward to see another Raiders practice. I want to take it all in. I want to learn as much as I can and gather as much information as I can bring it home and help the SWARCO Raiders get better.