Once the playing days are over when the cleats are hung up by their shoelaces on a peg in the mud room, as the body can no longer take the rigors of the game of football, what is there to do? For some, the coaching ranks beckon. For others, the broadcast booth. For a very few, the realm of politics draws them in.
Former Oakland Raiders fullback Jon Ritchie tried coaching. According to the Stanford graduate, that attempt met with disastrous results.
"When I first retired from the NFL, I was a volunteer assistant coach at Cumberland Valley High School, and I helped lead us to our worst record since 1974," Ritchie said. "It's been an interesting voyage for me. In that arena when I was coaching I wasn't as good as I wanted to be. My interests took me elsewhere."
Ritchie found some measure of success in the broadcast booth as an analyst and fantasy football expert. However, the gravitational pull of his family and community caused Ritchie to make a decision.
"It was an epiphany for me, I love what I'm doing with broadcasting, I've been doing it for 10 years, but honestly, there have been many nights where I've sat alone in a hotel room and asked myself, 'is this my purpose, is this what I am made to do,'" Ritchie explained. "I'm away from my family, I am away from my home, the community I care so much about after living all over the country, I came back to where I'm from."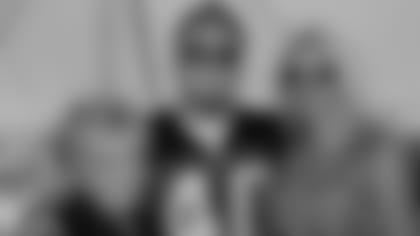 Ritchie recently announced his candidacy for a Pennsylvania State Senate seat. The son of a retired teacher, Ritchie is fond of his hometown and region and believes he can make a positive impact in his community from the state Senate.
"I've always valued central Pennsylvania. It became clear to me that this is my purpose. I knew my purpose as a player was to go out there and work harder than everybody else and do the dirty work, and be a cog in the machine, and be a great teammate and leave it all out there on the field. That was taken away from me because my body couldn't handle it any longer," Ritchie explained. "My 30s were spent sort of searching. I truly believe this is what I'm meant to do, that I'm meant to give back to this community that I came from, that I love, and this is ideal opportunity to try to do that."
Ritchie said that his work ethic and paranoia as a player prepared him for this political campaign.
"I was paranoid as a football player that there would be someone else out there that played my position that was working harder than I was, taking better care of their body than I was, doing more film study than I was, if they outworked me they could outplay me," Ritchie said. "That was something that definitely became a part of my being. I am not willing to let anyone work harder than I do. Running for this senate seat is no different. I know that I have real life experience. But I don't have experience in the Pennsylvania Senate. I am going to have to do a ton of work between now and the primary, and between the primary and the election in November to make sure I know as much as possibly can about every issue that affects my area, that affects my family, that affects my friends." Ritchie says his Stanford education will help him in his campaign and his political career.
"One thing that they instilled in us at Stanford was to question everything. A big part of this is also questioning the status quo. 'How can this be improved, how can we do things better than what we're doing now?' That is something that has stuck with me; I believe that sort of inquisitive desire to learn, not just what one party believes but to learn what everyone in a scenario, everyone in a community, everyone feels and thinks and ask questions," Ritchie said. "There are a lot of things you can learn by asking questions. I am fascinated by how our state government works. I am learning more every day."
Drafted by the Raiders in 1998, Ritchie played five seasons in Oakland. He was one of the more popular players not only among the Raider Nation, but also in the facility. Gregarious and quick-witted, Ritchie was a favorite from the front office to the equipment room.
Political campaigns can be arduous, but if Ritchie's demeanor and work ethic on the football field are any indications, he'll tackle this new challenge with the same tenacity and cerebral thoughtfulness he did taking on his opponent on the football field.