WR Denarius Moore outruns the defense in last year's Week 17 match up. Photo by Tony Gonzales
The Oakland Raiders host the San Diego Chargers in their first regular season game of the 2012 campaign on ESPN's Monday Night Football. The Raiders lead the all-time regular season series with their long-time AFC West rival 57-45-2. Last season, the teams split the match-ups, both winning on the road. This will be the first regular season game played under Head Coach Dennis Allen and General Manager Reggie McKenzie. After a 1-3 preseason record, the Raiders wipe the slate clean and look to start the regular season with a 1-0 record.
The players cannot wait to finally play a regular season game. "I can't wait," said QB Carson Palmer. "It's great to play on Monday Night Football, but it's hard to sit at home on Sunday when you want to just get on the field and get it out of the way and get to week two. It's going to be a long day Sunday watching the games, but we'll be ready to go."
The team knows the significance of a division rivalry game, but there is added intensity with a nationally-televised game. "I think any game is a must-win," said WR Derek Hagan. "We want to win. The ultimate goal is to win. Just knowing that Monday night is the first game, it's definitely time to get out and show the country what we can do. We know we're going to be on live TV. We're the only game on that night and for us it's time to show up and get the job done."
FB Marcel Reece knows Monday Night Football is the time for the Raiders to shine. "Monday Night football is a great stage," said Reece. "It's a great stage to show up. Big players show up in big games and make big plays and that's what we plan to do."
RB Darren McFadden is ready to put on a show. "It's a national stage; everybody's going to be watching," said McFadden. "It's the only football game on TV, you want to go out there and shine and put on your best performance."
In order to come out with the win, the Raiders will have to contend with the weapons on the Chargers offense and defense. "We know these guys," said SS Mike Mitchell. "They are a very good football team, but we've played them and done well against them the last two years. We just have to do the things we know beats them."
Defensively, the Chargers are deep at linebacker with Shaun Phillips, Takeo Spikes, Jonas Mouton and Donald Butler. "Shaun has been there for a long time and he's been a leader there for a long time. He's a great player; he's an impact player, Pro Bowl-caliber player," said Reece. "He's been that, always been that. Great pass rusher and he just brings leadership to that team. He brings playmaking ability. They're a great team. They've always been a great defense and we're going to go out there and try to be the best offense we can be and make plays."
The Raiders offensive line will have to contend with the Chargers front as well. "We're up against a good front; they're well coached," said T Khalif Barnes. "Their interior three, they like to package the run and they're real deep at the outside backer position and they like to rush the passer. They have the best of both worlds over there, but as long as we stay within our rules, it's going to be an amped up game and come out and do the things we were trained to do for the last month and a half or so, it should be a pretty good game."
Palmer knows the offense will have to execute at a high level to match up with the San Diego defense. "It's a good unit," said Palmer. "Defensively they've looked really good on film in the preseason. They played well against us last year in the finale. There are a lot of things to worry about. They've got a new coordinator. Week one you never know exactly what you're going to see. You've got to be ready for everything. We're going to go in and we know we have to play our best football offensively to come out with the win."
"They're an aggressive defense," added Head Coach Dennis Allen. "I think they rely a lot on their outside rushers. They get after the quarterback from an outside rusher's standpoint. We'll see as the game goes on exactly what their plan of attack is. Obviously, John Pagano is a first-year coordinator, so they'll have some unscouted looks and some different stuff for us that we'll have to get adjusted to."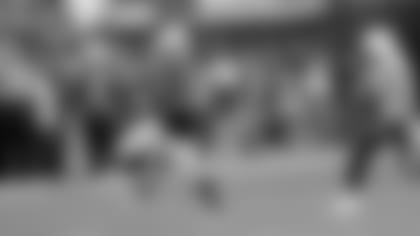 WR Darrius Heyward-Bey makes a play during last year's game. Photo by Tony Gonzales
The Raiders offense, however, gives the Chargers defense plenty to worry about. "The more great players you have that can make explosive plays on the field, the harder you're going to be to defend," said Chargers head coach Norv Turner. "McFadden is a guy who, through the game, is going to make explosive plays. We need to minimize those plays. Obviously if you're putting your attention into him to minimizing those plays, that adds opportunities for someone else. We saw Carson play awfully well against us in both games, and we've got a lot of respect for what he's capable of doing."
The Chargers also respect the defense the Raiders will be showcasing on the field. "You look at the guys on the back end, they all can really fly and they play the ball well," said Chargers QB Philip Rivers. "A lot of times you see safeties as just zone defenders or covering an area. These guys can really play man-to-man and do some things. It's a real active group. With some new defensive backs plus the new scheme, it makes it even more of a challenge going into the first week of the season."
Raiders defensive coordinator Jason Tarver will finally be able to unleash his defense. "We're all excited about using our rules and seeing what we come up with," said Tarver. "We'll go one play at a time."
Tarver's defense will face Rivers and offensive weapons like TE Antonio Gates and WRs Robert Meachum, Eddie Royal and Malcolm Floyd. "This is a talented offense. It's been a talented offense," said Coach Allen. "[Head] Coach [Norv] Turner does a great job of calling the game. He really stresses your defense and your rules. Their vertical passing game, they like to get the ball down the field and they have a lot of weapons to get the ball to so we've got our work cut out for us defensively trying to keep the ball in front of us."
Safety Matt Giordano has played with or against many of the Chargers offensive threats. "They're very explosive and they've got a great quarterback and they have Ronnie Brown and we'll see what happens with Matthews," said Giordano. "But they've got Gates as a tight end so they have a lot of weapons. I played with Meachum in New Orleans and I know Eddie from last year and from previous years so I know what he can do. He's very dangerous so we're going to have make sure we're on our 'A' game."
DE Lamarr Houston is ready for a consistent Chargers offense. "We expect them to come out and be tough and run the ball," said Houston. "They're an explosive offense so expect them to take their shots when they're ready to take their shots, but for the most part, expect consistent ball movement, consistent snap count to whistle to consistency as a whole offense."
Giordano believes that if the defense executes as they have practiced, they will have a good chance against the Chargers offense. "The thing is, and it's the key to beating anybody, is just execution on our part," said Giordano. "We just have to go out there and execute and stop them from making plays. And if we go out there and execute and not give up any big plays, we'll be in pretty good shape."
Veteran CB Shawntae Spencer knows Monday's game will be a challenge, but is ready to get out there. "It's going to be a tough task. It's a big order, tall order," said Spencer. "Offensively, they've got a lot of weapons and the past five years they've been in the top five pretty much as far as stats go in every offensive category. So I think right now we're just focusing on being sound in what we're trying to do. We're trying to prevent any mental errors and coverage busts and things like that to just give ourselves a chance."
Despite a tough match up, the Raiders are excited to play a regular season game against a division rival in front of Raider Nation. "It's going to be exciting. Not only is it Monday night, but we're going to be the only ones playing on TV, in front of your friends, in front of family," said Barnes. "It's a big rivalry. Oakland-San Diego goes back a long time, so it should be a nice little rivalry and there's going to be a lot of excitement in there."
"You have the whole country watching Monday Night Football," added Mitchell. "There's the tradition and everything that comes with it, its primetime. It's doesn't get any bigger besides the playoffs or the Super Bowl. I can't wait. We have a great opponent to play against. It's going to be great competition, so it's going to be a good game."
The Raiders host the Chargers at O.co Coliseum at 7:15 p.m. PT on ESPN's Monday Night Football. Fans can also follow along on Raiders.com, the Raiders official Facebook page and Twitter.