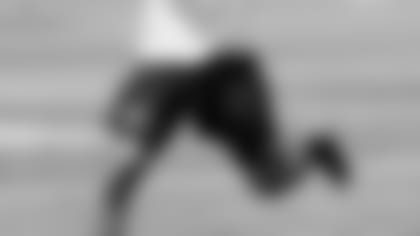 The Oakland Raiders selected WR Brice Butler in the seventh round of the 2013 NFL Draft. The 6'3", 215-pound receiver out of San Diego State (SDSU) learned about football at an early age -- his father, Robert Butler, played 12 years in the NFL as a cornerback for the Atlanta Falcons.
Throughout his early football career, Butler would receive tips from his dad that helped him improve. "When I was in high school, he would just say little things like, 'This is what is going to happen. This is what you can expect.' He's been there every step of the way," said Butler.
Butler started his college football career at the University of Southern California (USC). After three years in Los Angeles, Butler transferred to SDSU. It was at SDSU that Butler's mindset and work ethic changed and made him into the football player he is today. "LeCharles McDaniel, my receivers coach, he coached in the league, played in the league," said Butler. "He taught me a lot of stuff that I had to implement. He taught me a lot. He never let me ease off. I practiced every day, never took a day off. You had to go out and prove that you're the guy every day. Every rep…It was hard, but I learned a lot. That's how the NFL is. Every day you have to go out there, put your hard hat on and get ready to go."
The rookie's challenges during his college career made getting drafted that much more meaningful. "It was a blessing to get drafted," said Butler. "It was just great. All the stuff I've been through in college for five years, and learning a lot and seeing how God laid it all out for me, it was awesome. Words can't really explain the feeling. Coming out of high school, I kind of thought I would get drafted higher, but after everything I've been through, just to get drafted meant just as much as if I would have been drafted higher. It was a great feeling."
Butler describes himself as a smooth, good-sized wide receiver who can make big plays. "I'm 6'3", 215 so that's a pretty big receiver," said Butler. "I can run with the best of them, probably faster than most of them. I have good routes, good hands…smart player. Just trying to learn more every day."
The big receiver arrived at Raiders headquarters after being drafted and worked through rookie mini-camp, Organized Team Activities and mandatory mini-camp. "It's been great…just been taking it all in day-by-day," Butler described. "Can't really look too far ahead or look in the past, just have to work every day. Biggest thing now, I would say, this is a job, so you have to take it in as much of a business manner as you can. Every day you just have to do your job or assignment and make sure you execute it. For the most part, it's been great. I've been having a great time. I haven't really been doing much outside of football, but it's been good so far."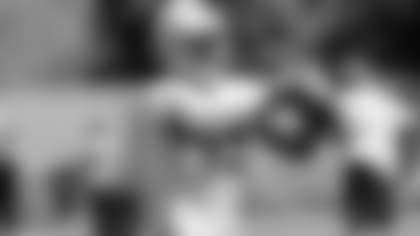 WR Brice Butler concentrates on making the catch during off-season activities. Photo by Tony Gonzales
Putting on the Silver and Black and stepping out on the field with all the veterans made the process feel real. "When we came out for OTAs, everybody, it felt more like I was putting on this Oakland Raiders jersey for real," said Butler. "Just going out there with all those guys like Darren McFadden, like Marcel Reece, guys that have been doing good things in the league for the last couple of years, feels good to be on the same field as them."
The rookie has been getting to know his new teammates.  "It's been great. Any time you go to a team, it's always about relationships, even with your coaches," said Butler. "You come to a team, you kind of figure out who's who and what's what. It's been a great experience and everyone here is trying to do the same thing, so it's great to be on a team where everybody has the same goal, focal point. Being here and everybody is here trying to stay here, and everybody is competitive in that nature, so it's awesome."
Staying at the hotel has helped Butler develop strong friendships with the other drafted rookies.  "Latavius Murray is my roommate and Sio [Moore] and DJ Hayden are kind of across the hall and it seems like we pretty much do everything together," said Butler. "If we're going to the mall, we're all going to the mall. If we're going to eat, we're all going to eat. We have fun. We're all doing this together. Even though we all play different positions, we're all rookies. We all were blessed enough to get drafted. So we're all just taking it day-by-day. It's cool and so far we've been hanging out and meshing well. Hopefully that continues."
The self-proclaimed funny, energetic, and sociable guy wants Raider Nation to know that he's ready to contribute to the Silver and Black. "I'm ready to win. I'm trying to do the best I can to help this team get to the playoffs, have a winning season, and get back to that rich tradition of winning," said Butler.
Follow Brice Butler on Twitter and Instagram: @Brice_Butler