With the Raiders final pick of the 2013 NFL Draft, the Raiders selected DE David Bass out of Missouri Western State University. The small school defensive player joined the Silver and Black  and immediately immersed himself in the off-season process.
"I actually thought it was going to be harder. At the end of the day, football is football, so going against guys, it's the same movements, same technique," said Bass. "It boils down to who wants it more, who has the better technique and if you can read and react. For the most part, the only thing that's changed from a smaller school is, like I said the plays and talent. All across the board, everybody is good. At my level, you probably have a handful of people good and there will be a handful of people that's all right. So here, everybody is good so you have to bring your 'A' game every play."
The 6'4", 256-pound, defensive end was a finalist for the Gene Upshaw Award in 2012, awarded to the best lineman in Division II football. Bass believes he deserves a shot in the NFL and he hoped one of the 32 teams would believe in him too. "It was crazy. It was a blessing," said Bass on his draft selection. "Something I felt I deserved for all the hard work I put in, so I was anxiously waiting that whole draft. I just didn't know. I wanted to know when and where and when it finally came it was crazy. I think my family enjoyed it more than I did."
When Bass arrived at the Raiders facility, it finally felt real. "That Friday, after that Thursday we got up here for rookie mini-camp, I remember taking a picture and sending it to my people like, 'I'm finally here; I made it,'" said Bass. "So it's a different feeling, different to what I've been loyal to the past four or five years of my life. Now I'm moving on to bigger and better things."
Bass has had to adapt to a new defensive scheme and work quickly through the rookie mini-camp, Organized Team Activities and then the mandatory mini-camp. "Everything is new; the whole scheme is different," explained Bass. "Coming from my team, we had a pretty base defense. Here it's…I wouldn't say it's complex, but we're opening things up more so there's more responsibilities and more things for me to learn, but I'm enjoying it."
The rookie is taking advantage of the knowledge from the veterans on the defensive line. "Lamarr [Houston], I look at him. He's pretty amazing when it comes to doing what he does," said Bass. "Andre Carter since I want to say this is his 13th year so he's probably seen anything that can possibly happen. Just been talking to Jack [Crawford] and Christo [Bilukidi] since they were in my shoes last year most recently and getting insight on anything I need there."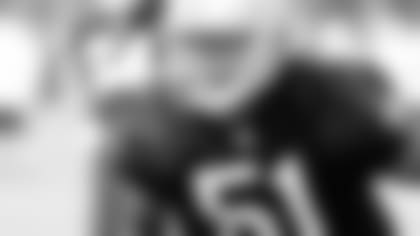 Rookie DE David Bass during off-season activities. Photo by Tony Gonzales
Part of Bass' ability to transition so quickly into the NFL is the camaraderie already building in his position group. "I feel like, especially the D-line group, it's a close-knit group, and they're willing to help," said Bass. "If we ask questions they won't hesitate. Everybody here is willing to help, especially in the defensive meetings with all the linebackers and DBs, everybody communicating. It's cool. I'm enjoying that."
Bass is looking forward to proving himself during training camp beginning at the end of July. "I plan on bringing 110 percent every chance I get," said Bass. "Going out to training camp and trying to make the 53 so I'm definitely going to have to bring everything I have plus more just to give coaches that trust that 'okay, he belongs on the team.' And then go out there and do what the fans want to see, put on a show for them."
Bass knows he will have to compete hard for that spot on the 53-man roster – good thing he's competitive. "I'm up for anything competitive no matter what it is," said Bass.
Make sure to follow DE David Bass on Twitter (@dbass91) and watch him put in work during Training Camp 2013.