Harry Ruiz was almost an accountant.
More than a decade before becoming the Raiders' Spanish play-by-play commentator, Ruiz was a college student in Mexico who owned an automotive parts and accessories business. He described himself as someone who always excelled at the necessary things to be an accountant – good with numbers, calculations and making budgets. It helped that both his parents were accountants as well. The career path seemed like a done deal after earning a degree in that field.
That was indeed the plan, until his heart beat out logic.
"I just loved watching sports," Ruiz said. "24/7, 365 [days] didn't matter what channel, but I would always watch them. If it was out here in the states, of course in English. If it was out in Mexico, in Spanish. Different cultures, but at the same time, it's people getting together to enjoy an event on the field and forget about everything in life.
"When I would watch them on TV, those games had a soundtrack. Those games had somebody talking about the games. And I was like, 'Hey, that sounds super fun. That sounds like a job that I would love to do.' I said, 'I would love to be a sports broadcaster, but I never think I'll be able to do so.'"
Ruiz was born near Montebello, California, a city on the east side of Los Angeles County. Spending part of his childhood in L.A., he became a rabid Raiders fan, watching games with his uncle George who he affectionally calls "Tío Panda." When Ruiz moved from California to Mexico at 10 years old with his family, Tío Panda made sure his nephew wasn't lacking in style, always bringing him the newest Raiders gear when he'd come to visit.
Representation meant everything to Ruiz. Seeing prominent sports heroes of his nationality on the sideline, like Jim Plunkett, was pretty rare within American football and only grew his Silver and Black fandom.
"My uncle, he made me know everything about the Raiders," said Ruiz. "About the Tom Floreses, about the Jim Plunketts of the world. About how they embraced us as Latinos and being able to be a part of the community in a sport where in the past, it wasn't a big tradition to be a football follower when you were Latino. You were all about soccer, you were all about baseball.
"But once Tom Flores and Jim Plunkett came in, and became not only a part of the team, but a key part of a team. It was like, 'Hey, that guy looks like my uncle. Hey, that guy looks like my brother.' I want to support that team."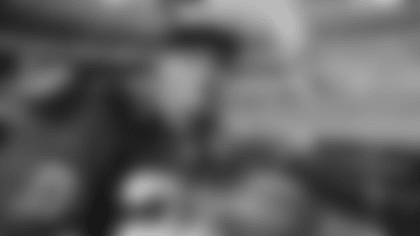 As Ruiz was working the night shifts at his business, he'd spend hours listening to Spanish sports radio. While there was ample coverage of soccer, he noticed a lack of football coverage. And the football content he did listen to, he believed wasn't up to par.
Cue an old adage – if you want something done, you've got to do it yourself.
"One radio show, instead of having you call in, they would let you text and I was like, 'You know what? That's easier.' I told them, 'Hey, you guys are awesome when you talk about soccer, but you're not that great when you talk about football, basketball and baseball. You should have me in.'
"And they were like, 'Well if you think you're that good, sure. Come in next week.' I went in and the main guy said, 'This guy is actually pretty good. Want to come in next week?' Then they had me twice a week and then he got me a casting at a TV station. ... Three months later, I was hired full-time, and the rest is history."
Ruiz returned to the U.S. in 2012 and started working as a Spanish broadcaster and news director for Univision El Paso. He considers El Paso a second home, where he really started to perfect his craft. It was while covering the University of Texas at El Paso Miners that he received a spur of the moment opportunity to do Spanish play-by-play for an upcoming game against the Oklahoma Sooners.
While mildly reluctant, his lifetime passion for the game of football wouldn't allow him to turn this down. After heavily researching everything he could about both UTEP and Oklahoma on 72 hours notice, he had officially called his first football game.
Needless to say, he was asked to come back for a few more games after that.
"If I hadn't called UTEP football games, I wouldn't be in the position where I could step in to a NFL broadcast booth and call the game the way I do it now because I wouldn't have known the pace," Ruiz said. "I wouldn't have known the way that you read the field, everything that's going on, the timing with your broadcast partner."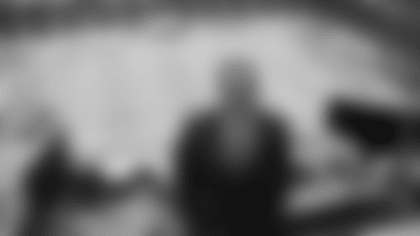 After several years in El Paso, he decided to take a chance on himself and embarked on a journey to Las Vegas, Nevada. Through broadcasting contacts he had, Ruiz became aware that the Raiders were in need of a Spanish color analyst, and after some discussions, he jumped right in for the team's first season in Allegiant Stadium.
He's now moved over to play-by-play duties and this year, began hosting a podcast for the team's Los Raiders channels in addition to writing articles throughout the week. Providing more Spanish language content was something he wanted to be a part of, believing it was an underserved area to a passionate Hispanic fanbase.
Through it all, he's stayed humble as he lives out his wildest dreams. He's aware that with his platform, he's a shining light for the next generation of Spanish sports broadcasters. His message to the young Latinos and Latinas following in his footsteps: Never quit.
"I can say I quit on my dreams for two years when I was going to school to be an accountant. But if you have the opportunity to just be able to grind it out, to fight, to go for your dreams and go all in on it – do so.
"In the best-case scenario in my career, the highest place I would want to get to is being the play-by-play announcer for the Las Vegas Raiders in Spanish. And it literally happened. I don't know if it's destiny or if it's just hard work or if it's a combination of both, but I'm just enjoying the ride."