Recently, members of the Oakland Raiders joined forces with United Way, the East Bay Asian Youth Center (EBAYC), and volunteers from UPS for the 11th annual Hometown Huddle. According to the NFL website, Hometown Huddle is an NFL-wide day of service that provides NFL players from each team the opportunity to participate in a variety of community-service activities, including funding after-school programs for underserved children.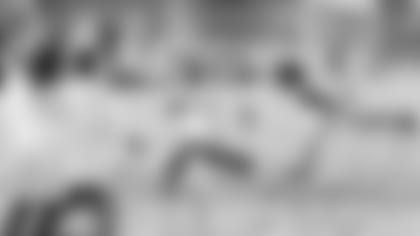 The kids played a spirited game of flag football. Photo by Tony Gonzales.
Raiders CB Nnamdi Asomugha, the national spokesperson for the "Live United" campaign, invited teammates FB Marcel Reece, LB Sam Williams, T Khalif Barnes, and CB Joe Porter, to join him for the Hometown Huddle at Garfield Elementary School in Oakland, Calif. The players encouraged living a healthy and active lifestyle.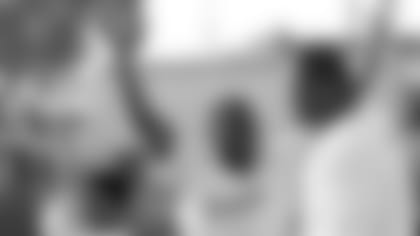 CB Nnamdi Asomugha lets T Khalif Barnes know that a touchdown was indeed scored. Photo by Tony Gonzales.
As the players arrived at the school, they were welcomed enthusiastically by the students. Asomugha took the auditorium stage first and spoke to the students about the importance of physical fitness and staying healthy. Williams spoke next, reiterating Asomugha's important message. "[Physical fitness] is good for your body, your mind, and your spirit," said Williams.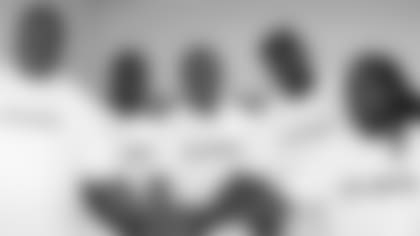 T Khalif Barnes, FB Marcel Reece, CB Nnamdi Asomugha, LB Sam Williams and CB Joe Porter pose for a photo. Photo by Tony Gonzales.
After relaying the important message, the players led the students through different stretches and exercises to prepare for the flag football game between the 4th and 5th graders. While the students got ready, the school's principal, Nima Tahai, looked on with a smile. "I love the attention that our kids are getting," expressed Tahai. "It reminds them that they are special."
When the students were stretched and ready, the players set up the game. Asomugha coached one team, Porter and Reece coached the other, while Barnes acted as the official and Williams was the official "water boy." The 2nd and 3rd graders lined up on the sidelines to watch and the Garfield cheer squad supported the teams.
After the game, while the students received autographed backpacks full of nutritious food, the five athletes left Garfield Elementary with an appreciation for organizations like EBAYC and United Way. "I didn't have much like this when I was growing up," explained Asomugha. "That is why it is important for us to come out and try to give them stuff that we didn't have." Barnes echoed Asomugha's sentiments. "When I was a kid we really didn't have any professional football players come out to our school. Being on the other side, it felt good for us to do that for them," said Barnes.
Reece, like some of his teammates, did not have programs such as EBAYC or visits from professional athletes as kid, one of many reasons he has become involved with many of the Raiders community activities. "I never really had this type of stuff when I was growing up," said Reece. We came out and played on our own or maybe went to the Boys and Girls Club but never something really at school so that's why I like it and try to give the kids something I didn't have."
Aditi Aggarwal, volunteer manager of United Way of the Bay Area, was encouraged by the children's interaction with the Raiders players. "It is very moving and very inspiring because you can see that these kids look up to the Oakland players as role models and they want to be like them and they inspire to be like them," said Aggarwal.
Asomugha was pleased his teammates took the time to come out to make an impact on the students. "A lot of times you don't know if guys are going to take time out of their schedule on an off day but they came out and they had a lot of fun and they were gracious and great for the group," said Asomugha.
United Way, EBAYC, and the Raiders hope that their visit to Garfield Elementary School inspired the students to live healthy and active lifestyles.