"At the end of the day people won't remember what you said or did, they will remember how you made them feel."
This quote from the late poet Maya Angelou stays on the forefront of AJ Cole's mind as he continues to build upon his NFL legacy, and make a difference in the lives of others around him.
The Raiders' 2022 Walter Payton NFL Man of the Year nominee hosted a flag football game at Liberty High School in Henderson, Nevada, on Tuesday, continuing his passion for community outreach. The co-ed event featured special education high school students from the school competing against one another, with their fellow classmates cheering loudly from the stands for their peers.
"I think this sport is just a great unifier of people, and I think everyone deserves the opportunity to compete," Cole said at the flag football game. "Everybody deserves the opportunity to go out there and play a game and have fun. To learn about yourself, learn about other people, learn about life. So, to give these kids the opportunity to do that today was really special to me.
"It was really awesome to see the joy on their faces and the excitement that they had playing. It was really a meaningful thing and I hope it was a chance for them to come out here and fun."
Cole worked in conjunction with Special Olympics Nevada, the punter's elected charity, to get the event up and running. He's been able to dive into working with the organization since the Raiders' first season in the desert in 2020. While in the midst of the global pandemic, Cole did virtual workouts and activities with the organization's athletes – building up to this flag football game being one of his larger works of service with the organization to date.
"We're really excited and quite honestly humbled that AJ choose us as his charity of choice," said Terrence Thornton, executive director of Special Olympics Nevada. "Really honored to have that support from a local pro player. At Special Olympics, we train our athletes to work hard in the sport of their choice, and so to have an athlete like AJ Cole supporting their efforts is really awesome."
In support of Cole, past Raiders' Walter Payton Man of the Year nominees turned out to help coach and play in the game, including Rock Cartwright, Oren O'Neal, Dan Williams, Sam Williams and Usama Young.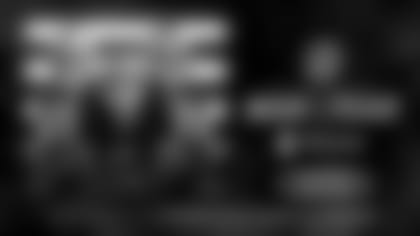 Walter Payton Man of the Year
Vote AJ Cole for Walter Payton Man of the Year. Tweet #WPMOYCHALLENGE @AJCOLE90
Young, a Raiders safety from 2013-14, is currently the manager of NFL Player Engagement and Relations and commended Cole for the work he's doing within the Las Vegas community. Seeing the athletes light up with joy catching touchdown passes made Young grin from ear to ear, as well as reflect on his own time as a past WPMOY nominee.
"For me, I was able to achieve that award while playing years ago. But now to pay it forward, to see a guy like him balling on the field, but also balling in the community, doing great things, impacting youth, impacting the community which the Raiders are a significant part of – it's amazing to see," Young said of Cole. "
"And also just seeing him come out on a day off. Players don't have to do that, but they come out and serve."
This opportunity gave Cole the chance take a step back from the grind of being an NFL player, and enjoy the moment. He took away just as much from coaching the athletes as they did playing for him.
"They had fun and were so positive, encouraging and uplifting to each other," he said. "There's plenty of lessons I can take from they way they handle the game, how they attacked it and their spirit. That's an awesome opportunity for me to change my perspective on football a little bit and see it in a different light.
"Sometimes during the season, we end up living in a little bit of a bubble and we forget there's a life outside of football. It's good to see that there's all kinds of people with all kinds of different things they're going through, in all walks of life. To be able to be around them is great."
Fans are encouraged to participate in Nationwide's Charity Challenge (now through January 8, 2023), a social media campaign which gives fans the opportunity to show support for Cole as the Silver and Black's WPMOY nominee and offers the Raiders punter a chance to secure additional donations from Nationwide for Special Olympics Nevada. Fans are encouraged to vote on Twitter by using #WPMOYChallenge and AJ Cole or #WPMOYChallenge and @AJCole90.