LB Thomas Howard and safeties Michael Huff, Jerome Boyd, Tyvon Branch and Mike Mitchell pose for a photo with the 5th graders of Anna Yates Elementary School in Emeryville. Photo by Allan Yuan. 

Recently, Oakland Raiders LB Thomas Howard and Raiders safeties Michael Huff, Jerome Boyd, Tyvon Branch and Mike Mitchell, went head to head against the 5th graders of Anna Yates Elementary School in Emeryville for an "Are You Smarter Than a 5th Grader" showdown. The Thomas Howard Foundation partnered with the Bay Area After-School All-Stars to demonstrate to students that learning can be fun. As standardized testing approaches, Howard wanted to motivate the students to be successful in school.
The Raiders were grouped together as a team and faced off against the 5th grade class. The groups were asked questions to help them prepare for the questions they will see on their upcoming tests. Both groups were provided 30 seconds to figure out the answer, and as soon as time expired, one member from each team had to race to the buzzer. The excitement of the game, in addition to competing against The Oakland Raiders, motivated the students to learn and think through the tough questions.
"The biggest thing about education is sometimes it all depends on who's teaching, and who's delivering the message," said Howard. "Sometimes you don't hear it. Teachers tell me sometimes it's in and out the other ear. Sometimes you want to hear someone different We are blessed to be in a position where kids will listen to us and that's the biggest thing. If I had something like this, most definitely, I would have come, I would have enjoyed, it, I would have learned."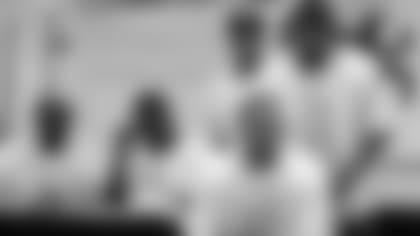 Michael Huff, Thomas Howard, Tyvon Branch, Jerome Boyd and Mike Mitchell listen to the next question. Photo by Allan Yuan.
Established in 2009, the Thomas Howard Foundation has set out to provide children and youth with the necessary tools to enhance their academic and athletic goals. The "Are You Smarter Than a 5th Grader" program has helped the foundation move towards one of its objectives by creating an environment in which students want to learn. Students were on the edge of their seats for the opportunity to prove to the NFL players that they could beat them in this educational competition.
"We made education fun and that was great," said Howard. "We've got a great bunch of guys with me who are very interactive and very energetic. The kids had a good time. We definitely learned something today. We learned that we are not smarter than 5th graders." Based on the competition, Howard could tell that the 5th graders were well on their way to being prepared for their upcoming tests.
With the support of players like Huff, the foundation is raising awareness and funding in order to continue these programs that benefit youth. "My favorite part was just seeing the kids and seeing how much fun they had interacting with us because I know when I was little I wish I had a chance to interact with the NFL and those kind of people," said Huff. "Just for us to get out in the community we can see that the kids are happy and that we were able to put a smile on their face."
Howard and his teammates can see the benefits of making education fun and exciting. The 5th grade students of Anna Yates Elementary walked away with a victory in the competition, but in the words of Mike Mitchell, "There you have it ladies and gentlemen! There will be a rematch!"