The Raiders coaches and players already think they'll get their money's worth out of new center Rodney Hudson. The veteran offensive lineman has made quite an impression on his teammates since he joined the Silver and Black as a free agent in March.
"Watching him out here, I am like, 'Oh, you're worth every penny you got,'" said veteran tackle Donald Penn. "He is a very good penny, so I am looking forward to it. He is going to be the man in the middle and we're going to follow his lead."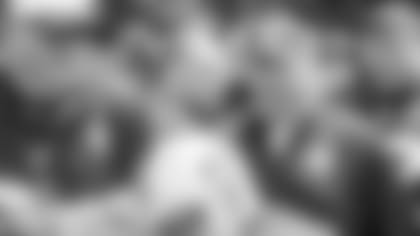 "I definitely think that Rodney, especially with him, he's doing a great job at center," said running back Latavius Murray. "He's a smart guy and leading the way for the rest of the line as far as his ability and his call-making."
General Manager Reggie McKenzie and Head Coach Jack Del Rio were looking for a player to fill the important role of center and found Hudson, who played his first four NFL seasons with the Kansas City Chiefs.
The men in charge have been pleased with their 'get.' "I think he's an excellent football player," said Head Coach Del Rio. "I think he's a rising star at the O-line position, at the center position. I've competed against him a couple of times in the last couple of years. I have a lot of respect for his abilities as a player and I think he's going to fit in great with what we want to do with our center."
Hudson was convinced the Raiders were the right fit when he visited and got a sense of the culture the new head coach was creating. "It's an exciting feel around here," said Hudson. "We have a lot of really good coaches and a good mix of really good players, older and younger, good mix of great minds. I'm looking forward to it, continuing to work and continuing to grow together."
The center position is unique because of its necessity to create a deep connection with not only the rest of the offensive linemen, but also the quarterback. The center-quarterback exchange is the catalyst of the offense, and the two together have to be the leaders and decision makers when it comes to reading defenses and executing the play call.
Although QB Derek Carr was limited for the majority of the offseason, Hudson and his new, young quarterback were able to start the development of a strong relationship. "It's great. He's a young guy with a lot of knowledge of the game," Hudson said of Carr. "He understands what's going on and we talk a lot even though he hasn't been on the field as much. We're always talking back and forth and seeing what each other thinks and it's going well."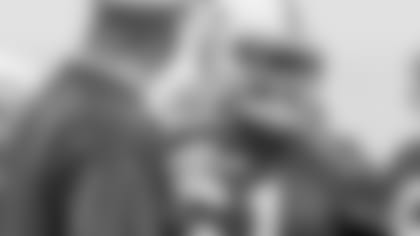 The two had the chance to get real reps during the final week of the offseason program. Offensive Coordinator Bill Musgrave, who played six years in the NFL, liked what he saw from the pair, but also the individual work of his center. "Rodney has done a terrific job," said Coach Musgrave. "I think he is more than what we anticipated. He has better movement than I think we expected from our film study, seeing him from the other sideline over the years. But he's done a nice job of pulling when he needs to. Our guards and tackles pull a bunch in our system, but the center needs to at times and he's definitely able to do that."
The Raiders are continuing to build their starting five on the offensive line, but the players and coaches are confident that their group is solid. "I think it's a really good mix," said Hudson. "I think the vets are really good for the young guys. Guys have been in this league for a long time, like Penn and Khalif [Barnes], and it's really good for the young guys to have somebody to talk to on the field about a mistake or something they did well, as well as in the classroom. I think it's a good mix of young and older guys and it's going well so far. I'm really excited about the group we have."
Communication is key at every position, but particularly on the offensive line. Hudson's ability to mesh with his teammates is important. "I think it's been great. A lot of the guys have taken me in, as well as a lot of other new guys. We're excited," Hudson explained. "We have a good time on and off the field competing in the weight room, on the field, in the meeting rooms. We have a good time learning together and trying to learn the system and grow together."
The offensive linemen are led by a focused coaching staff full of former college and players. Offensive line coach Mike Tice played in the league for 14 years and has coached an additional 18. "I'm excited to be able to work with him and get better, not only for myself but as a group," said Hudson. "He's a good coach. He's been around for a lot of years and I'm looking forward to it."
Hudson has also been impressed with Coach Musgrave's knowledge. "He's very smart, very knowledgeable about what we're trying to get done on any given play," said the 5th year center. "That's what we're trying to focus on – that one play and what's the focus for that play – and try to get the job done."
Head Coach Jack Del Rio, who played in the league for 11 years, is bringing a renewed energy to the Silver and Black, and Hudson can feel it. "He catches all the guys' ears and eyes and it's exciting. He brings energy, very good leader. I think everybody is responding well to him."
The energy from the coaches is transferring to the players, and it's the same type of passionate energy Hudson has experienced from Raider Nation during his career. "The Raider fan base is crazy. It's loud, it's intense, it's exciting. I'm really looking forward to being on this side."
The Raiders have a long way to go to be ready for the 2015 season, but the new man in the middle on offense has been putting in the work to uphold the tradition of the Silver and Black. "I always watched football growing up and the Raiders always stuck out as a franchise with a lot of tradition, a lot of pride, a lot of great players that played for the Raiders," said Hudson. "I think we'll continue to get better, learn how to practice, learn how to push each other and just continue to work and not let anything set us back and continue to push forward."