OL Zach Hurd brings it in for a cheer with the Playworks after-school program at East Oakland Pride Elementary. Photo by Tony Gonzales

Recently, Raiders offensive lineman Zach Hurd visited with students in the Playworks after-school program at East Oakland Pride Elementary School. Hurd participated in outdoor activities with 4th and 5th-grade students, including flag football and four-square, encouraging the kids to stay active, work together and have fun.
"Playworks is a national non-profit based here in Oakland," said Alison Townley, Playworks executive director of East Bay operations. "We put full-time, fully-trained coaches in low-income elementary schools to basically transform and transport the schools through play. What these coaches do is they become a full member of the community. They facilitate recess, class games, they run sports leagues after-school with the kids and they also do after-school tutoring and games for the kids."
In 2010, Playworks received a grant from the Raiders and the NFL to improve the playground at East Oakland Pride Elementary which is used by more than 400 students daily. The $35,000 Youth Fitness Zone Grant also enabled Playworks to organize and run two flag football leagues for students from 32 elementary schools throughout Oakland.
Hurd and the students put the improved playground and flag football field to use during his visit. "They taught me how to play four-square," said Hurd. "I haven't played that since elementary school so I brushed up on my four-square game. They just showed me how fun it is to be a kid and there are so many stresses in life that people worried about and these kids are just out here having fun."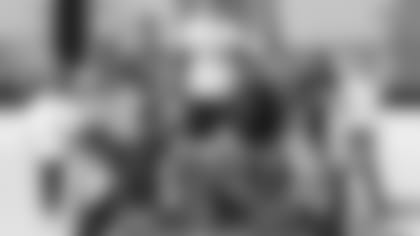 OL Zach Hurd poses for a photo with the students and Playworks coaches. Photo by Tony Gonzales
Playworks and East Oakland Pride Elementary were excited to have a Raiders player spend time with the students in their after-school program. "The reason that we wanted a Raider here is because the Raiders represent Oakland," said Townley. "They represent a lot of the same things - pride in Oakland, they're inspirational for kids because we use sports and play as a foundation to teach kids respect, team building, trust and all these things that are important for them to succeed in life. To them, they look at the Raiders and they're like, 'that's it.' I think it's not natural always for kids to realize that these skills that are so important for them to be successful might come from the playground, come from play. So we're excited to have Zach here."
Hurd was happy to play outside with the kids. "It's a lot of fun because nowadays a lot of kids go home and stay inside and play videogames," said Hurd. "When I was a kid and everyone before me was a kid, you went outside and you played outside and just it's good to come here and let those kids know that you have to get outside, exercise, have fun with kids your age and get outside and play."
Townley could see the extra excitement on the kids' faces as they played games with the Raiders offensive lineman. "They're just thrilled; he's such a presence," said Townley. "He walks in and you're like, 'whoa!' It just feels special. Kids wore their Raiders jerseys, clearly their parents are fans of the Raiders. I think it's really wonderful that he came and showed that he cares and wants to be part of our community."