Opening Statement: **"All right, it was a good practice today. Again, these guys are out here competing. They're having fun and they're getting better. So that's a good sign and again, there was a little bit of give and take on both sides of the ball, but I think overall really, offensively and defensively, I think we've been pretty crisp over the last couple of days. We'll have another good practice tomorrow and then it'll be a players' day off after that. So I like where we're headed as a football team."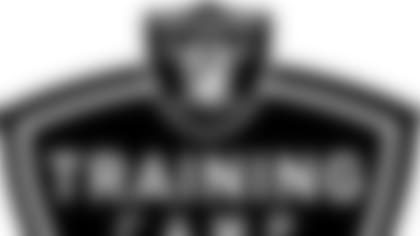 ](http://www.raiders.com/news/training-camp.html)Q: Did Justin Tuck just have a veteran's day off?
Coach Allen:"He's got a little bit of a groin that was bothering him. I don't think it's anything serious, so somewhat of an injury, somewhat of a veteran's day off."
Q: It looked like Shelby Harris took some first-team reps over the last couple of days. [Offensive line coach] Terrell Williams had some nice things to say about him. Have you been impressed by his growth?
Coach Allen:"Yeah, I have. You know, Shelby's a kid that was out of football last year and when he came in during the OTAs, he was probably a little bit out of football shape and maybe a little bit heavy. He lost some weight during the time off. He's come back, he's about 273 pounds, I think it was, when he weighed in at the start of training camp. So I've seen a lot of improvement out of him. He's a guy that we thought had some explosion and some pass-rush ability, so he's quietly begun moving himself up the depth chart. So hopefully, he'll continue to improve."
Q: Did you see more strides from Tony Bergstrom today?
Coach Allen:"Yeah, he's been more consistent with the snaps and I think that's something that we want to continue to work, continue to take a look at. He's going to need to take some reps at center and [Kevin] Boothe's going to need to take some reps at guard, so trying to work that flexibility as much as we can so when we get to a game-day roster, the more you can do as a backup player, the easier it is to get him into the game." ](http://www.pntra.com/t/R0BKRkpMSEBKTERGSEBISEtERw)Q: Would you say this was one of Derek Carr's best days in camp so far?
Coach Allen:"Well, I think he's had a lot of good days. Obviously, he threw a couple of nice balls today. That one play to 'D-Mac' [Darren McFadden] down the sideline was a heck of a throw and a good read. I think he's on track for where we want him to be and he's continued to improve on a daily basis. We're pleased with where Derek Carr is."
Q: What are you seeing from Mike Davis both on special teams and at receiver?
Coach Allen:"Well, special teams, we really haven't had a lot of live drills in the special teams yet. A lot of it has been fundamental and technique type of work, so it's a little bit hard to judge that. But I've seen some good things when he's playing receiver. But like all these young players, I'm looking for more consistency out of all these young guys. I've been pleased, but he's still got a long way to go."
Q: How about Jeremy Stewart?**
Coach Allen:"Well, Jeremy's kind of a jack of all trades. He can do a lot of different things for us. He's been very reliable, very dependable, been one of our better special teams player. So I'm happy with what I'm seeing out of Jeremy. I think we've got a very talented backfield in really kind of a crowded backfield. There are a lot of players there, so it's going to be a nice competition to see how all that shakes out."
Q: Have you been pleased with what you've seen out of Menelik Watson?
Coach Allen:"I have. I've been very pleased with what I've seen out of Menelik. The key with Menelik is can he continue to put days back to back. So far to this point he's been able to do that and I think he's continuing to learn every day, getting an opportunity to go against [LaMarr] Woodley and Tuck and Khalil Mack and some of those guys."
Q: Has Watson just come in with a different, more positive attitude than a year ago?
Coach Allen:"I don't know if I'd classify it that way, but what I would say is that he's beginning to understand what it takes to be a pro and that's not too uncommon with young players, rookie players, when they come in. They don't really fully understand what it takes to be a pro. I think last year was a little bit of a shock to his system and there was a lot that went into being a pro football player. I have seen a different demeanor or different sense of urgency out of him, I guess I would say, this year." ](http://www.pntra.com/t/R0BKSkdFREBKTERGSEBISEtERw)Q: You had the officials meeting last night and they talked rule changes and points of emphasis, such as if you grab somebody's jersey it's an automatic flag and how much they'll be looking for illegal contact. Do you coach to that right now, right away, or wait to see how it plays out?
Coach Allen:"You know, I think throughout the season there's always a constant kind of adjustment to – and really within each game – there's a little bit of an adjustment to exactly how they're calling it. It's probably not unlike a pitcher in baseball or a batter in baseball having to adjust to an umpire's strike zone. They're not all exactly the same. They don't call it exactly the same way. But we do have to understand what the rules are and be able to adjust to what the rules are."
Q: You've been pretty adamant about saying that Matt Schaub is your starting quarterback. Do you say that in part to take pressure off of Derek Carr?
Coach Allen:"No, I say that because I think Matt Schaub's our starting quarterback. He's done everything that we've asked him to do and I like the way our offense is being run right now. So I think when you have a veteran like that playing that position, I think that makes you a better football team."
Q: Let me phrase that differently. Do you like to not put extra pressure on a rookie quarterback?**
Coach Allen:"Well, not when you have a guy like Matt Schaub as your starter. Then there's no need for anybody to have pressure. The pressure really comes from within in trying to improve every day. That's really what the pressure is. It's not external pressure. It's internal pressure to try and continue to improve. Derek, he's attacked it the right way. He comes out here every day to go to work, continues to get better."
Q: When Justin Tuck or Antonio Smith are out, who will be that next man up to pick up some of the slack? Coach Allen:"Well, Shelby Harris has gone in and played some in Justin's spot. Khalil Mack comes in, in some instances, to take some of those reps. We've used a variety of people inside: Pat Sims, Jelly's [Justin Ellis] gone in there. We've got a variety of guys that can take up that slack, both for Antonio and Justin."