Tyler Hawkins dons his Raiders jersey and authentic helmet.

I am the Raiders biggest fan because, to me, the Raiders represent an attitude and a look I feel I can relate to, and their mystique is something I want to be a part of. The Raiders have always been about individuality, all for one and one for all.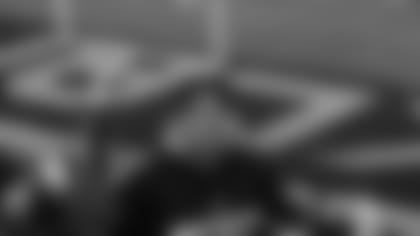 Tyler poses for a photo after the Patriots vs. Raiders game in 2008.
They don't care what you look like, where you're from, where you've been, but who you are inside.They were the bad boys of the 1970's and gave off a coolness that no other team had.

I identify with the Silver and Black and I wear my Raiders hoodie every day with pride as well as my hat to let other people know who my team is. I also wear a Raiders watch because, to me, it is always RAIDER TIME!

I'll explain why I like the Raiders like this -- I did not choose the Raiders, they chose me. I do stand up comedy all over Canada and parts of the U.S. and I always wear my Raiders hat when I go on stage. I even have an authentic Raiders helmet! In 2008, I went to see the Raiders play the Patriots in Oakland. It was one of the coolest experiences I have ever had. The intensity at that stadium when you walk in and you can hear people screaming RAIDERS is quite awesome.

I have both white and black jerseys, but you can take jerseys off. You can't change the color of a heart that bleeds Silver and Black! That's permanent.