Marcus Marsden attends a Raiders game in Oakland.

My name is Marcus Marsden and I am a 43-year-old British guy. I have been a Raider fan since 1983, when I first saw the Silver and Black play on UK TV. I was immediately seduced by the swagger, the uniforms and the burning passion of the players to "Just Win, Baby!" I love everything about the Oakland Raiders!
Since 1983, I have followed the Raiders, from whichever country I have been in - throughout Europe, Africa, and Asia.  This was not so easy in the pre-internet days, as I scrambled around looking for elusive AFN radio frequencies, which always seemed to fade out at the critical time!
I have lived in Asia for the last 10 years (Indonesia, Hong Kong and now Singapore) and whenever I wear my Raiders T-shirts, I am greeted by blank stares from the locals. It doesn't matter to me. I see myself as the one man Asian chapter of the Raider Nation, proudly flying the flag.
Following the Raiders while living in Asia has meant getting up at 1:00 a.m. or 4:00 a.m. every Monday to watch the games live on NFL.com. So while America is chowing down on hot dogs and beer, I am sipping on coffee and chewing on toast! Not quite the same.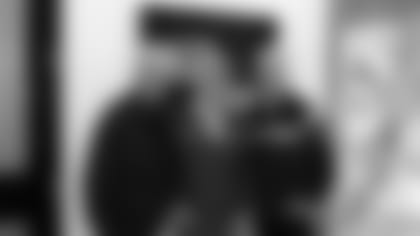 Marcus Marsden poses for a photo with Phil Villapiano and Errol Mann at the Raiders Alameda headquarters.
I have made three trips to see the Raiders play, once in Los Angeles and twice in Oakland. The most recent trip was in 2010, when I met up with my brother (another Raiders fan) to see us beat the Broncos.
This was an AMAZING trip. I had contacted the Raiders office to tell them that I was traveling to Oakland all the way from Singapore, and I had a fantastic meeting with Morris Bradshaw at the headquarters, who was a great host, showing us around the facility. While we were there, we also met Errol Mann and Phil Villipiano, who allowed us to take a tour of Oakland with him and his party. Needless to say, the tour ended at Ricky's Sports Bar!
It was a fantastic trip. The game was a blast. Beating the Broncos always is!
But the highlight was getting to see the headquarters and meeting Mr. Bradshaw and Mr. Villipiano, who are great guys from a great organization.
---
Marcus will receive a 3'x5' Raiders logo flag, and a photo of and signed by Hall of Famer Willie Brown. Click here to find out how to enter the Raiders.com International Fan of the Week Contest