Isaac Rochell still remembers the phone conversations he had with his brother, Matt, when the latter left home to go play at Air Force.
While the calls were limited exchanges, Isaac – a top high school prospect in Georgia at the time – learned everything about basic training and how Matt was navigating that along with playing football. The left tackle for the Air Force Falcons didn't sugarcoat the experience to his younger brother.
"Seeing him go to Air Force, going through all the things like basic training and their survival training, people don't even know about that," Isaac said, describing his older brother's early military experience. "They had to go a week pretty much with no food. You just have a new level of respect.
"It kind of puts things in perspective. Like for him, he got to school, he had his phone taken away, [went] straight into basic training. So, for me seeing that, it kind of makes you take a step back. … They're still in school, still playing football, but like I mentioned basic training, survival training, not having your phone when you're 18, just getting to college. Those are all things that build calluses and make you a little bit tougher."
If anyone could handle the challenge and responsibilities, Isaac knew his brother for up for it.
Just two years apart in age, the siblings formed a tight bond in childhood. Isaac remembers going everywhere Matt went, a lot of their time consisting of the two playing football together. While Matt always seemed to have the upper hand growing up, things began to even out in high school as Isaac lined up against his brother in practice.
Given that Isaac saw his older brother as a leader, he wasn't surprised when Matt started getting recruited to play for Air Force. Isaac and his family knew it would be a good fit for Matt based on his personality and their collective upbringing.
"I think my brother has a lot of like values that military people have and that leaders have," he said. "I think they go hand in hand, but just he has a lot of leadership qualities. Growing up, I think there was just a seriousness that he took on when approaching certain things, whether it be school or sports, he maximized his sports because there was a seriousness that came with that.
"That was his best opportunity, and I don't think it was just football, but in life."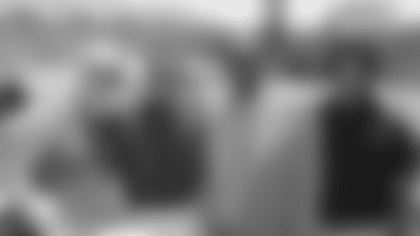 Childhood practices and reps against one another came to life in October of 2013. Isaac and the Notre Dame Fighting Irish traveled to Falcon Stadium to face Matt and the Air Force Falcons. After a week of good back-and-forth banter between the two brothers, Isaac and his team picked up the 45-10 victory over Matt.
Ten years after the contest, it still holds a special place in Isaac's heart. At the time, he didn't realize how surreal it was to have that game against his brother.
"I look back and I'm like, 'That's super rare to have two brothers playing on that level at schools that are that prestigious,'" he said with a smile. "I think about my parents and all the things they did. My mom is a teacher, the seriousness that she took toward our education. The work that my dad put in as far as just giving us opportunities. It's not something that I think I'll ever take for granted."
In total, Matt has served 10 years in the military and is still active duty along with his wife. He now works for the United States Space Force.
Needless to say, Isaac is proud of his older brother and the path he created. It's opened his eyes to the significance all military branches play in keeping the country safe, and he doesn't take his brother's – or anyone's – sacrifices for granted.
"We [should] recognize all veterans, all military people, because they're protecting us. Whatever you believe about government, war, etc., we are still able to be safe and sound here doing this interview because we have people sacrificing.
"I just think, in general, there's a level of respect that comes for that."