Raider Legend Jim Plunkett was recognized recently by the Cesar Chavez Foundation during a star-studded gala event in Los Angeles. The two-time Super Bowl-winning quarterback for the Raiders was presented with the Cesar Chavez Legacy Award.
A major fundraiser of the Cesar Chavez Foundation, the annual gala pays tribute to the legacy of the iconic civil rights leader through the presentation of awards that exemplify excellence and commitment to community and advocacy. The Legacy Awards brought together more than 500 guests, including national and local community leaders, celebrities, corporate, labor and business executives. "Let The Spirit Flourish and Grow" is this year's gala theme.
Several of Plunkett's teammates from his days leading the Silver and Black were on hand to offer support including Mike Haynes and Rod Martin. Bob Moore, who also played for the Raiders and who was Plunkett's college teammate at Stanford, attended the event as well.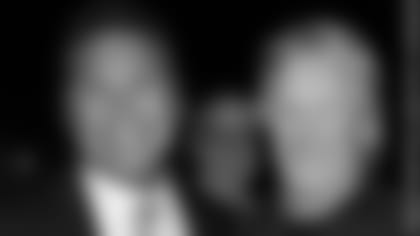 Two-time Super Bowl champ Jim Plunkett (left) poses for a photo with renowned actor Kris Kristofferson. Photo courtesy of Cesar Chavez Foundation.
Plunkett gave a rousing, inspirational acceptance speech in front of the attendees who were packed inside the Bonaventure Hotel ballroom. "I want to thank the Cesar Chavez Foundation and all those involved for selecting me," said Plunkett, who accepted the award from Paul Chavez, the son of Cesar Chavez and president and chairman of the foundation. "I am truly honored to be a recipient of this award. I've been lucky enough to receive many awards over the years and this ranks right up there with the top of them all."

At a very age I loved playing sports and I got involved on the streets like most kids do. My mother was totally blind, my father was legally blind, and I actually picked apricots and peaches as a kid for 17 cents a bucket, tough way to make a life. So I figured early on as a child that I wanted to make a better life for myself and my family to be, so I worked hard both in the classroom and on the field and it paid off. I got to choose the college of my choice which happened to be Stanford. I got to continue playing football, something that I loved, something that inspired me to get better.

"One of the things that this all came down to was being as good as I could possibly be, never quitting, working hard to achieve the things that I was finally able to achieve, both on the athletic field and in the classroom and in business as well. One of the things that happened along the way was that I inspired a lot of other people, people in the community, Hispanic kids that I grew up with. Younger kids that saw no life for them really outside of where they live, that they couldn't accomplish anything.

"They were Hispanic, they were small, they couldn't do these things. But because of the success I had in sports and the things I accomplished, it inspired a lot of young people to get out there and give it a shot. I feel grateful that I was able to inspire kids to find out what they could do. If they worked hard they could accomplish whatever they set out to do. And that's the real thing that I think I left behind. They looked at me and said if he can do it I can too and I think that really meant a lot to the Hispanic community.

"Poor kid out of San Jose, my gosh, look at him, I could do the same thing. I got a lot of tremendous mail, talked to a lot of people over the years who said because of you, I went out for football or I worked very hard in the classroom and I got to go to Stanford or UCLA or Harvard. So I feel very lucky that I was able to inspire so many people.

"Along the way it meant so much to me to hear their stories about I wasn't going to apply to Stanford but because of you I did, I got in. Or I never thought I could a football player but because of you I tried out, I worked hard and they said I couldn't do it but I wanted to show them I could because Jim Plunkett did it. That's a great legacy to leave and I want to thank you all for being here. I've had a great life as I said and there's more to come."

In addition to Plunkett, honorees included iconic East L.A. recording artists Los Lobos, acclaimed actor Kris Kristofferson, California Assemblywoman Lorena Gonzalez, Los Angeles City Council President Herb Wesson, The Walt Disney Studios for the movie McFarland, USA and the President & Co-founder of Alianza Nacional de Campesinas, Milly Treviño-Sauceda.

Now in its 15th year, the Cesar Chavez Legacy Awards is the Chavez Foundation's formal celebration of Cesar Chavez Day.  "We are proud to celebrate and pay tribute to such an incredible group of honorees who carry on the spirit and ideals of my father," said Paul Chavez.

The Cesar Chavez Foundation enriches and improves the lives of farm workers, Latinos and working families by meeting their essential human, cultural and community needs. It focuses on four core programmatic areas that inspire and improve communities by preserving and promoting the life and work of Cesar Chavez; building or renovating and managing 5,000 units of high quality affordable housing at 42 communities in four states; operating Radio Campesina, a nine-station educational radio network with 500,000 daily listeners in four states; and rigorous academic tutoring for disadvantaged students in California and Arizona school districts.