Alexander DeLeon meets General Manager Reggie McKenzie during the ESPY Awards. Photo courtesy of DeLeon
Alexander DeLeon is a huge Raiders fan. The lead singer of The Cab attended the Raiders joint practice with the Cowboys in Oxnard, Calif., Tuesday afternoon.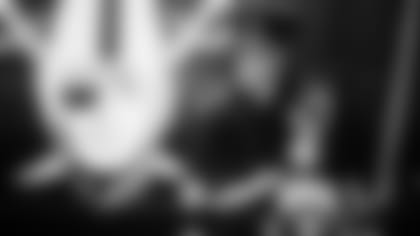 DeLeon supporting the Raiders as a kid with his family.
Photo courtesy of DeLeon
"It's awesome. The fact that it's a short drive from my house is amazing," said DeLeon. "I actually flew in my little brothers for it, so yeah, I love it. Just to watch them play and I'm excited it's football season again. I've been waiting months and months."
DeLeon was born into Raider Nation and has been representing ever since. "I think I was actually a Raiders fan before I took my first steps. I think the first shirt I ever wore…my dad put a Raiders shirt on me," said DeLeon. "I grew up my whole life – I painted my face. My dad used to wear skull pirate masks and it was a part of my childhood. All of the memories with my dad are from going to Raider games and tailgating at five in the morning."
The 25-year-old singer has kept that fandom going and shows his love for the Silver and Black. In fact, DeLeon rocked a Rod Streater jersey to this year's ESPY Awards.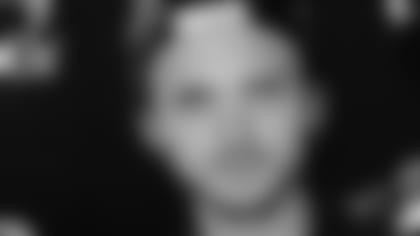 DeLeon rocks the Raider jersey at the ESPYs.
Photo courtesy of DeLeon
Streater and DeLeon have become friends over the past two years. "I've been a fan of Rod for awhile and we actually started communicating on Twitter and he checked out the band," said DeLeon. "He's a fan of the music and I'm a fan of his playing, so it's kind of this mutual respect that turned into a friendship. He's like the hardest working guy and he does so much for the community and for charity. It's one thing to support a good athlete, but when the athlete is an amazing person, it makes you want to support them even more."
And DeLeon wanted to make sure that when the Raiders were practicing in his neighborhood that he came out to support Streater and the rest of his favorite team.
To DeLeon, the Raiders and Raider Nation are family. "It's awesome. One thing about the Raiders is they do have one of the best fan bases in all of sports," said DeLeon. "They are die hard. When you're a Raider fan and you tweet something about the Raiders, all these Raider fans come out of the woodwork and it really is a community and a family. I have friends who grew up without their parents, grew up in homes and stuff, and they found their family in fellow Raider fans and going to games. That's where they found their family, their circle. It's much more than a game of football to us."
The musician will be traveling around the United States this season to catch his favorite team. "I'll be seeing you at all the games. I'm even going to the New York game," said DeLeon. "I'm going to the Seattle game in Seattle. Any Raider fans, look for me, let's hang out."
"Raider Nation – I love you guys. You're my family."