Al Davis promised in 2006 that, "it may take a short while, but we'll get that nastiness of the Raiders back."
It seems that after years searching for the Raiders' quarterback of the future, Davis helped the team get some of that nastiness back with his last ever draft pick, selecting quarterback Terrelle Pryor in the third round of the 2011 NFL Supplemental Draft.
As Pryor battles his way through his first season as the Raiders starting quarterback, his mechanics and decision making abilities have been improving faster than even his coaches expected, but the competitiveness and elite athleticism that made him the quintessential Al Davis selection have been there from the start.
Raised not far from the stomping grounds of NFL giants like Joe Montana and Johnny Unitas, Pryor learned to compete early on.
"The city I grew up in had a lot of guys that were very athletic—liked to compete, liked to scrap," said Pryor. "You just learn from competing every day no matter what you're doing—basketball, football, sometimes getting in arguments, whatever. You just get that competitive edge with the guys."
The young competitor started turning heads early on in both football and basketball. He used his superior athletic ability to become the first player in the state of Pennsylvania to run for 4,000 yards and also throw for 4,000 yards. With that kind of a high school career, it's not surprising that Pryor was one of the nation's top football prospects in 2008 and was named "Junior of the Year" by Rivals.com.
In college, Pryor's success continued as he lead the Ohio State University to a 31-4 record as starting quarterback, tied the school's record throwing 57 touchdowns and topped it off by winning Sugar Bowl MVP during his final season in 2010.
"He was a guy who can make the throws on the football field," said Chimdi Chekwa, Raiders cornerback and former teammate of Pryor's at OSU. "He also has that threat of scrambling and running. When we needed a big play in college, he made that play. When we went against him in practice, first-team offense versus first-team defense, we had to spy him, do different things. He makes you have to account for the quarterback running."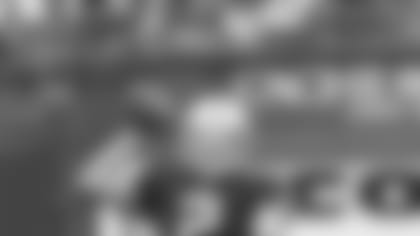 Photo by Tony Gonzales
Although Pryor faced some adversity at the end of his college career, the athlete bounced back after being drafted by the Raiders in 2011. The young quarterback found himself in a position to learn and grow as a player behind veteran quarterback Carson Palmer.
"One thing I loved about him that I learned and am still trying to get better at—I think I've gotten better at it—is the way he was whether it was a win or loss," said Pryor thinking back to his first seasons with the Raiders. "I was with him, and there were a lot of games we lost, but you could never tell with him whether we won the game or lost it because he was still the same person. No matter what, he was just smooth-sailing, same-person Carson. That was something I kind of picked up, something I really want to be like."
Pryor sat and learned for most of his first two NFL seasons, but did get his first career start in the 2012 finale against the San Diego Chargers in place of an injured Palmer. Pryor threw two touchdowns and one interception, but completed only 46-percent of his throws in the game.
With Palmer being traded to the Arizona Cardinals this past off-season, Pryor found himself in a position to once again compete for the starting job. With the incredible amount of hard work and the improvement he showed during preseason and training camp, Pryor won the job by the first regular season game.
Now Pryor finds himself in unchartered territories. In only his third season in the NFL, he is the undisputed starter and most experienced guy in the quarterback room accompanied only by rookies Matt McGloin and Tyler Wilson.
"I guess you can say it's more pressure, but it's just something that—you're called to do it," Pryor said. "I feel like it's my time to do it. It's my time to lead. It's my time to gather a group of guys, listen to people say we can't do something and go accomplish it."
It seems that Pryor has been answering the call as he's completed more than 61 percent of his passes so far this season and led the Raiders in rushing with 485 yards through Week 9. After all of the hard work that he's put into this season, it's no wonder that a key word that tends to buzz around the Raiders facility when Terrelle Pryor is mentioned is 'improvement.' Head Coach Dennis Allen seems to be pleased with the progress he sees.
"I think this kid is going to continue to improve; I think he's probably leaps and bounds ahead of where we thought he would be at this point in time," said Allen. "The key for him is that he continues to work and continues to strive to get better on the little things, because he's always going to have the elite athleticism; the ability to create, it's now about the timing, the decision making, the accuracy and all of those things. He's improved in those areas, and that's where we hope to see him continue to improve in."
It appears Allen isn't the only coach in the league taking notice of Pryor's improvement. Between the athletic plays he can make in the running game and what he's shown he can make in the air, Pryor has become a quarterback that defenses have to respect and prepare for.
"He's a quarterback that is an exciting player to watch," said San Diego Chargers Head Coach Mike McCoy. "He's one of those players that you've got to play snap to whistle every play because he's going to make you break down and get out of the pocket and make things happen with his feet. He's very dangerous on the run throwing the football. You've got to be disciplined on how you're playing the game to stop him."
It turned out that McCoy was right. Pryor proved to be very dangerous against the Chargers in early October completing 78-percent of his passes for 221 yards, two touchdowns and no interceptions earning him a passer rating of 135.7—the best by a Raider QB since 2002.
Much of Pryor's success this season is a result of the hard work he puts in and the athleticism and passion he plays with, but he is just one of many new offensive weapons that the Raiders have added to their arsenal this season. New offensive coordinator Greg Olson has been the man behind the scheme in Oakland this season, and he believes that Pryor's character and coachability are traits allowing Pryor to grow as a player
"I think he's a resilient player," said Olson. "You can coach him hard and he takes the coaching. He tries to come back and take in what you're telling him and be better the next week. He's what you're looking for there as far as a player that's trying to get better."
You don't have to be in the quarterback room to understand what Olson is talking about. Pryor shows that same character, heart and resilience out on the field every Sunday with the intensity in which he plays.
"I'm a passionate guy, and I never give up—always trying to get better, always trying to lead by example, always trying to win games," says Pryor. "They've got a guy under center that's always trying to win, has a hunger for it and is very scared to fail—doesn't want to fail"
It's hard to say whether Al Davis knew what a strong leader he drafted with that last pick—whether he knew that this kid might be the answer at quarterback. Either way, both Davis and Pryor would agree that the future is looking bright for the Silver and Black, and it's time to, "Just Win Baby."