Jerry Davis answers the phone at the Raiders draft table in 2008.AP Photo

Reggie McKenzie may make the decision, after advice from dozens of scouts, coaches and staff, but no draft pick becomes a Raider without one important individual.
That individual is Jerry Davis.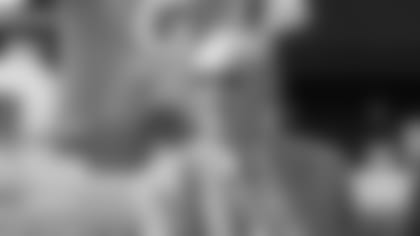 Jerry sits on the bench prior to a Raiders game. AP Photo
Al Davis' older brother, Jerry has one major responsibility on draft weekend: Write the name on the card. Having been around professional football since Al Davis worked for the San Diego Chargers in 1960, Jerry was never far away.
"I never made any football decisions of any kind," Jerry said, "whether a guy was good, bad or indifferent as a ballplayer."
Raiders fans may have seen Jerry at the Raiders draft table over the years. His involvement in the event began when his brother's did.
"Well, one of the first jobs that Al had in pro football was as a scout," Jerry said, "and he filled in on the first draft of the American Football League in New York. In other words, in those days, each team would send one man to New York. The American Football League wasn't a part of the National Football League at the time.
"Al was with San Diego and he was with a very famous coach [Sid Gillman]. The American Football League was a league unto itself. Eventually, Al caused the combining of the two leagues and it became one league. That was the first draft I ever went to, the draft that Al came into New York to do. I sat at the table with him and neither of us knew that I would eventually take over the draft in New York, but for the combined team, the new team that eventually was the Oakland Raiders. So that's when I started – the first draft of the American Football League."
Jerry Davis' participation will continue at next week's draft at Radio City Music Hall in New York City.
"I stayed with the draft from that day forward and when the two leagues combined, I just took over [at the draft table]," Jerry said. "I did the drafting for him. Now, let me just say one thing to you, so you'll understand and get it in perspective: I never made the decision as to which ballplayer to pick or not pick; I carried out someone else's dictum in telling me what they wanted to me pick. I didn't make the decision."
As Jerry's role with the draft remained the same, his younger brother's position with the Oakland Raiders and the NFL continued to progress.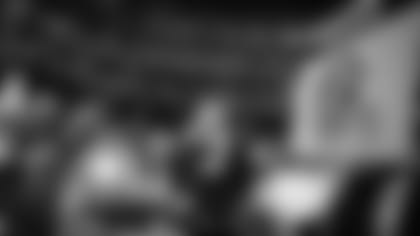 Jerry takes a call at the Raiders draft table at Radio City Music Hall. AP Photo
"A natural evolution," said Jerry, regarding his brother's transition from head coach to general manager, AFL Commissioner and, eventually, Raiders owner. "He was more or less destined to be an owner. And it just evolved."
Prior to Al Davis' ascension in professional football, baseball was his sport. Al Davis' desire to build the Raiders using the best qualities of the New York Yankees and the Brooklyn Dodgers not only stemmed from his upbringing in Brooklyn, N.Y., but also his love for baseball.
"Originally my brother was a baseball fanatic," said Jerry. "He was originally a baseball coach. His best sport, by far, was baseball. He was a spectacular third baseman in high school and in college. At Syracuse University, he was on the football squad, and I mean squad; you had to look deep to find him. But in baseball, he was out there as a third baseman and I would say almost every year after he became a junior in high school the problematic thing for him was to break a finger in playing third base."
Jerry believes his brother really transitioned to football when he joined the Army in 1952. "He got into football, I think, when he went into service and he started to be the head coach of a football team on a service team and had the champion service team when he was in the Army," said Jerry Davis.
As Raiders fans know, the rest is the storied history of the Silver and Black.