Mario Rinner watches warmups from the sideline.
Here I'm sitting at the San Francisco airport, writing my last blog for Raiders.com. Although I did some shopping my luggage is not overweight. I can't say that about all the memories I will take back home. And that's a good thing.
I had a wonderful time with The Oakland Raiders. We were treated like family members, like very good friends. From day one this made it so easy for us to get in contact with people and to make new friends.
Every day we saw so much and learned so much in practice. I take many ideas and information back home to Innsbruck. And I can hardly wait to teach all the new stuff to our youth teams, who open their season shortly.
Of course the freshest memories are the ones from the game between the Raiders and the Detroit Lions. It was fascinating to be that up close at an NFL game. We were standing on the sideline during warm-ups and I have to tell you that some of the players look even more intimidating wearing uniforms.
The game itself was very entertaining and exciting. Of course I was hoping for an early score by our guys. But I have to say the team already looks pretty good on offense and on defense. And head coach Dennis Allen has some time left for the fine-tuning.
I'm excited for the new season and I'm excited to see "my Raiders". I was always a fan of the Silver and Black and I'm an even bigger fan now. Once again I want to thank everyone at The Oakland Raiders and I'm sure many of you will follow the SWARCO Raiders and root for us when we start our new season.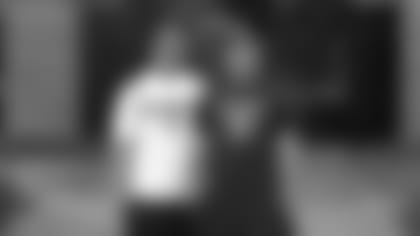 Flo Grein and Mario Rinner outside the Raiders headquarters in Alameda.
It's hard to believe, but training camp is over. I know the players are happy they've survived it, but I wish camp would go on for another week at least. Every day I learn so much out here.
Take the last three days of camp: Tuesday and Wednesday the coaches made sure the schedule is pretty much the same. They want to get into an in-season rhythm. The practices were really long, like three hours. But the speed was very high. You can tell how important these last practices before the Lions game were. For many of the guys this week is all about making the first cut and leaving a great impression in practice and in the game on Saturday.
Yesterday was the last day of training camp. The practice went smooth and it wasn't that long. And when the final whistle blew and head coach Dennis Allen had spoken to the team some guys just ran off the field. They couldn't wait to get back home. And what was I doing?
I packed my stuff and jumped on the bus that was taking all the rookies and first-year players to the hotel in Oakland. There we will stay the next few days. Today the team has another walk through and I can't wait to get a little tour through the Oakland Raiders facilities in Alameda.
Obviously I'm also looking forward to the game on Saturday. I've been a Raiders fan my whole life and this will be the first time I will see the team play live.
I hope that the team beats Detroit and that everybody stays healthy. I also hope the defensive front can put some pressure on Detroit's quarterback Matthew Stafford and I'm really excited to see how the Raiders defensive backs will handle Megatron. This will be a real tough test.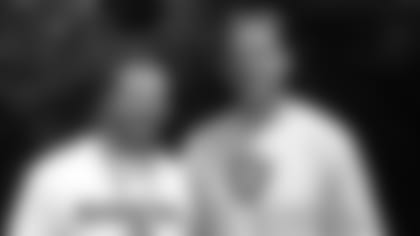 Mario Rinner with QB Carson Palmer.Photo by Tony Gonzales

After spending our off-day at San Francisco and with a visit of the Oakland A's batting practice and game against Minnesota on Monday, I was ready to get back on the practice field to watch The Oakland Raiders at training camp here in Napa Valley.
The longer camp goes the more it reminds me of our practices with the SWARCO Raiders back home. All I'm saying is long, longer, longest. And let me give a shout out to our head coach Shuan Fatah at this point.
I mean the practices here are unbelievably long. Of course this is a result of the new CBA that allows teams to have only one real practice session a day. So teams obviously will extend the length of their practice sessions as the amount of information the coaches want to implement hasn't changed. Practices of close to three hours are not unusual.
During practice my focus lies on the defensive line's drills. Since this is the position I play, it's the nature of things. What impresses me the most is the tempo. The players don't make a difference between a practice in shells or a practice in pads. They always go full-speed.
After yesterday's practice I met quarterback Carson Palmer. And that gave me the chance to get something straight. I am not Carson Palmer. A few days ago I was walking through the hotel when a couple of boys mistakenly thought I was Carson Palmer. My teammate and friend Florian Grein makes fun of me since then and keeps calling me Carson.
When I met the real Carson Palmer after practice and told him about the incident he was amused. But of course there is only one Carson Palmer. And there is only one Mario Rinner. And he's the one who will keep telling you about his experiences at The Oakland Raiders training camp.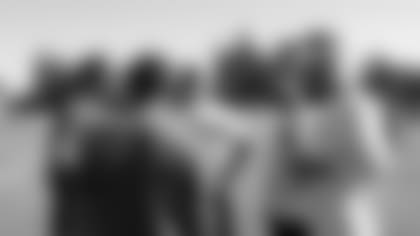 Mario Rinner and Florian Grein from the SWARCO Raiders, and Raiders auf Deutsch correspondent Sebastian Stolz meet Head Coach Dennis Allen. Photo by Tony Gonzales

The SWARCO Raiders are back at the Oakland Raiders training camp. This year me and Florian Grein are getting a chance to see the Oakland Raiders in Napa. I'm excited to be here and the first day at camp already was special to me.
After we arrived in the USA Saturday and spent the evening in San Francisco we drove up to Napa Suday morning. Everyone is very kind to us. You can tell how much the relationship to the SWARCO Raiders means to the Oakland Raiders. Many people asked us how our season went and some even knew everything about us and our last season.
After our check in and the outfitting it was time to go to our first practice. Two things stuck out to me: NFL players are really big and they're really fast. But despite that the practice itself reminded me a lot of the way we practice.
You know, I played in NFL Europe a few years ago. Back then I played along guys like James Harrison from the Pittsburgh Steelers. But despite the fact that I got close to smell some NFL air, this trip here is something very special. Before I came here the NFL was something I saw on TV and now I'm standing right next to the action.
And that is exactly what I want, because I'm here to learn for myself and for the SWARCO Raiders. I want to see what the Oakland Raiders are doing differently or better than us. I want to come home with a lot of new information.