Q**: How much of what has happened so far has to be Reggie's responsibility for the way the team has played?
Davis: "Well, it starts with me and it's my responsibility, so I wouldn't put it all on Reggie. It's my responsibility. I hired Reggie so then he takes the next step. Then he's hired the head coach. And now he's hired the second one so we'll see how it goes."
Q: How do you Reggie has done so far?
Davis: "Well, we'll find out. We've got to win. I think we've got some players. I think we do have some so we'll see what we can do."
Q: Talk about Dennis Allen's performance. Have you had any communication with him about letting him go?
Davis: "I left him a message last night and he left me a message back this morning but we haven't spoken yet."
Q: What was the final issue for you?
Davis: "Reggie made the decision and I agreed with it, but at the same time, it was Reggie's decision to make."
Q: Had Reggie not made the decision, would you have…?
Davis: "Then that's how it would have been, absolutely. It's been the same throughout."
Q: Reggie hires Dennis Allen. Reggie brings in all the players. To get rid of the coach that connotates that it's coaching. Would you agree with that?
Davis: "I think I'll go along with what Reggie said – I think it's all the things involved. I think when I was looking at it after he made the decision that Dennis would go, I wanted to look at it – is it the players, do we not have the players? Could that be the reason? Is it the coaches? Maybe we don't have the right coaches. Could it be scheme? Is that the problem? I think you have to look at all three of those things and make a decision which way to go. In my analysis, I think we do have players that can play in this game. And I just think there may be some changes in house, the schemes are utilized. Dennis is the one that has taken the fall for it. I think Dennis gave his heart to the Raiders and I always appreciate that. That's the way it goes. But I don't think you can put it on any one thing, to be honest."
Q: Do you believe it was a mistake to bring Dennis back this season?
Davis: "No, that was Reggie's decision and you see where it ended up. I don't know if you call it a mistake, but that's just the process and we're still building and we're trying to get this thing right. And we will."
Q: Reggie mentioned repeatedly that it was the way you're 0-4, not just that you're 0-4, but the way you're 0-4. Would that be a safe assumption on your part too?
Davis: "I think that's something that frustrated me, absolutely."
Q: What stood out specifically? Was there anything, was it sloppiness you didn't like or anything that you could characterize?
Davis: "I think it's just the way that we lost some of the games. I think we weren't in them. To me, that's not what the Raiders are and we're still trying to get to be what the Raiders are. I think as far as I've been saying we've been looking for an identity for this organization. We may have it in a quarterback, a young guy Derek Carr. We may have it with Khalil Mack on the other side of the ball. We'll have to see. And these are things we're going to have to start developing and see if that's the way we're going to go, but I think we might have an identity coming."
Q**: What is your take; what kind of emotions are you feeling today?
Davis: "I'm optimistic. I had a great talk with Tony Sparano. I think he understands what it means to be a Raider head coach. He's been a head coach in this league for many years, not a head coach in the league, but he's been in the league for many years. He's got a tree that he's worked under with Bill Parcells. He's worked with Marty Schottenheimer, people that I know that have football in their veins. I think he'll be all right. I'm optimistic about the future of this season and we'll go from there."
Q: Will Reggie be here for the rest of this season?
Davis: "Yeah, why wouldn't he be?"
Q: What gives you the confidence in that Reggie is your guy?
Davis: "Like I said before, I wanted to look at – is it the players, is that the problem, is it the coaches, is it the scheme? And in my evaluation, I think we do have some players and we may be running some schemes that are putting a square peg into a round hole and maybe with some changes in that type of environment, we might be able to get something out of these players."
Q: So if the scheme changes but yet the results stay the same, will Reggie be judged differently by the end of the year?
Davis: "Reggie isn't coaching the schemes and all of that stuff. Again, you have to…"
Q: Like you said, philosophically, if Tony is able to change a little bit and …he said he would, yet the team still struggles…?
Davis: "Tony is the head coach. He'll be working with the coordinators so it's the whole process and you know how it goes. I'm not saying it's Reggie's…Reggie decided Tony Sparano would be the interim coach for the rest of this season. Let's see how that goes."
Q: Did you consider firing Reggie this week?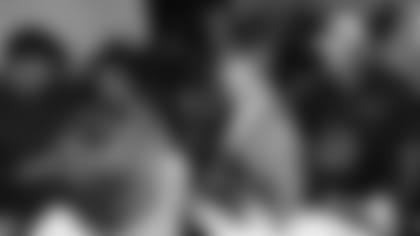 Q: If you have to change the general manager, would you consider that a huge step back since you've…?
Davis: "Step back or step forward, you never know. Results are what is going to be the determining factor of everything. Like I said, I think the organization itself is in a very good position to move forward whether Tony Sparano brings us wins this year and becomes the permanent head coach of the Raiders or if we bring in another head coach. I believe the salary cap, the contracts, all of those things have been fixed. I believe we're going to have another $60-65 million in space next year and so it's quite an encouraging and enticing thing for a new head coach if in fact we go out to find one and go through a search that this could be an organization they would want to be with."
Q:  What has Reggie done so far to show that he can be the guy to bring in the players…you have the salary cap room, draft picks again, to show he can be the guy to bring in the right talent?
Davis: "I would say that this year's draft, number one. I think the first three players in the draft are pretty darn good football players, and that's with Gabe Jackson, the guard. I think that the results have to show for themselves so I can't say that anything he's done has been great or not great, but I do believe that we have the players. I think the players believe we have the players and I think that was an important factor to me to evaluate that if the players feel we have great players, or at least players that can play and win, then Reggie may be doing a little bit better than maybe some people might think."
Q: Have you been talking to some players and what kind of attitudes do they have today?  Or leading up to today?
Davis: "Yes I have. Today? I haven't talked to any players today. They want to win. They love being Raiders and they do want to win and they're going to."
Q: Do you think Tony Sparano is the right choice to be interim head coach?
Davis: "We'll find out. I like Tony Sparano. I had a great conversation with him. He wants to win and, like I said, he comes from a great tree of coaching minds. Pretty good guy."
Q: The 2011 team that went 8-8, how does that team compare to this team in your mind?
Davis: "I don't know. I'm not here to discuss the 2011 team."
Q: In the last two seasons, is there anything you regret that you might have done?
Davis: "No, I don't think so. I think it's a learning process for me. Like I said, I take the heat for…Wherever we are now, I'm the one who hired Reggie. Reggie's hired the other guys. It falls on me. But it's a process that we're going to get this thing back and that's what my goal is and we're going to accomplish it."
Q: You mentioned finding the right coach for the future. Is there anyone you'd reach out to or anyone down the road past the interim status that you've thought about?
Davis: "No, my resume box is wide open now and people are sending them in. We'll see. There's a lot of people speculating on who it might be or who it might not be and everything else. It's kind of like how today went that people were saying that Dennis had been fired yesterday and that he hadn't and then people saying certain people had been hired and they haven't. I think we're in a 10-second news cycle and I think it's unfortunate that certain things like that happen because families are involved in that. So that's where I'm going to leave that."
Q: Do you ever remember talking to your father about days like today? Did he give you advice about how to go about making these decisions?
Davis: "I think I grew up in that environment. I'm not so sure it was lessons or anything like that, but obviously, by osmosis I may have picked up a lot of that, sure."
Q: How would you characterize that?
Davis: "It's tough. Again, I think there's an optimistic part that Tony Sparano is coming in and we're going to be moving ahead. But there's also Dennis Allen and his family and they're great people. He put his heart into this thing. It's not a happy thing about that."
Q: How did you take some of the players saying that, 'we sucked,' or 'we're an embarrassment?' Was that encouraging that they were as disappointed as you probably were?
Davis: "Well, you have to think about the player that said it. And then take it from there."
Q: Is the biggest thing you're looking for the rest of the season increased competition? Could it come down to that?
Davis: "As I look at it, I think Tony said it, we've lost four games. It's going to be tough, but we still have all of our division games to play and nothing is over until it's over. We have 12 games left. We've lost four. They are conference games and that makes it tough in wild card, but we're never going to give up fighting."
Q: Do you plan on reaching out to Jon Gruden to possibly coach this team next year?
Davis: "I don't know. He may reach out to me. I may reach out to him. I may reach out to anybody. But that's the future and I'm not going to talk about future coaches."
Q: Reggie alluded to that he's still in charge of the coaching search. Would he have the ability to reach out to a Jon Gruden or whoever the name may be?
Davis: "He has the ability to reach out to people; he's the general manager of the Raiders and he's able to do that. But I will have a say in what's going on in that."
Q: More say than last time?
Davis: "I will take more…"
Q: As far as the frustration level, how high is it at this point? Did you think you'd have the Raiders in the right direction at this point?
Davis: "Well, we might have them in the right direction, personnel wise and everything else, but yeah, absolutely disappointed. I'm frustrated. I'll tell you, we were over in London and I was walking the streets and there were Raiders fans everywhere and I mean a lot of them. They love this team and they're going, 'congratulations,' and all this stuff and we haven't won a game yet. And then to play like we did over there and what we've done for these fans, it's not right. I feel bad for them and we're going to get it right for them. That's where I feel the worst, is for them."
Q: I asked Reggie McKenzie this question and I'll ask you the same - do you regret bringing back Dennis Allen for another year being that he only lasted four games and kind of set you guys back, some would say?
Davis: "I think you asked the right person the first time and that's not my decision so I don't think I'll comment on that."
Q: How difficult was it to let Dennis Allen go?
Davis: "It's tough, like I said, because it's about families and everything else. This is a result-driven industry and the results weren't there and Reggie made a decision to move in a different direction, so it's tough."