Wide Receiver Jaydon Mickens and Wide Receiver Marvin Hall
Two friends sat in front of a TV playing a game of NCAA Football 2012, and the stakes were simple; granted they were a little higher than you would expect from a pair of high school buddies spending some time together during a holiday break.
They weren't playing for money, or even bragging rights; they were playing for a college commitment.
Marvin Hall and Jaydon Mickens went to high school together at Dorsey High School in Los Angeles, and after Hall committed to the University of Washington and to head to Seattle to play college football, he wanted his friend from home to join him.
Mickens was on the fence.
He had narrowed his college choices down to the University of Oregon, Oklahoma State, and the University of Washington, so Hall came up with a simple solution, why not just play a video game to decide?
"I was Washington; he [Mickens] was Oregon, because he had narrowed it down to a couple of schools," Hall recounted. "I told him, 'if I beat you, you have to commit now.' I ended up beating him and he committed right on the spot, and we went from there."
Mickens was true to his word, and as soon as the game ended, he called then-coach Steve Sarkisian to tell him he was going to be a Husky, and would be re-joining his high school teammate in the Pacific Northwest.
Over the next four years, the pair of wideouts enjoyed a plethora of success at Washington, and after their careers as Huskies ended, their friendship quickly began another chapter, as they were both signed by the Oakland Raiders as undrafted free agents within several weeks of each other.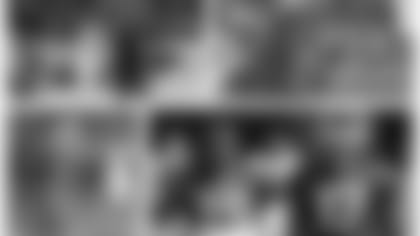 Now, the high school teammates, who became college teammates, have become professional teammates, and as they go through their first training camp as NFL players, the chance to continue their football careers together is something that both Hall and Mickens appreciate.
"You always talk with your friends, 'man, we're on the same college team. We're about to go away from each other for a long time probably. It won't be the same again, but what if we all played for the same NFL team? That would be crazy,'" Mickens said. "Having that happen, it was surreal. I couldn't believe it at first, but it was something that I put in the back of my mind."
Training camp is a time of highs and lows – particularly for a undrafted rookies trying to make an impression – and having a teammate and close friend to act as a support system has a made of world of difference for the each of the receivers as they've gone through the most strenuous job interviews of their careers.
"It's real big," said Hall. "We push each other, so when we have down days, when we have up days, we're there to talk to each other, and get each other through this, and just letting each other know, 'I'm here for you if you need me,' and vice versa. It's a blessing."
"I would call it a blessing as well," added Mickens. "Because there are some days where you're just like, 'I don't know this and that,' even though you're never supposed to second guess yourself, but with this business, it gets hard on you."
Friday night both Hall and Mickens will put on the pads and play in their first game as Oakland Raiders, and as they walk onto the field at University of Phoenix Stadium, the pair will fulfill a dream they had as high schoolers in Los Angeles.
"I thought about me and him in the same jersey at Dorsey, and me and him in the same jersey at Washington, now in the same NFL uniform, it's going to be surreal," said Mickens. "It might make me cry, but at that time I know I have to be thinking about football, but down the road, we're going to look back at it, and be like, 'man, that's incredible."
"Like they say, God works in mysterious ways," added Hall. "He put us here for a reason. We've been in each other's lives for a reason. We're going to push each other to make sure we both make this squad."