Compiled by Jamie Banks
Raiders.com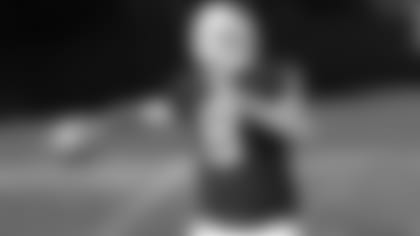 QB Matt Schaub recently took part in a photo shoot for the Raiders Week 4 match-up against the Miami Dolphins in London. Photo by Tony Gonzales.
Matt Schaub has had quite a number of impressive games throughout his career. Raiders.com takes a look at his top 10 career games, according to* *passing yardage totals.
| | | |
| --- | --- | --- |
| 1. |   | Schaub threw for 527 yards in a 43-37 Texans victory against the Jacksonville Jaguars on November 18, 2012. He threw 5 touchdown passes and completed 78.18% of his passes. |
|   |   |   |
| 2. |   | On September 19, 2010, the Texans defeated the Redskins 30-27. Schaub threw for 497 yards and 3 touchdowns. |
|   |   |   |
| 3. |   | The Texans played the Raiders on October 9, 2011 and Oakland was victorious. Schaub passed for 416 yards and 2 touchdowns. |
|   |   |   |
| 4. |   | Schaub passed for 414 yards and 2 touchdowns, helping Houston beat Green Bay on December 7, 2008. |
|   |   |   |
| 5. |   | The Pennsylvania-native threw for 393 yards and 3 touchdowns in a loss to the Baltimore Ravens on December 13, 2010. |
|   |   |   |
| 6. |   | On October 18, 2009, Schaub threw for 392 yards and 4 touchdowns in a 28-17 win against the Bengals. |
|   |   |   |
| 7. |   | The Texans defeated the Dolphins 29- 28 on October 12, 2008. Schaub passed for 379 yards and 1 touchdown. |
|   |   |   |
| 8. |   | Schaub threw for 373 yards and 3 touchdowns on September 25, 2011 against the New Orleans Saints. |
|   |   |   |
| 9. |   | On October 11, 2009, the Texans lost to the Arizona Cardinals, 28 to 21. Schaub passed 371 yards and 2 touchdowns. |
|   |   |   |
| 10. |   | Later in the season, the Texans defeated the St. Louis Rams 16-13 on December 20, 2009. Schaub passed for 367 yards and threw 1 touchdown pass. |