Q: Were you starting to resign yourself to the fact that maybe you'd be going the free agency route?**
McDonald:"I wouldn't say I resigned myself. I always have my faith. I was just hoping that the right team picked me up. Luckily I was blessed enough that it was the Raiders, who I had already visited with and fit my scheme and technique in college with perfectly. I would say it worked out perfectly."
Q: Why do you think you fit them perfectly?
McDonald:"I think it works perfectly because I'm an aggressive corner. I like to use my hands and press and it just fits right in to the Raiders defensive scheme."
Q: When did you visit with them?
McDonald:"The Raiders were the first team I visited with when I first started going on my pre-draft visits. It's been such a crazy journey, I couldn't tell you the exact date, but I visited with them. We went to the practice complex and I got to meet with the coaches and whatnot."
Q: Did you come away from that meeting thinking it was the right place?
McDonald:"Definitely. I felt like after I got to meet the great coaching staff and got a chance to feel out the coaches and have them feel me out, I felt it was a place I could go play at and have a great chance of making myself a future in the NFL."
Q: Is it true that you're related to Brandon Rush of the Warriors?
McDonald:"Yes, sir. That is true. We're cousins through marriage. My uncle married his auntie. We've known each other since about the fifth grade."
Q: Have you thought about the fact that if you both stick around awhile, you'd be playing your games right door to one another?
McDonald:"No sir. It honestly hadn't even crossed my mind. This all just happened so fast, it's still just hitting me. I'm blessed to have the opportunity, like I said, to be a Raider. That hadn't crossed my mind until just not actually."
Q: On your Twitter, it says underrated. Why would you describe yourself that way?
McDonald:"I believe I am underrated. The fact that I went in the seventh round. My last two years at [Kansas], I got 30 PBUs [passes broken up], four interceptions, two taken back [for touchdowns]. I think everything I have to offer, my size, my physicality, my speed, I feel like I'm underrated. That's definitely a chip that I feel like I'll carry on my shoulder throughout my NFL career."
Q: There are a lot of young cornerbacks and a lot of room for people to perform and move upward with the Raiders. That aside, what's it going to be like to have a guy like Charles Woodson to bounce things off of?
McDonald:"It's an amazing opportunity that I have ahead of me. I have a Hall of Fame coach, a soon-to-be Hall of Fame player, it's amazing. For a player like me to be around that type of experience, you can't help but to be a sponge and soak up as much knowledge as possible and try to use it to your advantage to make yourself a better player."
Q: Did you do much special teams work at Kansas?
McDonald:"I didn't play my last two years because we didn't have much depth and [Kansas assistant head coach/defensive coordinator/defensive backs] coach Dave Campo didn't feel comfortable with me playing special teams since we lacked depth at our position. I played special teams, every special teams position, when I was a redshirt freshman and my sophomore season." Q: Is it going to be nice to come here and have a familiar face in Ben Heeney joining you here?
McDonald:"It's going to be awesome. I couldn't believe the fact that I get to be next to a fellow Jayhawk. It's going to be amazing. It's going to be great for us to have the relationship we already had and be able to be away from home but still have a guy that I know I trust and have a great relationship with."
Q: Have you heard from him yet?
McDonald:"Actually he just text me and told me to give him a call. He's pretty busy. We'll probably talk a little later."
Q: Sometime in your college career you dropped 15 pounds. How much faster as a corner were you when you came back to that?
McDonald:"I was always fast. I ran a 4.37 this year and before then I was running the high 4.4's. It might have helped me some. I think it just helped me be able to run with the faster wide receivers and not have so much weight on me; be able to move quicker."
Q: Being from Kansas City, did you grow up a Chiefs fan?
McDonald:"No, sir. I wasn't a Chiefs fan. I grew up playing basketball my whole life so football wasn't really one of my main focuses. My mother is from Kansas City so she was a Chiefs fan."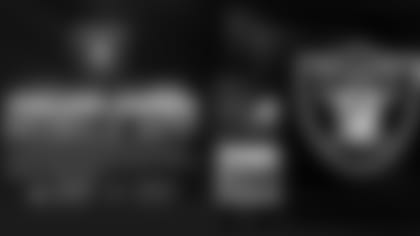 ](http://www.raiders.com/fans/mobile-app.html)