Raider Nation this is Michael Huff checking in with my last blog of training camp 2012 in Napa, California. This is a sad time, I just love Napa so much, I love doing these blogs for y'all. Feels like I have y'all out here at practice with me. It's definitely an emotional moment right now, but obviously we're going back to Alameda and get this season started off the right way.
I had my beautiful little girl, Madeline Rae Huff was born Saturday at 4:24 p.m. I had to pull her out, I was looking at the clock as she was coming I was like wait, she can't come yet, it's 4:23, when it hit 4:24 then bam, I pulled her out. It was definitely a great day, my first child, especially for it to be a little girl, I get to spoil her, give her everything she wants. I'm looking forward to it. I already have her Huff jersey, so she's obviously a part of the Raider Nation from Day 1.
She's definitely going to the University of Texas. I'll have to call Coach [Mack] Brown and make sure she gets a scholarship offer because college gets pretty expensive these days.
We've been working out here in Napa, it's probably been my hardest, toughest training camp. Even with these new CBA rules, we got the most done in a training camp since I've been out here and we're ready to carry it over to the season. We're going to play well against Detroit Saturday and finish against Seattle in preseason and we'll be full-tilt Monday Night, San Diego, in front of the Black Hole, whole world watching, ready for a big day.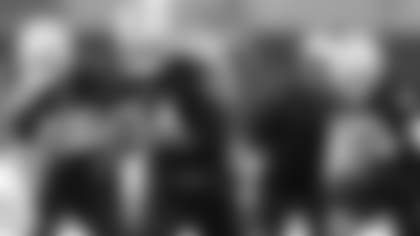 It was good to play under the lights on Monday night in front of the Black Hole, Raider Nation – best fans in the world. It was good to go out there and put on a good show for them, unfortunately we didn't come out with the victory. We watched the film, we learned from our mistakes, learned where we can get better and we're looking forward to getting back on the field this Friday against the Arizona Cardinals.
Mike Mitchell had a great interception but his running skills after the catch though are under question. He had a wide-open lane to the left and he ran to the right. He let some little 5'8", 113-pound receiver tackle him. The guy had dreads, so really he was like 98 pounds without the dreadlocks and he tackled Mike Mitchell to the ground.
Our d-line applied great pressure on the quarterback, which makes our job a lot easier on the back end. There was great play-calling by J.T. [defensive coordinator Jason Tarver], even though he didn't blitz me at all. I won't take it personal, hopefully I'll get my chance this week to blitz, hit the quarterback, get a pick and score and go dance. I don't have a dance planned yet, I'm saving it for Monday night so I can't bring it out yet. Tyvon Branch is my roommate, I practice dancing in the mirror while he watches and kind of he critiques me – lets me know yay or nay, good dance or not. I'm getting a little help.
Tyvon talks in his sleep, I don't know what he's dreaming about, I don't know what's going on in his head. But I think one night a crocodile was attacking him, he was like 'get off me, get off me,' he made the crocodile noise [snap], he started screaming and it woke me up. He looked fine so I went back to sleep. I couldn't help him so there was no sense in both of us being attacked by a crocodile.
You just try to get better and better each and every day. Obviously everybody is tired, everybody's body is feeling a little sore. I think the real test of a team is how they handle the last few days of camp when they're sore, tired, beat up. It's tough to go out there and work and put something good on film, and get better every day in practice. We'll see the real make up of our team these last few days of camp – we'll be just fine. When it comes down to Monday night against San Diego I think we'll be ready to strap it up and get a great win for the Raider Nation and start this season the right way.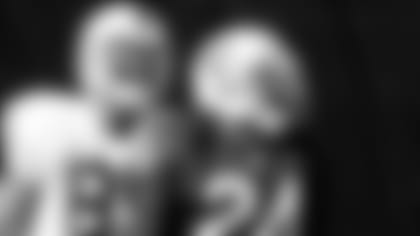 Another day in pads, this is like the 23rd day in a row that we're in full pads. I can definitely tell we're getting a little 'camp legs,' a lot of physicality goes on in practice so I try to liven things up.  I tried to steal Darren McFadden's car, I got his keys, I was in the car but for some reason it wouldn't start, threw off my plan a little bit. I just had to leave it there.
We're just out here grinding, just out here getting better. We had a scare the other day with Mike Goodson. Luckily, blessed he's out of the hospital, he's back with us now.  Glad to have him back. Just looking forward to keep grinding, we get a day off tomorrow. We need it after the 1,700th day in a row in full pads. I'm definitely going to enjoy this day off.  Relax, take my time, get in my playbook and let the body rest a little bit.
I'll probably drive back to Alameda tonight after meetings. I will get a massage tomorrow and go see the chiropractor tomorrow. Probably get in the playbook all day, have a little Madden, a little Call of Duty, get into the video games, since I am the best to ever play the games of Madden and Call of Duty. That'll probably be my typical day off, then I'll drive back here for curfew.
Sunday will be a special day. Anytime we get to have the Raider Nation Celebration it's always a big deal. We do it for the Raider Nation – it's a big deal.
Monday will be special for me because I'm from Dallas, for us to get to play the Cowboys is a big deal. We love it, anytime you get to hit another color jersey, especially on Monday Night whether it's preseason or regular season, it doesn't matter, once we line up in-between the white lines it's time to play. Monday Night escalates it to another level. This is our debut – first time the new Raiders regime will be in the black jerseys – Monday Night in the Black Hole, definitely have to go out there and give our best showing and show them what the new regime is all about. We're not going to bring out all our tricks, all our toys scheme-wise, we're going to go out there and play with passion, enthusiasm and excitement and give it all for our fans.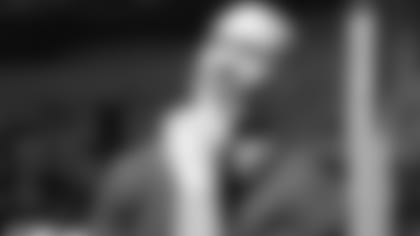 Michael Huff here with my second training camp blog. The last couple of days we've had the fans out here, they've brought enthusiasm, excitement, a little energy to practice. You can tell everybody took that one step further, wanted to practice extra hard for the fans, obviously we do it for them so it was good to have them at practice today.
We're out there thumping. I hit Marcel Reece one time, he fumbled the ball, he took like 17 minutes to get up. I was downhill on 9-on-7, he might remember the story a little differently but this is my blog so I'll say it how I want to say it. He took a little while to get up, I helped him up a little bit.
We're here competing day in and day out, we're trying to get better, offense, defense, and I think we're going to have a bug year this year.
My man Marquise [Goodwin] jumped today, got 10th in the long jump, I'm still proud of him, he's a college senior [at the University of Texas], to be the 10th best long jumper in the world, that's a big feat. I have to give him a hard time when I get back home. He's getting ready for the [football] season. He's going to go straight to camp and join the rest of the boys at UT and hopefully have a big year. My Longhorns, I think we'll pull it off this year. They got everything, coaching, players, talent - we'll have a big year.
Raider Nation, I love y'all and I hope I keep y'all entertained with my blogs. If y'all have any special requests you can hit me on Twitter @Huffy247, and we'll get back to y'all. Thank you very much, love y'all.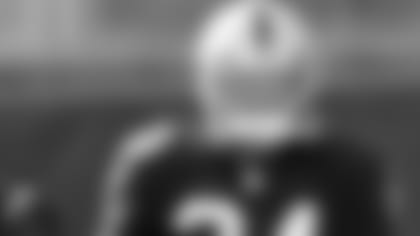 FS Michael Huff is entering his 7th season with the Raiders. Photo by Tony Gonzales.

Welcome to my first blog of Training Camp 2012. Great day at camp, first day with the pads on so we really got to kind of see what we have as a team, offense, defense, real physical out there. That's really what we want to do this year…physical, a lot of thuds, that's what we needed.
On wiping out CB DeMarcus Van Dyke (DVD) on an interception attempt…
I was running, DVD was over there, I told him to get out of my way, I was running too fast and I couldn't really see him. We got a little dinged up, if you look at the film, I ran off the field before DVD ran off the field, obviously he took most of the punishment. I'm not going to miss any reps, I delivered the blow, even if it was my own teammate.*
*
On the 2012 Summer Olympics...
[University of Texas'] Marquise Goodwin is doing the long jump, I definitely have to wish him the best of luck especially since he's been getting on my nerves all these years, it's about time he can go get a gold for me. He won the Olympic trials in the long jump, wishing him his continued success and he can bring a gold back to the family in the long jump.
We're excited, we have a new regime, this is the new Raiders, we're ready to get this thing turned around, it's been 10 years since we've been dominant, we're ready to turn this thing around for the Raider Nation, the best fans in the world. We're definitely looking forward to this year.