The students of EOYDC pose for a photo with safety Mike Mitchell and Kaiser Permanente representative Mark Urquhart. Photo by Alan Yuan

The Oakland Raiders teamed up with Kaiser Permanente to speak with the students of East Oakland Youth Development Center (EOYDC) about anti-violence and anti-bullying and being positive influences in their communities. Safety Mike Mitchell and Mark Urquhart, Kaiser Permanente's Executive Director of Regional Support Services of Northern California, spent time telling their own stories as well as answering thoughtful questions from the students in attendance.
EOYDC is in its 35th year of providing services to the Oakland community. Notable alumni include NFL players Kirk Morrison and Davone Bess, NBA players Jason Kidd and Gary Payton, and recording artist Keyshia Cole. "The East Oakland Youth Development Center is a multidimensional facility that focuses on youth leadership programs primarily on character development, readiness and access," explained EOYDC's president and CEO Regina Jackson. "Through 51 weeks out of the year, we provide free services in the area of jobs, education, arts and wellness."
The event Tuesday was an opportunity to address anti-violence and bullying with the students. "Mark Urquhart and Mike Mitchell used their own personal experiences to elevate and empower young people to respond to questions around bullying, around being successful, around school," said Jackson. "It was wonderful to be able to take those personal references and translate them right here and now that the young people who are middle and high school and college students could relate to and could walk away with information that left them identifying reflections such as no matter how smart you are or how rich you are, life can be hard, so you have to work hard."
Mitchell shared stories from his childhood growing up in Florence, Kentucky. "Growing up, being one of the few African American kids in my community, you get bullied a little bit," Mitchell told the group. "For me and my older sister, she was the tough one in my family, we'd have to walk home from school. Sometimes you'd have to deal with kids saying things to you and having to run or figure out what you were going to do at a very early age. As I got older, fighting or running isn't always the best thing to do. You learn that sometimes you need to go tell somebody like your parents, maybe a teacher after school."
The fourth-year player out of Ohio University relayed a variety of messages to the students. "Just being a positive role model, standing up to violence, anti-gangs and bullying, being the best person you can be," said Mitchell. His hope is that each student grabbed hold of at least one message.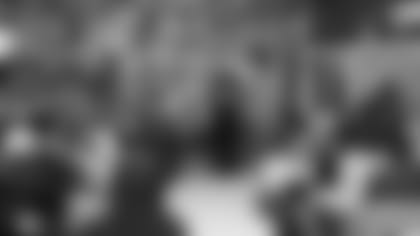 Safety Mike Mitchell speaks to the students at EOYDC. Photo by Alan Yuan
Urquhart also told his story of growing up in West Philadelphia in an area known as the 'bottom.' "Why do they call it the 'bottom?'" said Urquhart as he spoke to the EOYDC students. "Because it was the bottom of everything, everything bad that was in West Philly came from the 'bottom.' They said nothing good comes from the 'bottom.' I was determined that I was going to share my story when I grew up that good things come from the 'bottom', a number of wonderful people came from the 'bottom.'"
Urquhart, who is now in charge of approximately 5,000 Kaiser employees, wanted to make sure the students understood that no matter where you came from or what your circumstances, you can be successful. "A lot of these kids remind me of myself growing up," said Urquhart. "Someone helped me, so I think it's very important for me to give back as well. My message to the students today was be positive, get your education, fight violence anyway you can. Don't get bullied, go to a responsible adult, tell the story because someone else is probably being bullied as well. "
After sharing their stories, Mitchell and Urquhart answered the students' questions. One student asked Mitchell how he felt playing for a team in a city that has so much violence.  "Me, personally, it's something that I try to wrap my hands on," answered Mitchell. "I'm not from here, but I've lived here for four years and I've watched the news and that's why I do as much as I can with events like this to talk to kids because it's heartbreaking to know that there are little kids that are disadvantaged and in situations that they have no control over. This is a group of 35 that I'd like to think that out of someone in this room, I may have influenced to not go down the wrong path."
Jackson hopes the students take away that they can be great and that they can do something about the violent community in which they live. "The thing they can do best about it is to contribute positive energy in hopes that it will thwart the negatives that surround where we are," said Jackson.
EOYDC has done amazing things for kids in the Oakland community. Mitchell was glad he had an opportunity to visit with the EOYDC students.  "It's critical to the core person I am to try to give back, be a good person, be a good role model," said Mitchell. "Obviously it's everything the Raiders are about. We're committed to excellence not just on the football field, but off the football field. Trying to be better in our community, Oakland, it's all the things that we're all trying to do, so when the opportunity arose, I was thrilled."
Mitchell had many more messages he relayed to the students, some of which can be read below:
"Other issues you might have, maybe you get to high school and some of your homeboys, they might get you to come out and maybe sell some drugs or go out drinking before you're of age, and get you to go egging or vandalize some things, all the types of wrong things you shouldn't be doing. That's where you have to stand on your own two feet. Stand on how your parents raised you or, whoever the person you look up to is, how they've instructed you to react and handle situations. That's how you have to handle those situations."
"Everyone thinks the life of a player is very easy and the road is always easy, but I'm here to tell you that it's hard. To be successful, not as an athlete, but to be successful contributing to society, it's hard. If it was easy, everyone would do it. The easy way to do it is to go do all the wrong things, allow yourself to get in trouble, go along with the crowd. That's the easy thing to do. Situations are going to arise as you get older, and maybe some of you are dealing with things right now, things that are probably way worse than probably I've ever experienced, but you guys have to know that you're in control of your actions. You're in control of your destiny."
"One of the things I love about football, obviously it's a sport, but it's the ultimate team sport. When I think about team, what makes a good team? It's a lot of individuals, but everyone doing their job to make that thing work smoothly, to make that play work, or make that defense work. If you look at our society, if we're all contributing in a positive way, that's a team. We can improve our schools, our development centers, our neighborhoods, our communities, we can improve all of those if we're acting as team. It's all a bunch of individuals doing the right things, that's what makes a good team."
"When you see something going on, you hear [bad things] about 'snitching,' you don't want to not be the cool kid, but what's cool is doing the right thing, I promise you. That's going to go a lot longer with you doing the right things than doing the wrong things for sure."
"I just want to let you guys know that focus on everyone around you, it's a very selfless thing to do when you put your mind on someone else that's not you, it's the right thing to do. Think about how you can make your classmate's day better, make your teacher's day's better, make your mother or your father or someone else's day better, how you can improve their life because in the end, that's what we're here to do. We're all people and we're all so closely connected that you'd never believe, believe in doing the right things and being the best you can be."
"You have to be able to tell your mother, tell your teachers [about a bullying situation]. That doesn't make you weak, that's actually smart because as you get older, when you're not a little kid, say you get older and you guys are in high school or you're in college or adult and you get into a fight because you're getting bullied, somebody is going to get seriously hurt. And now it's not just I'm going to get a spanking or detention, no, now someone is going to jail, someone might possibly die. At a young age, you really have to focus on, if you see someone getting bullied, do your best to try to stop that bullying in a non-violent way and also if someone is bullying you, ask them as nicely as you can to stop. If he doesn't, then you need to go to your teacher or someone at your house."