Recently, the Steering Committee for the Booster Clubs of The Oakland Raiders hosted the Ninth Annual Commitment to Excellence Award Dinner honoring Raiders RB Rock Cartwright. The event was held at the Hilton Oakland Airport in Oakland, Calif., and included a silent auction, live auction, dinner and dancing. Cartwright, along with teammates LS Jon Condo and RB Michael Bennett, attended the event. Raiders Legends Fred Biletnikoff, Kenny Shedd and Morris Bradshaw were also in attendance.
Cartwright was selected to receive the Commitment to Excellence (CTE) Award by his teammates based on his hard work, leadership, and excellence on and off the field throughout the season. Previous honorees include Jim Otto, Daryle Lamonica, Fred Biletnikoff, Willie Brown, Jerry Rice, Tim Brown, Nnamdi Asomugha, Zach Miller, and Justin Fargas.
Each year, the proceeds from CTE are donated to the award winner's charity of choice. This year, Cartwright chose his teammate Sam Williams' foundation, Tackling the Odds (TTO), as the beneficiary. According to the Tackling the Odds website, TTO is a non-profit organization committed to enriching the lives of disadvantaged youth. Started in 2010 in honor of late teammate Marquis Cooper, TTO's mission is to help educate, support and motivate young minds to reach their potential.
The awards dinner brought together members of the Raider Nation, including Booster Club presidents from all over California, with current and former players to celebrate Cartwright's accomplishments and support a great cause. Many of the guests, including the Master of Ceremonies, JT the Brick, were excited that Cartwright was the 2011 CTE Award recipient. "It's an honor being here," said JT. "It's my sixth or seventh Commitment to Excellence Award [Dinner] and it gets bigger every year. It's refreshing this year because of Rock. I didn't know Rock well until the season started and being on the sideline of these games when he made big play after big play and getting the opportunity to meet him and his friends who were here tonight, he's genuinely a guy who appreciates it. I thought his speech was amazing. He talked about being a Redskin and then being concerned about moving from the East Coast to the West Coast and how the Raider family took him in. So this is a real big-time player. I'm happy he won. It's nice when a special teams standout wins it. It reminds everybody how important this award is for a guy who has a motor that never stops."
Raiders fan and CTE guest Roy Keith was also appreciative of Cartwright receiving the award. "This is my fourth time [at CTE]," said Keith. "I've been a season ticket holder since they came back [to Oakland] in 1995. For someone like Rock Cartwright to get it is something really special because normally they give it to the big guys like the Jerry Rice, Tim Brown, Justin Fargas, Nnamdi [Asomugha], something like that. It's really something special to have someone like Rock Cartwright, who doesn't start, to get an award that is such a prestigious award."
The evening began with a reception where guests could reconnect and meet other Raiders fans, while also having the opportunity to bid in a silent auction, which included items such as signed practice jerseys and cleats. Event volunteer Colin Hoffman attends events like CTE to reconnect with the Raiders family. "It's another chance during the offseason for the Raider family to get together and have a good time," said Hoffman.
Following the reception, guests made their way to the ballroom to enjoy dinner, the live auction, and the speech from the guest of honor. JT led the live auction following dinner. Live auction items included a photo signed by Cartwright, a signed and framed Jack Tatum jersey, and a Commitment to Excellence football signed by the past CTE Award winners. "It was great," said JT. "I typically don't do auctions so I was a little apprehensive to start, but everyone was so generous. When Fred Biletnikoff opened up a bid for $1,000 and everybody saw that Fred was doing that, it was really nice. I thought everyone was generous tonight. Tackling the Odds is a big deal because of Sam Williams and Marquis Cooper's legacy so it was a great charity that I think connected with everybody in the room. It was a special night."
After an enthusiastic auction, the program turned to the presentation of the award to Cartwright. Condo started the award presentation off with a speech in which he commended Cartwright for his tremendous leadership in the locker room and his inspired play on the field. "Everyone in that locker room respects him," said Condo. "Just looking at him and seeing his passion for the game, he's actually teaching these younger kids what this game is all about and how dedicated you have to be to be a professional football player."
Dave Laughlin, the Chairperson of the Steering Committee for the Booster Clubs of the Oakland Raiders, presented the Commitment to Excellence Award to Cartwright, who accepted the award graciously.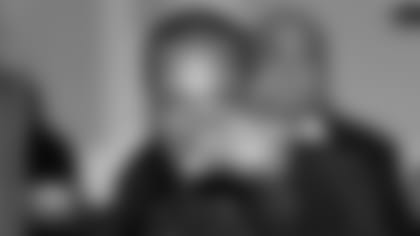 RB Rock Cartwright enjoys the evening honoring his leadership and commitment to excellence on and off the field. Photo by Tony Gonzales.
Cartwright thanked many people in his speech, but was most thankful for the Raiders fans. "You guys are great," said Cartwright. "I really appreciate the things you guys do on Sunday. You guys are the foundation of the Raider Nation and I can never thank you guys enough for all that you do. I couldn't ask to come to a better place, to a better fan base and I'm so thankful for being here."
The guests clearly appreciated Cartwright's speech as they began chanting "Raiders" and cheering loudly as Cartwright stepped down from the stage. As Cartwright went back to his seat, the guests continued the fun with music and dancing.
"For an offseason event and the fact that it is connected with the booster clubs, everybody seems to enjoy it. I'm honored to be a part of it," said JT. "It's a great event and people should come to it every year. Fans can buy tickets at the Oakland Airport Hilton and if you're a Raider fan and you're living on the East Coast or in the South, this should be an event that you make a priority to try to get to every year because it is that good."