Q: What can you tell us about how this all came together?
Coach Norton, Jr.:"Well, [Head Coach] Jack [Del Rio] and I are old friends. We're old teammates from the early Dallas Cowboys days and we've certainly kept in contact over the years. I've been watching his career and obviously he's been watching my career. We've always talked about being able to put my time and energy and knowledge together as well as his and really come together and make a winner."
Q: Have you guys talked about how involved Coach Del Rio will be with the defense?
Coach Norton, Jr.:"There's no question that any time you have a defensive head coach, he's always going to be involved. I've had that with all my years with [Seahawks Head Coach] Pete Carroll. He's certainly going to be involved, very informed, kind of leading the way. There's no question about that, certainly with Pete Carroll being my mentor and Jack Del Rio, a guy that we grew up and played together and we kind of grew up in the same type of ideas on how to attack offenses and how to protect yourself on defense. I have certain ideas that I have that I know that work. He has certain ideas that he has that he knows that work. We're going to bring them together and obviously make them the Raider way."
Q: Have you been looking forward to being a coordinator for a while?
Coach Norton, Jr.:"No question. One thing, I can really take my hat off to Pete Carroll. He's really done a great job of when we're there with him, he's always preparing us to be coordinators, to be head coaches. He's always having us look forward and do things that are important for us to continue our careers and keep improving ourselves. He's always been preparing us for the next step."
Q: Is the style of defense that you had in Seattle the kind of style you want to have in Oakland?
Coach Norton, Jr.:"No question. We've had a lot of success. You watch our defenses over the last few years, how physical, how smart, how dominant they've been up front, out-hitting, out-hustling and doing all these aggressive things. Jack has a fantastic background with his defense as well. My philosophy combined with his philosophy, we're going to sit down in a room and just work it out and then make it the Raiders philosophy."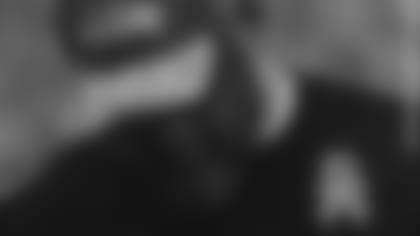 Q: Was this something that you knew going into Super Bowl week or did it come up right after?
Coach Norton, Jr.:"I don't know if we've discussed it over time, I think, like I said before, on the Pete Carroll staff he's always been grooming us and getting us ready for the next step and becoming a coordinator. There were a lot of jobs that were up, even our guy [former Seahawks defensive coordinator and current Atlanta Falcons Head Coach] Dan Quinn was up and we weren't able to go with him. But, at the same time, Jack being a dear friend like he has been and us really watching each other's careers and maybe someday working together. When this opportunity came up, there was no question that we wanted to have conversations and see what exactly we could make work with this."
Q: What sort of impressions do you have of Khalil Mack so far?
Coach Norton, Jr.:"I've been very, very impressed. One thing I have with my linebackers at Seattle, we do a great job of just watching other players across the league to see what they do well. See the type of things that I can help them coach and get themselves better and just see what is going on. Khalil Mack is a guy, with Bruce Irvin and the rest of my SAM linebackers, guys on the strong side, just watched his explosion, his speed, his combination of size and his strength. He's a really smart player and he loves playing ball. I've done really well with young men who have a knack of making plays and really love playing football."
Q: What did you take from the years you played with Jack Del Rio and under Jimmy Johnson? Jack said in his press conference that playing with passion was one of the things that he really took out of that experience.
Coach Norton, Jr.:"Yes, playing with passion. Jimmy Johnson was really serious. He really understood how to get the best out of the players. There is no question, you have to get everything you can out of each and every individual. He treated everybody differently and he really knew how to celebrate everyone's uniqueness. He made it clear that he loved you when you were making plays. If you weren't making plays, he was going to get rid of you."
Q: When did you come down here and formally interview? Was it quick process from that point?
Coach Norton, Jr.:"I came down the day after the Super Bowl. I was really interested in just understanding what Coach Del Rio's plan was, what his idea was, the things he wanted to get done here in Oakland. I was very impressed with how he laid it out for me. I was very impressed with what he wanted to get done. He made it quite clear that I was someone that he needed to help him get this whole program to another level."
Q: Has there been discussion about who is going to call plays during the game?
Coach Norton, Jr.:"There hasn't been a formal discussion, but just in my early meetings with him, his plan is to continue to groom me and I'll be making the calls."
Q: Were you still under contract in Seattle?
Coach Norton, Jr.:"My contract was not up. I had to go in and have some discussions with Pete Carroll about giving me the opportunity… He had to give me permission because I was under contract to get me down here and just discuss with Coach Del Rio and the Raiders about the possibility of filling their defensive coordinator position."
Q: Did you call plays in your last year at USC?
Coach Norton, Jr.:"No, I did not."