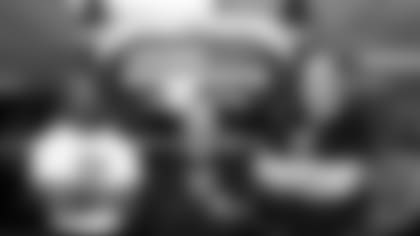 Vernon Stephens (left), John Grieco (middle), and Noah Franklin (right) in the Raiders weight room.
Photo by Tony Gonzales
The Oakland Raiders begin their 2014 offseason workout program Tuesday, April 22. The program consists of three phases over a nine-week span – strength and conditioning, on-field workouts and Organized Team Activities (OTAs).
Players kick off 2014 with Phase 1 in the weight room with the strength and conditioning staff. John Grieco will head up the department after holding the assistant strength and conditioning coach position for the past two years. "As a head strength coach in the National Football League I've got a tremendous responsibility; I'm very honored and humbled about it and excited to get going," said Grieco.
Grieco learned from Coach Al Miller, who was the Raiders head strength and conditioning coach from 2012-13. "This is going on my 20th year as a strength coach, and being with [Coach Miller] the past two years, I feel like I almost went back to school on a lot of things. He and I met extensively every day on everything. He and I are extremely similar and I still feel like I went back to school. It was a wealth of knowledge every day. We both come from the same school of thought, but its little nuances and things that everybody is trying to get better every day."
The strength and conditioning department added two new hires – Vernon Stephens and Noah Franklin. "They both were hired for good reason," said Grieco. "I really believe in surrounding yourself with good people and Noah and I have worked together before and Vernon Stephens was with San Diego for awhile and I've known of him and we've talked before. They're really good men, very good coaches, and very good teachers. When you hire people, you hire extensions of yourself and also hire people who round you out."
Stephens previously coached with the Jacksonville Jaguars and most recently spent six seasons as the assistant strength coach with the San Diego Chargers. Franklin played football at Oklahoma State and played a short time in the NFL. He was most recently the Associate Director of Performance for Football at the University of Memphis.
The Raiders strength and conditioning staff want to put the best program in place for the team. "Our ultimate goal is to run the best strength and conditioning program in the National Football League every day. We rounded out our staff and we were able to bring in two guys this year, so we have a staff of three and it's going to be great for us. I'm really excited about them as coaches, what they bring to the table. I'm really excited about the plan that we've got for the guys when they get back. It's a very carefully thought out planned progression and really excited to get going."
Grieco and his staff have been preparing for the players' return throughout the offseason. "Phase 1 we have the first two weeks for strength and conditioning and meetings only," explained Grieco. "Basically we're going to utilize those two to evaluate where everybody is and evaluate where each guy needs to start from. We want to get everybody back in the swing of things, doing things how we do them here and get ourselves ready for weeks three, four and five."
The initial strength and conditioning period is an opportunity for the strength and conditioning staff to learn how they can best prepare each individual for success during the season. "We have a battery of tests we put them through," said Grieco. "We'll go through and evaluate where they are from a work-capacity standpoint and from a strength standpoint and basically it's based on safety. We want to continue to increase and develop guys, but safety is of the utmost importance."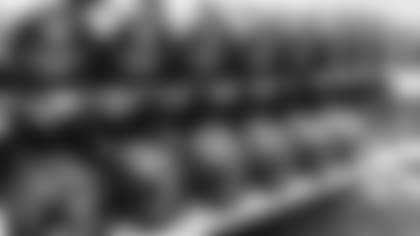 Phase 1 is the start of a year-long development process. "What you try to do is you take each individual guy and identify strengths and weaknesses and areas of concern," said Grieco. "The ultimate goal is to develop them gradually throughout the year. You don't want too much too fast. You want to develop them on a steady pace throughout the year and reduce the amount of soft tissue injuries. There are some things that go along with our sport and that's just the way that the game is, but injury prevention is important to us."
Although the Raiders are several months out from training camp and the start of the season, how the players prepare their bodies and minds now during the three-phase program is critical. "These weeks are critical and they're critical for us as strength coaches because your job is to continually develop guys. Nobody is 100 percent ready to go. Everybody has their strengths and weaknesses and it's our job to develop them and help them improve on areas that may be a weakness and help them be more flexible or eat better. It's a continued education all the way around."
The strength and conditioning coaches also have the responsibility of monitoring nutrition. "You can have the best strength and conditioning program in the world, but if you don't eat right and hydrate correctly and rest correctly and put everything together, it's not going to work very well," said Grieco. "You have to do the whole package."
Grieco and his team are ready for the offseason workout program to begin. "Everybody is trying to be the best in the National Football League every day," said Grieco. "That's the care level that we will put into each and every one of our guys. There's a genuine care level to each one of them in this room to their safety and development."
Following Phase 1, the players transition to Phase 2 for three weeks, which adds on-field work with position coaches to the mix. Then, Phase 3 begins with three weeks of OTAs, and a week of mini-camp.
It may seem that Week 1 of the regular season is a long way off, but April 22 and the offseason workout program is the start of the 2014 season.