Potsdam, N.Y., is a small community in upstate New York nestled along the St. Lawrence Seaway near the border with Canada. It is a community of less than 20,000 people and it is located northeast of Alexandria Bay and the Thousand Islands vacation destination. Potsdam is not exactly known for producing players for the National Football League.
Trevor Scott attended Potsdam High School and excelled as a tight end and an outside linebacker and earned numerous accolades. He was also a track and field athlete and he played basketball.
Scott went on to play his college football at the University of Buffalo where he began his time in Western New York as a tight end. Upon his arrival in 2005, new head coach Turner Gill converted Scott to defensive end prior to the 2006 campaign. Scott led Buffalo in sacks in 2006 and 2007 amassing a total of 19. Scott was also named All-MAC as the University of Buffalo claimed a share of the MAC Eastern Division title.
Although he grew up in a small town and attended a small college, he definitely made his abilities and personality known as the Raiders selected him in the sixth round of the 2008 NFL Draft. During his first training camp, Scott told Raiders.com's Jeanette Thompson, "I really didn't start liking football until I started getting good at it. That's how it happened. I was always a multi-sport athlete."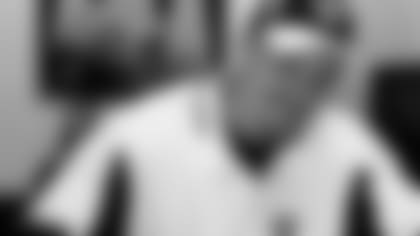 Trevor Scott signs his contract after the Raiders selected him with a 6th round pick in the 2008 NFL Draft. Tony Gonzales.
As a young player from a small town, Scott says his parents don't hesitate to offer advice to their son who has taken up residence more than 2,000 miles away. "They always give me advice, they tell me to keep my nose to the grindstone and don't take anything for granted."
Scott adjusted quickly to NFL life and spoke like a seasoned veteran just four months after the Draft. "It's a lot different (than college), it's so much more,"* Scott said.* "You have to mentally prepare every day, it's all business out here on the football field. Being a rookie, you have to pay your dues. That's the only way I'm going to stay on this team, if I compete."* *
As a rookie, Scott saw plenty of action at defensive end and on special teams. He tied for the team lead with five sacks, recorded 24 total tackles and was second on the Raiders in special teams stops. However, Scott didn't feel like he "arrived" until October 19, 2008, when the Raiders hosted the New York Jets at the Oakland-Alameda County Coliseum.
The Raiders won a thrilling overtime game when K Sebastian Janikowski set an NFL record for the longest field goal (57 yards) to win a game in OT. Scott's chalked up his first career sack when he got a hold of future Hall of Fame QB Brett Favre. "It was the turning point," Scott told Jeanette Thompson in August of 2009. "That was the one play that gave me the confidence to know that I can play in the NFL." Scott would sack Favre a second time during that game.
Heading into his second season with designs on becoming the starting "base" defensive end, Scott hit the weight room and added 15 pounds. "This off-season (2009) I wanted to focus on putting on more muscle and getting stronger," Scott said. "I'm known as a meat head, I love the weight room. My pass rush has gotten better, my run game is better than last year, I'm bigger and stronger."
As Scott and the team were preparing for the regular season opener against the San Diego Chargers, the Raiders executed a trade for Patriots DE Richard Seymour. It didn't take Scott long to embrace Seymour and another veteran defensive end the team acquired – Greg Ellis. "I'm very pleased with what I'm doing," Scott reflected on his role changing after the trade.
By Week 6 of the 2009 season, defensive coordinator John Marshall was using Scott in new, exciting ways to attack the opposing offense. After sacking Philadelphia Eagles QB Donovan McNabb twice in the Raiders 13-9 win, Scott told The Silver and Black Show's Greg Papa, "When I'm coming in the game it's more directed toward the pass offense. I'll just be bouncing around all over the place. I could be dropping (in pass coverage), rushing, I could be coming off both sides. We're just trying to mess with the offense."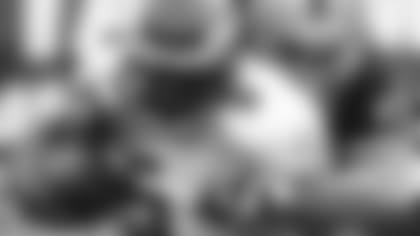 Trevor Scott (91) sacks Philadelphia Eagles QB Donovan McNabb during the Raiders 13-9 win in 2009. AP Photo.
Throughout the season, Scott continued his assault on opposing quarterbacks and he showed his versatility once more. The 6'5" end moved to outside linebacker and started on Thanksgiving Day at Dallas. He became a fixture at outside linebacker for the rest of the season and tied for the team lead in sacks with Ellis with seven and logged 43 total tackles on the year. He could be often seen after practice with FB Marcel Reece and assistant coach and Hall of Fame cornerback Willie Brown working on his pass coverage techniques.
The Potsdam, N.Y.,-native has proven, once again, that small towns and small schools can produce big-time talent. However, Scott has some valuable advice that demonstrates that he is wise beyond his years. "Stay true to yourself. No matter what you do, no matter how famous you get, don't try to be somebody you're not," Scott said. "Don't forget where you came from."