**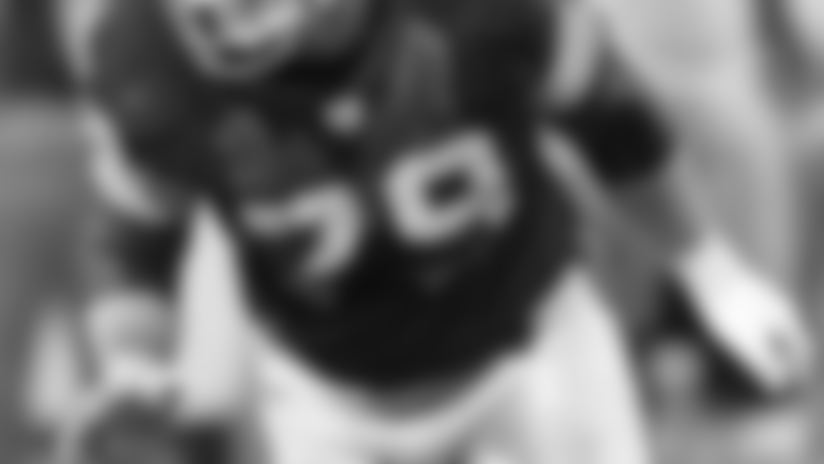 The Raiders selected offensive lineman Paul McQuistan in the third round of the 2006 NFL Draft. - *Tony Gonzales*
In the 3rd round in the 2006 NFL draft, The Oakland Raiders selected Paul McQuistan, a fairly unknown prospect from Weber State.  At the time, fans rallied behind the newly acquired lineman and his long, red mullet.  However, McQuistan quickly showed Raider fans that they should start paying attention to something other then his hair – his play on the field.
Entering his fourth year with the Raiders, McQuistan hopes to continue to make a name for himself at the top level. With his former position coach, Tom Cable, being elevated to head coach, McQuistan is enjoying a level of familiarity with the Oakland coaching staff. "Coach Cable is great for the players because he understands what we need to do and what we do well," the Lebanon, Oregon, product said recently following a meeting with his fellow offensive linemen.
After a successful collegiate career, his size and athleticism impressed the Raider organization enough to take him 69th overall. During the 2006 and 2007 campaigns, he played in 31 games, making 12 starts along the Raider line. "It was nice to get in there right away.  I was able to step right in and get valuable playing experience on the professional level."
McQuistan's versatility has allowed him to start games at both guard spots and right tackle in his career, something that makes him an asset to the team.
Unfortunately, McQuistan suffered a knee injury early in the 2008 campaign, cutting short a promising season.  He spent the remainder of the season on injured reserve, but is determined to get back to seeing the kind of playing time he became accustomed to in 2007.  "It was hard sitting out last season, especially watching the team struggle because you feel like you could help the team if you were out [on the field]."
With the Raiders on the verge of training camp, McQuistan will have his first shot at showing he's fully recovered and ready to compete.  McQuistan believes that with the help of new position coach, Jim Michalczik, he'll be able make the transition from situational lineman to full time starter. "It has been great working with him so far," said McQuistan about Michalczik. "We have been going over new stuff, new terms and watching film so we can be on top of our game.  I'm really excited."
As an added incentive to earn a starting role this year, McQuistan and the Raiders will face his twin brother Pat, who plays for the Dallas Cowboys, when the two teams meet in the pre-season and on Thanksgiving Day.  "It is kind of a dream," McQuistan said about the thought of facing his brother, adding that the two talk regularly about what they see in each other's games that'll help them improve.
The offseason additions of Khalif Barnes and Erik Pears, as well as returning starters like Robert Gallery and Mario Henderson provide Oakland with a plethora of talent along the offensive line, but don't think that McQuistan is letting the crowded locker room discourage him.  "I plan on being a better player than before [the injury].  I'm ready to show I'm healthy and earn my spot."
He'll have his chance to prove he's up to the challenge of regaining his starting spot when the Raiders open camp later this month in Napa.