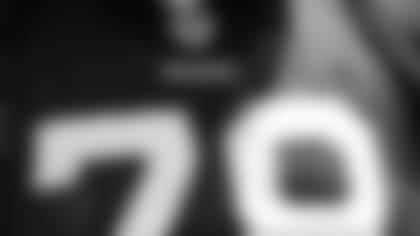 Six of the Raiders eight 2014 Draft picks are defensive players. One of those players is DT Justin Ellis, selected in the 4th round (107th overall), out of Louisiana Tech. Ellis brings a big-bodied presence to the interior of the Raiders defensive line, standing at 6'1"-tall and weighing 334 pounds.
His size and demeanor earned him a nickname his freshman year of high school. "I was a freshman – I played varsity ball – my defensive line coach, defensive coordinator coach, David Taylor, he was like, 'I'm gonna call you Jelly Bean,'" explained Ellis.
Jelly Bean was eventually shortened to Jelly and has stuck with him to this day. "I accepted it the first day," said Ellis. "My teammates started calling me that at the end of school and before you know it reporters, and that was my nickname after that."
Jelly's football career started as a young kid in Monroe, La., and always had the dream of making it to the NFL. "I was five-years old when I started playing football; it's been a long time," said Ellis."[The NFL] was the dream. Every kid wants to be an NFL player, but when I got to high school, first of all, I had to take it one level at a time. Maybe around my sophomore year in college, I had a good sophomore year and my defensive line coach was telling me – and he didn't want to get me too happy – but he was just like, 'you keep moving at the pace you are, the NFL is a possibility. You could change your family's life.'"
Ellis is a large, imposing defensive lineman, but off the field he's quiet, polite and relaxed. "I'm laid back," said Ellis on his personality off the field. "I'm a laid back type of guy. I'm family-oriented. I have a daughter so back when I was at home and I wasn't doing football, I was being a dad, so that's me."
However, his personality on the field is anything but laid back. "I consider myself a power, quickness guy," said Ellis. "I bait people with my quickness because most people don't think I'm quick. They don't think I'm fast so they're like, 'oh, he's a big guy.' I use my quickness and power to beat people."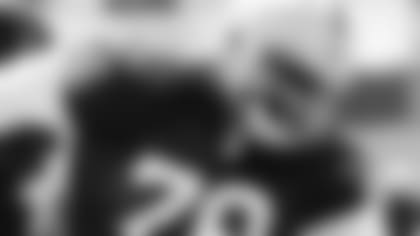 He used his talent, as well as his experiences, in college to help him prepare for the professional level. "Getting a degree and playing college football is not easy, so there were times where stuff got real tough for me, but I had to push through it and I think that made me a better man," said Ellis.
Ellis was selected by the Raiders on the second day of the 2014 NFL Draft. "It was unreal. I was so happy," said Ellis. "I was real emotional. I was just ready to play football and I liked the Oakland coaching staff so when they called, it was just like, 'yes.' I was really happy."
The rookie arrived at Raiders HQ Thursday afternoon and was immediately entrenched in Rookie Mini-Camp. "I've just been getting used to it, but it feels like at home," said Ellis. "I haven't been nervous. I feel like this is home so I'm just trying to make sure I just secure my spot on the team, so that's what I'm working toward now."
Jelly is already grasping the differences between the college and NFL level and is embracing those changes. "When I was talking to my mom I was telling them that I was enjoying [mini-camp] and just working, all business," said Ellis. "They asked me what's the difference and I was just like, 'It's a business now. It's still fun because I love football, but it's more like a job now.'"
This job allows him to work with seasoned veterans like Justin Tuck, LaMarr Woodley and Antonio Smith. "I'm honored to even be in the conversation with them, so just to even…I saw Justin Tuck the other day and was like, 'man, it's real.' To even get around those guys with great careers, it's a good thing," said Ellis.
Ellis is new to the Raiders, the area, the playbook and his teammates, but he's already starting to understand Raider Nation. "My coach was telling me – 'Raider Nation man, they've got some crazy, but some good fans.' The day I was drafted, they all welcomed me," said Ellis.
Now Jelly wants to earn the opportunity to show Raider Nation what he's capable of doing on the field. "I'm going to put it all on the line for Raider Nation," said Ellis. "If there's one thing about me…coming into college, the biggest schools kind of turned their back on me a little bit, and La Tech…I repped La Tech to the fullest. So when it comes to the team I'm a part of, I'm going to give you my all and I'm going to do my job for them."
Make sure to follow DT Justin Ellis' journey throughout the offseason on Raiders.com.