DE Justin Tuck spent the first nine years of his career tearing up offenses along the defensive line of the New York Giants. He won two Super Bowls, was named to the Pro Bowl twice and racked up 60.5 sacks. Despite creating a name for himself as a Giant, the defensive veteran looks pretty darn good in the Silver and Black.
The Raiders signed Tuck as a free agent March 13, 2014. "At first it definitely was difficult, but I'm wise enough to understand the business of this game," said Tuck. "I had a great nine years in New York and I'm very thankful for all the people that supported me there, but it is a fresh start. It's a breath of fresh air coming here and trying to build this team back to where it's been in the past and I'm looking forward to it; I am. We've got a great group of guys, a great coaching staff, and it's kind of like, in some regards, an awakening."
While Tuck will miss the New York fan base, he's looking forward to experiencing Raider Nation. "I'm very happy to see that the [Giants] fans appreciated what I was able to do on and off the field there and they know there will always be a special place in my heart for them," said Tuck. "But, I'm an Oakland Raider now so I'm here to give these fans something to cheer about too. They've reached out and been very forthcoming as far as how happy they are with me being out here. I'm looking forward to going out there and making them cheer too."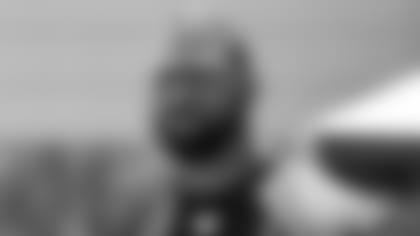 Tuck has managed to stay relatively healthy throughout his career and play at a high level, notching over 10.0 sacks in a season four times in his career. "You have some years where your body feels better than others, but you have to do the right things in the weight room. You have to do the right things for what you put in your body – food, supplements, whatever it is," said Tuck. "And it has a lot to do with a lot of luck to be honest with you. This game is a very tough game and a lot of times people get injured and I've been pretty blessed to not have anything super serious in that regard. I think that's one of the reasons I've been able to play at a high level for so long."
The Notre Dame-alum has a strong love for the game that has also kept him committed and playing his best. "I think it's just the camaraderie of playing with guys like we have on this team, like we had in New York. I think that's a lot of it, and then just the love for the game," said Tuck. "I call it contagious. It's a lot of fun being in these types of surroundings with great people and working for a common goal."
Tuck's work ethic, drive, and desire to be great stems from two strong men in his life – his father and 2014 Hall of Fame inductee Michael Strahan.
"My dad was a huge figure in my life. My dad really instilled in me just a passion of hard work," explained Tuck. "Not hard work just because you have to do it, but the enjoyment of it, to be honest with you. He always talked about how great the process is, how great the journey is, and I learned that at an early age."
He continued, "And in the NFL, I think the best thing that could have happened to me was, for a young whippersnapper coming out of Notre Dame, having to play behind Michael Strahan. Watching, at the time, a 13-year vet still work his butt off at his craft - multiple Pro Bowls, multiple defensive MVP, whatever, he pretty much accomplished it - and still not letting me get reps in practice, not wanting to come off the field, that instilled in me that regardless what level you get to, you never know enough, you never arrived. It's always a work in progress."
Learning behind Strahan and being brought up by his father created a leader on the field. "I think I do a great job of understanding what guys, or learning what guys, respond to. Some guys need a vocal leader. Some guys need you to pull them aside and whisper in their ear. Some guys need you to show them. I think I can be all of that," said Tuck.
Tuck spent the greater part of the offseason workout program getting to know his teammates. "For me, these early parts of my time here a lot of it has been me watching and looking at how our guys respond to coaching or how guys respond to how you treat them," he explained. "Once I know, once I have that down, that allows me to be this type of guy to this guy or this type of guy to that guy. But I think overall, I'm more of a guy that wants to go out and lead by example. You need vocal leaders, but more than anything, people are going to follow what you do, not what you say."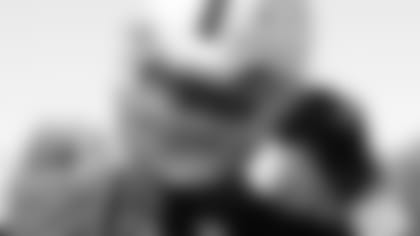 And he can already feel the chemistry working in the defensive line room. "I think it's coming along because it's a lot of like-minded guys in there," said Tuck. "It's funny, D-linemen kind of think alike and Coach T [Terrell Williams] is in the same mode. So it's a fun room. We have a lot of fun, but people know when it's time to turn it on and get to the business at hand. You need that because, this game, it's a tough game. You're going to have days where you just don't feel it and that room you can tell there's going to be guys that pick you up and help you push through it. I think that's what's going to make this D-line very special. The chemistry, it'll be there come the Sundays."
While Tuck is known for his play on the field, his work off the field is just as significant. "I would say definitely a family guy. I love playing with my little boys," said Tuck. "Love giving back. My wife and I are very passionate about kids and education with an emphasis on literacy. That's something that I feel…that work is probably a lot more important than what I do on the field. I think what I do on the football field allows me to do that work at a higher level when you talk about literacy, but that's just something I fell in love with and really understand there's a need for. We've had a lot of great success so we'll continue to do that."
Tuck is an Oakland Raider now and he's determined to give the fans something to cheer about. "Just know that regardless, win, lose or draw, I'm going to be out there and we're going to be out there, giving our best because [the fans] show up every Sunday to cheer us on and we're definitely going to go out there and give our best and just be the Raider team they expect us to be. No excuses, get the job done."