**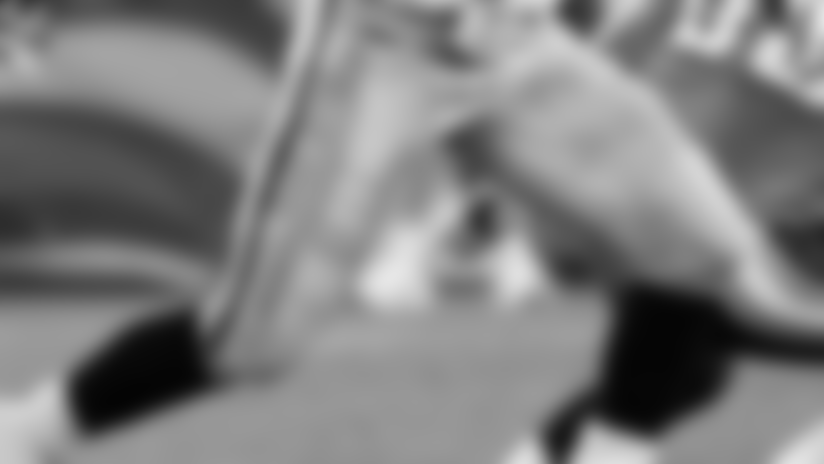 LB Ricky Brown is entering his fourth season with the Raiders. - *Tony Gonzales*
Entering his fourth year in the National Football League with The Oakland Raiders, linebacker Ricky Brown is excited about picking up where he left off last season as the starting outside linebacker and building his reputation in the NFL.
Brown has played in 29 league games, with seven starts and he has tallied 44 solo tackles, mostly on special teams. On October 26th of last year, just as he was becoming a key figure with the Silver and Black, he suffered an injury against the Baltimore Ravens, causing him to miss the second half of the season.  He underwent surgery during the off-season and is looking to rebound.
"I spent most of my off-season out here rehabbing and now I'm ready to go," said Brown recently.
This determined player dedicated the entire off-season to his recovery to make sure that the transition from the training room to the football field would be as smooth as possible.  Although this transition can be a challenge for any athlete after surgery, Ricky wants all Raider fans to know that his recovery is going well.
"I'm excited and I have been feeling great," said Brown. "I'm ready to pick up right where I left off last season and continue to establish my reputation as a good linebacker."
The 6'2", 235-pound Boston College product was an undrafted rookie but was picked up by the Raiders in 2006 and impressed during training camp.  He was placed on the practice squad before that season and was called to the active roster in October of 2006. Since then Brown has had no problem fitting in with the rest of his teammates and calls his relationship with fellow linebackers Thomas Howard and Kirk Morrison a really special thing.
"It's awesome because when I am in the heat of the battle, I can just look beside me and see Kirk or T-How and I know that they have my back and are thinking the same thing I am.  It's not often that you get to play with other players like that, so it's been great," Brown says. "Not only are they great teammates but they're great friends of mine. We have a good time, whether it is talking about football or just talking about life."
Although he spent most of his time rehabbing in the Bay Area this off-season, he usually goes back to Ohio to visit with family and friends.  Growing up in Cincinnati he played everything – from football to basketball to track – but his fondest memories revolve around the game he plays today.
"Going through high school, I think it's important to broaden your horizons and play everything," said Ricky. "I was really close to my friends during that time and one of the things we enjoyed the most was playing football.  It's a great sport and I think there are a lot of positive things to take from it."
Although home is where the heart is, Brown loves being in the Bay Area and being part of the Raider Nation.
"It's something that is hard to describe, but when you play here you completely understand it. There is no one else like the Raiders and the fans are the same way," Brown says proudly. "Playing here is something that I will never forget."
Brown will have his work cut out for him this during this year's training camp, as rookie Slade Norris and veterans Jon Alston and Sam Williams, among others, will provide plenty of competition for the fourth-year pro.