P Marquette King during the Raiders off-season program. *Photo by Tony Gonzales
Marquette King grew up in the small town of Macon, Ga., and attended Fort Valley State University (FVSU), a historically black university (HBCU) with less than 5,000 students. The Raiders rookie may have come from small, but the 6'0" and 192-pound punter plays big.
King did not start playing football until his sophomore year of high school after watching a friend play at a local high school. "I saw a family friend playing at Westside High School and I thought it was pretty cool seeing a lot of people look like a big fraternity," explained King. "I saw them playing together, working as a team, so that's what caught my attention about the football part. So I went out, tried to find what I could do to try to be on that team and try to get into playing football."
King began his football career as a receiver, but discovered his knack for punting when he was bored after school. "Being bored, I ended up kicking the ball and started to be better with it, trying to make it go higher and farther," said King. "One day the coach asked who could punt. I said I could, so he tried to see what I could do. I was out punting except that the ball wasn't spiraling, it was just flying. So he made me stay there and work on it and eventually I started to get it to spin so they ended up making me punt and play receiver. So that's how it started."
As he steadily improved, King decided to attend FVSU in Fort Valley, Ga. King thinks his time at FVSU prepared him for professional football because he learned how to make something out of very little. "Playing at Fort Valley State, there was a lot of adversity," said King. "We didn't have the same things that Division I colleges had. We basically had to make something out of nothing so we used what we had. I kind of had fun making something out of nothing because when you actually get what you need out here and when you go against somebody that's always had what they needed to prepare, by the time you get it, after what you've been through, it's easy, very easy compared to what they do."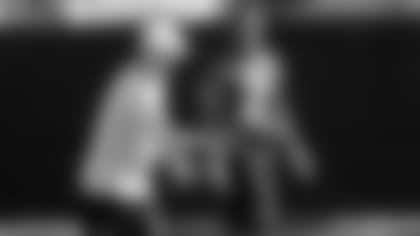 Special teams coordinator Steve Hoffman works with King on punting technique. Photo by Tony Gonzales
King's ability to make the best of any situation helped him overcome his biggest challenge in the NFL so far – switching punting technique from a two-hand drop to one-hand drop. "Coach [Steve] Hoffman had me working on this new technique and it was hard for me to be consistent with it," explained the rookie. "When the head coach had us in a meeting, he was saying that if you don't have consistency that's a sign of not being disciplined. That showed me that I didn't have the discipline I needed to be where I needed to be. It got me focused on me being more disciplined so that will be the challenge."
With his determination, King has spent the off-season working on his consistency and discipline and fine-tuning the new skill. He took, not only what Coach Hoffman taught him, but what he learned from Pro Bowl punter Shane Lechler. "He taught me a little that can do a lot," said King. "Basically, you have to force yourself and have the discipline to go out there and do everything that you've been taught consistently and repeatedly."
The rookie punter is soaking in his experience working with one of the best punters in the game, but he does not plan to be in anyone's shadow for long. King wants to bring something new to the game. "When I watch the NFL, I just feel like I can try to bring my own style to the game," King explained. "Being able to be athletic, if coach needs me to run a fake punt or make a tackle in the game, be more aggressive...Coming from an HBCU, I learned a lot. It taught me to be myself. Just bring my own style to the game really. I go out there with a towel, sleeves, look good, play good, and bring my own flavor to the game and let other people know that kickers and punters are athletic and we're football players too. We put pads on like everybody else."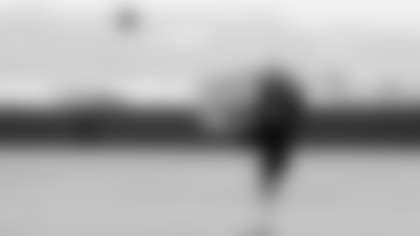 King launches a punt during off-season practice. Photo by Tony Gonzales
King is beginning to find his groove in the NFL with the help of those around him. "[My best experience so far is] the positive environment, being able to feed off the energy from all the other players and being around the people that work around here too, good people," said King.
As the Georgia-native heads into his first NFL training camp, he wants to make his family proud. "I just want to play for my family, and do good," said King.
He also hopes to put on a show for Raider Nation. "Turn up, get your popcorn ready."