QB Terrelle Pryor sets to throw in the Raiders 19-9 Week 2 win over Jacksonville. Photo by Tony Gonzales.
What does a former major league baseball pitcher who had an 82 MPH fastball, a career record of 29-23 and a 3.79 earned run average over eight unremarkable seasons know about throwing a football in the NFL?
Tom House is the Yoda of the science of throwing mechanics if you ask some of his star pupils such as Drew Brees and Tom Brady. He's one of the reasons why Raiders quarterback Terrelle Pryor is throwing the ball light years ahead of where he was when he arrived in Oakland two seasons ago.
House's biggest claim to fame is being the guy who caught Hank Aaron's record breaking 715th career home run as an Atlanta reliever in the Braves bullpen on April 8, 1974.
He's a former MLB pitching coach who has trained some of the best pro arms in the history of the game, fine tuning the fastballs of Nolan Ryan and Randy Johnson. He's still involved in baseball as a volunteer pitching coach at USC, but his side business is picking up speed like one of Ryan's old heaters.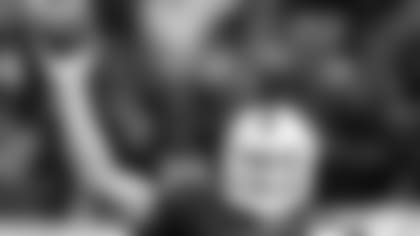 The House headquarters is a modest abode tucked away just off the baseball field at USC. The Rod Dedeaux Research and Baseball Institute features a facility with eight cameras shooting at 1,000 frames per second to analyze a throwing motion much in the same manner a coach in golf uses computers to evaluate a swing.
House says since he isn't a quarterbacks coach by trade he doesn't try to go out on the football field and work on what he thinks he sees. The technology does the work and House works with the quarterbacks on the science of maximizing the motion.
His first NFL client was Drew Brees back in 2003 when he was with the Chargers.  Former San Diego offensive coordinator Cam Cameron, now at LSU, suggested the current Saints star quarterback work with House because Cameron's son worked with him as a baseball pitcher. His trial with Brees helped blossom a side business which morphed into a program for quarterbacks which combines physical and biomechanical coaching with nutritional and mental instruction. House has a Ph. D. in psychology.
House joined us on my radio show last season when he was working with then-Bay Area athletes Barry Zito, Carson Palmer and Alex Smith and said he noticed over a decade ago that throwing a football and a baseball had similar mechanics.
"Very much the same," House said. "The same sequence, timing, and mechanical interpretations." Tom Brady is going to the Hall of Fame. He's one of the best ever to play quarterback in the NFL. It's fair to say he knows how to throw a football at a very high level. His personal quarterback coach Tom Martinez passed away about two years ago, that's when Brady starting working with House. He told Peter King of SI.com in May what working with the master of mechanics does for him even though he has already accomplished so much.
"I've been working with Tom House on what's called ground-force production...kinetic sequencing, getting the power from the ground, which translates from the ground to your legs, to your hips, to the shoulder, and all the energy is going toward the target. I've always had confidence throwing the football, but you have to stay on top of it. That's going to be a never-ending quest for me," Brady said.
If one of the best quarterbacks in the history of the league is on a "never-ending quest" to find a consistent perfect motion, wouldn't it make sense that a young developing quarterback like Terrelle Pryor jump on the same path?
I asked the Raiders quarterback in training camp if a quote that was attributed to him that he really didn't know how to properly throw a football coming into the NFL was true.
"I never really knew how to throw a football before, that's true," Pryor said.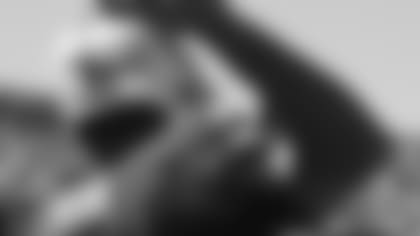 Pryor told me in camp he was looking for an edge to get better and House helped him with some mechanical issues. "Now I'm not opening my left shoulder and that's when the ball is dying down on me", Pryor said. "A lot of my accuracy issues were showing up when I flew open, now I'm pre-setting my shoulder and I'm using more of my core, not just my arm."
Due to NFL rules, there are certain times of the year NFL coaches cannot work with their own players. Assigned parts of the off-season are off-limits as is the just completed four-day mandated break during the Raiders bye week. During intermissions, Pryor worked with House.
Knowing Pryor's solid work ethic and his quest to improve his throwing, Offensive Coordinator Greg Olson recommended House to Pryor if he was going to work with an outside source. He knew him through Drew Brees when the two worked together in New Orleans and put Pryor in contact with the former pitcher.
Former Raiders quarterback Rich Gannon applauded the Raiders for bringing in as much help as possible to get Pryor's mechanics sharp.
"I think it's unusual to work in season with an outside entity but I give the Raiders credit for getting everyone on the same page," Gannon said. "Greg Olson is a smart guy, he knows Tom House and it makes sense to make sure of all his mechanics are cleaned up."
Gannon mentioned something that I am sure is on everyone's mind. The team wants to make sure whatever messages are being relayed to Pryor about his throwing motion are consistent with what the organization is teaching. The Raiders are developing Pryor at the most important position in the game and don't want mixed messages being sent. Pryor initially worked with a different throwing coach last off-season and some of his mechanics had to be cleaned up when he returned for some off-season camps.
When we asked Pryor about it on my radio show he admitted he initially took a step back with his first throwing coach this past off-season before finding House and moving forward.
"I slid back on mechanics, we weren't doing many things on it", Pryor said. "We were doing throwing techniques and it didn't work out well for me so from there Tom House came around and definitely, he got me much better throwing mechanically. Going with him has helped me out a great deal."
Head Coach Dennis Allen says the team and House are on the same page.
"Tom House has worked with top quarterbacks like Drew Brees who Greg Olson has a relationship with and we feel comfortable with the things he has been working with Terrelle on," Allen said. "That along with (quarterbacks coach) John DeFilippo and Greg Olson has really helped his mechanics."
You might think with that many chefs in Pryor's kitchen the soup could go bad but Allen sees no conflicts.
"I want guys to find ways to improve," Allen said. "I'm not afraid to let players get outside sources but it's got to work within the framework and if it does, then it helps out the football team."
It's obvious to see Terrelle Pryor is a dynamic athlete under center who can run. However it's been proven through the years to succeed consistently at a high level in the NFL a quarterback has to master the art of throwing the ball through tight windows with accuracy, velocity, timing and touch. With the team Pryor has assembled in helping him learn this art he could soon prove all the doubters wrong who said he would never acquire the passing skills to become a top NFL quarterback.